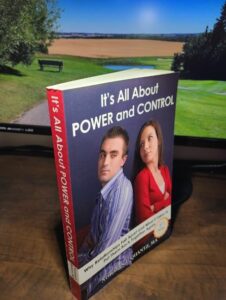 Relationship Power and Control
Recently, I met Norm L. Quantz at a Canadian Counselling and Psychotherapy networking event. I was drawn to him because of his calm, wise, and supportive comments to others, particularly newly graduated therapists. I discovered he has provided years of marital therapy to couples. Then I became curious about his books. I read Quantz's It's All About Power and Control: Why Marriages Fall Apart and What It Takes to Put Them Back Together Again. Indeed it focuses on power and control in relationships.
Overview
At about the one third mark of reading, I thought, "This is a worthy read for anyone who is wondering if, or has established that, they are in a subtly or blatantly abusive relationship." My second thought was, "This man understands and supports feminism, that is the equal treatment of women."
Before reading further, please know that he clarifies there are exceptions to males being the abusers. He provides reasons and statistics for the predominance of male abuse and approaches the subject with sensitivity to both men and women. Also of note is that his principles will assist non-heterosexual relationships. Quantz's goal is to wake up both people in the relationship, invite respectful sharing of power and control, and land on a close, healthy, and mutual rewarding relationship.
Basic Concepts
The Problems with Power and Control
When one partner has more power and control it is a breeding ground for abuse. Even though equal power and control is not technically possible in a relationship, empowering each other where they have little power is useful to making the relationship mutually beneficial.
Many women experience significantly less power in key areas of relationship such as defining what healthy looks like and having credible impact with their opinions due to long established female-male power differences. Due to physical strength, cultural biases, family patterns, and religious dogma, women often live in a one-down position from their male partner (inequality of value) and at times even experience less power than their male children.

Men often don't grasp or accept the reality that overall they possess a predominant power role in relationships and often act as if they are the victims.
Abuse is delivered via three main strategies:

Withholding includes avoiding keeping agreements, not supporting you doing and being with whom you want, and not providing you with helpful information, empathy, or even a response. Withholding is challenging to identify but it corrodes relationships.
Deception includes lying, distorting, or deflecting, away from the truth, using the devil's advocate excuse, and reversing blame.
Creating Crisis-Risk situations to control includes threat of harm, exposing you to danger, for example irresponsible driving, making excessive demands, and raging at you.

Being Nice

can result in a partner feeling confused, depressed, and anxious. When husbands with predominant power exude a

nice

persona but their spouse develops a highly anxious nature, Quantz dedicated a chapter to describe this relationship. He coined the phrase Nice Husband Anxious Wife Syndrome (NHAWS, pronounced gnaws) which details this crazy-making scenario that eats away at the potential joy in a relationship. Although

passive aggressive

may come to mind,

passive dismissive

would be a more accurate term since the woman, in the early stages, often speaks highly of their

nice

partner while feeling their power is dismissed.

Victims of abuse may appear to be just as controlling as their partners but often they are defending themselves by what Quantz calls,The Victim Reactive Cycle.
There is a typical pattern of marriage breakups. The way out of the pattern is for both people to take responsibility for their use, or lack of use, of personal power.
The Solutions to The Misuse of Power and Control
Identify and take responsibility for your own power. This is key to determine how to use your power and control for good.

More men need to recognize how detrimental their use of power has become and more women need to claim the power they have as an equal partner.

Check your character, that is, become aware of your habitual beliefs, attitudes, and behaviors.
Identify events from your early marriage and childhood to find the roots of your coping strategies, unconscious beliefs, and consequential behaviors.
Name the abuse that is present in your relationship. Name it to change it!
Move from coping with your situation to conquering it. Give up operating the way you have always related. Challenge your rituals and traditions.
Aim to be whole and healthy by championing your emotions, your desires, and love of self into the relationship.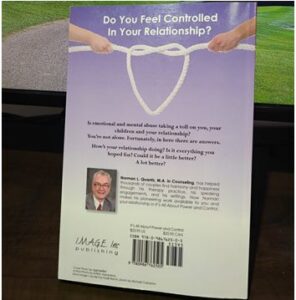 Norman L. Quantz Quotes:
"Healing must be a two-way street. Both you and your partner must work to bring it about, but you must concentrate first on yourself and your own personal recovery from the abuse have been enduring."
"Abuse is best described as the wasting away misuse of another."
"Victims of abuse quite literally waste away mentally, emotionally, psychologically, physically and even spiritually from the stress it causes."
"When people say that is just the way he is or that is just her personality, the way abuse functions is excused and underexposed."
"Ongoing improvement is indicated when the abuser continues to accept ownership for his problems. This must be an ongoing lifestyle change, not just movement when the pressure is on to change."
"Men hold the most power in keeping love in a marriage from fully developing."
"The key power dynamic is in the little word, He lets her choose for many reasons."
Abusers often inch their way into ever increasing control, so it is hard for victims to say when they have had enough.
"Look at situations through the grid of who holds the most overall power to disrupt the movement towards healthy."
"Nice can kill. . . he lives in his bubble of nice."
"Abusers need to take primary responsibility for perpetuating their abusive actions, regardless of why they do it. Victims of abuse need to take primary responsibility in preventing themselves from being the abuser's target."
"Men, be real. Tell the truth, the whole truth. . . Learn how to express the variety of feelings you experience rather than just a two-option attitude: it's either okay or it makes you frustrated."
"Whether the relationship is healthy or not is determined by the way each person uses their power and control to fulfill their core longings to love and be loved."
"We are fundamentally, at our core, wired to want healthy, close relationships."
If you suspect you are unconsciously abusing or being abused, consider accessing a copy of Quantz's It's All About Power and Control. It will help clear the way to a mutually respectful and loving relationship.
Please check out these related posts:
Book Summary: The Seven Principles for Making Marriage Work
What to Know about Sex and Gender Differences
How to Help Men and Women Build Resilience
Patricia Morgan MA CCC helps her readers, clients, and audiences lighten their load, brighten their outlook, and strengthen their resilience. To go from woe to WOW call 403.242.7796 or email a request.
---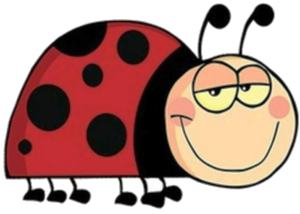 If you enjoyed or benefited from this blog, please leave a Comment below and subscribe to my eNewsletter, Your Uplift.