Keynotes
Programs can be customized to fit your group's needs. Just ask!  The presentations described below are the most popular for strengthening everyday resilience at work and home.  Keynotes are typically between 30 and 75 minutes. 
The Rubber Band Principle:
Three Easy Ways to Strengthen Your Resilience
Too often we say, "It's too hard." You can increase your bounce-ability and capacity to recover from change, mistakes, setbacks and stress at work and home. The Rubber Band Principle encourages you to Do Your Best (LEARN) Let Go the Rest and will help you easily improve your physical, mental, emotional and social well-being.
Three Easy Ways to Strengthen Resilience:
1. Listen to your body. It does not lie.
2. Edit your thoughts and talk.
3. Take your yourself lightly.
Audience members will take away:
Thirty-Second Quickies to better care for their body—increasing health, vitality and productivity.
Thought and talk edits for increased workplace and life satisfaction.
A lighter load and brighter outlook increasing their ability to focus on the important matters at work and home.
"Patricia has a light-hearted and memorable approach to strengthening resilience."
Ellen Coe, Occupational Health Nurse, Petro Canada
"We appreciated the light-heartedness yet deep message Patricia presents. . . Our participants left with a smile, feeling positive and revitalized."
Dr. Anita Mitzner, Education Consultant, Alberta Health Services
"She brought tears to the eyes of some participants through her honest approach, and she made us all laugh. She has a very comfortable presence that we all enjoyed."
Heath Miller, CEO, Bethany Care Centres
Get Over Getting Older:
Tips on Resilient Aging
"Being a Spunky Senior means 'Givin' it every day. Keep taking on challenges and doing your best!'"  Vera Goodman, 84 years old
As many of our wise parents used to say, "Aging ain't for sissies!" Research into aging well recommends alternatives to rusting out. Treat your folks to an informative and upbeat experience. We will explore how to continue to live vibrantly while accepting that getting older is inevitable. Be prepared for reality, possibilities, and some cornball fun!
Audience members will be reminded to:
Care for Your Vintage Body. You'll happily live longer.
Mind Your Mind. Your neurons will stay active and connected.
Hang out with Younger & Older. You'll avoid risky social isolation.
Binge on Gratitude! Your days will be filled with blessings.
Lighten UP! You will see your health improve. Smile, laugh, and skip, if you can!
Note: The longer program (45 min+) includes a fun Name that 50/60s TV Show Quiz
"Everyone thought Patricia was very inspiring. They loved her enthusiasm . . . as well as the humor and exercises she added."
Kara Spady, Flagstaff County Active Living for Seniors Conference
Sunny Side Up:  The Power of Joy at Work and Home
Too often we let petty and daily grumbles pull us down. The story of Bertha Honker will inspire you to increase your smiles, laughter, and joy factor. This session is filled with optimism, appreciation and delightful surprises. . . all to increase your well-being and resiliency.

Audience members will:
Differentiate their optimistic thinking from pessimism
Have ideas to create cheerful surprises and increase their joy
Hear ways to express their authentic appreciation, weirdness and silliness
"She captivated the audience with her humor and personal stories and her delivery was jam-packed with both wisdom and witticisms."
Jackie Maxwell, Hanna and District Women's Conference
For Women Only
Wondrous Western Women:
Celebrate the Resilient Feminine
Women have stepped out of their girdles and done much. Discover how as a Canadian woman you are among such leaders as Nellie McClung and the Famous5. Be inspired to speak up, know your worth and lead your family and community.
Audience members will:
Hear some starling facts about life for our women pioneers.
Be encouraged and inspired by models of care, courage and tenacity.
Given ways to demonstrate determination, assertiveness and leadership.
Celebrate being a Wondrous Western Woman.
Click here to view more information about Wondrous Western Women.
"Many of our women had a life changing experience."
Cath Thorlakson, Women Matter Conference, Barrhead
She Said It:
Celebrate the Words and Stories of Resilient Women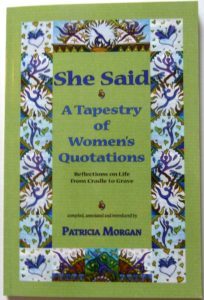 When women dare to speak from their experience, they share insight and delight. Based on the book, She Said: a Tapestry of Women's Quotes,we will explore events from the kitchen sink to acts of courage to deepening our wisdom. Come ready to smile, nod and be reminded of the important words you have to say. Note: This presentation is popular at lunch and dinner events.
Audience members  will:
Hear wit and wisdom quotations from some the world's most infamous women.
Be reminded of their valuable experience and knowledge.
Discover or be reminded of their personal wisdom.
Laugh and share with women friends.
"The evaluations indicate that your message truly was empowering. You touched a lot of women with your sincere, open, honest and humorous presentation."
Diane Scheibner, Empowering Women Conference
---
I would be delighted to discuss possibilities with you. Please contact me at 403-242-7796 or email me.