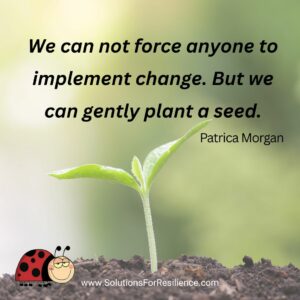 Relationship cut-offs are painful. They can trigger feelings of hurt, helplessness, hopelessness, and rejection. We might also feel angry, defensive, and mistreated. Years ago, I felt all those emotions. But I also discovered how to repair a relationship with a letter, dozens of them.
Each month for eleven years I wrote a letter to our estranged daughter as she spent time in and out of jail with drug-related charges. As our book, Love Her As She Is: Lessons from a Daughter Stolen by Addictions, describes, a letter or letters can often provide the first steps toward relationship repair. They did for us.
But as Shelle Rose Charvet wrote, "Where there's a will, there's a way. But in relationships it takes two wills to make the way. So what can you do to rebound a relationship, whether that is with a lover, spouse, parent, adult child, or friend?  You attempt to promise meaningful change to turn things around. As Mahatma Gandhi said, "Be the change you want to see (in the world)."  And your take the first steps to write a letter. First let us explore what is involved.
Relationship Repair Letter Considerations
Consider these ideas as you write a well thought out message. You are planting the seed of relationship repair with little or no expectation of the other person:
Do not wait for the other person to do the lion's share of change. Be the role model of maturity, love, and receptive calm.
Start writing when you feel love and compassion for the other.
Attempt to picture the other person with soft, compassionate eyes. Write for them. Write to their point of view. Use empathy. The letter is not about making you look good or right. It is an attempt to reconnect.
This is not the time to shun vulnerability. Allow yourself to deeply know, feel and express your heart's pain.
Write in the way you speak. If you don't use mushy language, now is not the time to start. Be honestly kind, while sharing your genuine feelings.
If angry or defensive feelings surface, remember underneath those feelings are softer ones such as sad, hurt, lonely, and worried.
Only point out past experiences that you miss and want re-established.
Avoid creating drama by excluding blaming, rescuing or victim language.
Do not attempt to guilt or make the other person wrong. The right fighting game always ends with more pain.
After writing the letter, sleep on it and review it the next day.
Consider requesting that you read the letter to the other person while appreciating it might be better to mail it. Do you tend to be reactive and easily triggered? If so, you risk losing your letter's thoughtful power. Why? Because unhealed wounds can cause instant disruption and prevent any meaningful communication. Slow mail gives the other person time to consider your heartfelt message and time to consider an appropriate response.
Appreciate the dangers of texts and emails which can enable a reactive response or a quick Share to other people. The two of you are in a relationship disconnect and only the two of you can make a relationship repair. Try to contain the distribution of your message.
If you doubt the authenticity or lack of finger pointing in your letter, arrange for confidential feedback. Ask someone whom you trust to be kind, honest, and fair to both of you.
Accept that you may receive no response, may receive a response you don't want, or may even receive a defensive, angry, or attacking response.
If the response is less than favourable, continue to be the change you want to see. Do not blame, defend, attack, or spread negative word about the other person to others.
In one to two months consider sending another letter. Remember, I did once a month for eleven years!
As you prepare to write, ponder this quote from the American poet, Edwin Markham:
"He drew a circle that shut me out – heretic, rebel, a thing to flout. But love and I had the wit to win: We drew a circle that took him in!"
See if you can write with a sense of lovingly drawing the other person towards you, not away. Here are some helpful steps. 
Steps to Write a Letter to Repair a Relationship
As you use this letter template, remember the words are best when they resonate with your authentic voice.
One: Describe the Relationship Cut-off
Acknowledge that there was a relationship disconnect.
Examples:
We have not spoken since . . .
As you know, we have had tension and emotional distance since . . .
Perhaps, like me, you have sensed the distance between us.
Ever since the day we parted, I have disliked this rupture to . . .
Two: Share How You Feel and the Affects of the Disconnect
Describe your feelings of sadness, loss, or worry.
Examples:
I feel sad about . . .
I keep feeling . . .
It has been too long since I felt you close to me and . . .
I miss you so much I actually . . .
The hardest part for me has been (blaming myself, imagining you no longer care, etc) . . .
I keep thinking I could . . .
I keep thinking you might . . .
I dream about . . .
I don't know what to say when people ask . . .
I wonder, "How did this go so wrong?"
I do not like this disconnect from you and . . .
I feel the loss of your . . .
Three: Reminisce about Loving Times in Your Relationship
Embed some loving positivity and hope into your message.
Examples:
We used to . . .
I remember the first time (I held you, we kissed, etc) . . .
It touched my heart the day you . . .
I was just thinking about the days when . . .
I keep thinking about when we used . . .
I remember when you gave me . . .
When I think about you, I remember the joy (love, comfort, support, fun) I felt when you . . .
Optional and

IMPORTANT:

Apologize
If you even imagine you said or did (even did an eye roll) something to contribute to the disconnect, own it, and use the Research Based Apology template at this LINK.
Four: State What You Want
We are apt to get our desires if we are clear about them to ourselves and the other person. Make your intentions clear.
Examples:
I want to talk, share, and laugh with you again. I want . . .
Our relationship didn't unfold as I wanted but I continue to love you, and . . .
Please know that my love for you has not changed. I love your . . .
I want to, once again, experience your hugs, smile and . . .
My main message is "I love you."
Five: Declare What You Will Do to Get the Change You Want
Express your desire for an improved relationship by committing to positive change. Of course, the expectation is that you will follow-through with integrity, so do not set yourself up for failure. Make a realistic promise.
Examples:
To reconnect with you, I am willing to . . .
We could start with a five-minute phone call. I promise to . . .
I want to do my part to reconnect with you. . .
I am willing to make changes, to really listen, and find a way to . . .
Please know I am committed to find a way for both of us to . . .
Six: Invite First Steps to Reconnect
With no guilting, invite the other person to move towards you.
Examples:
If you miss me, like I do you, we could start by . . .
Perhaps we could both sit, listen, and not say words that will hurt and . . .
I want you to know how much you mean to me and how comforting it would be if we could . . .
What ideas do you have?
What can I say or do to help you trust and connect with me?
It's Never too Late to Repair a Relationship
Andy Chaleff, author of  The Last Letter: Embracing Pain to Create a Meaningful Life had a violent father and loving mother. In his youth, his mother died from a drinking and driving incident. Following his loss, he was depressed for over twenty years. But he eventually processed and healed his pain. Through remembering a letter to his mother, Chaleff made real the saying Love conquers all. He suggests these three letter writing steps.
Imagine the person you miss.
As you imagine walking towards that person, imagine them in a coffin.
Write a letter of the positive impact that person had on you.
Conclusion
What if none of this works? My hope is you experience some peace. You attempted to repair a relationship with a letter. Plus, your letter may plant a seed that grows into an eventual and positive outcome. Relationships can provide painful and loving lessons. I send my blessings.