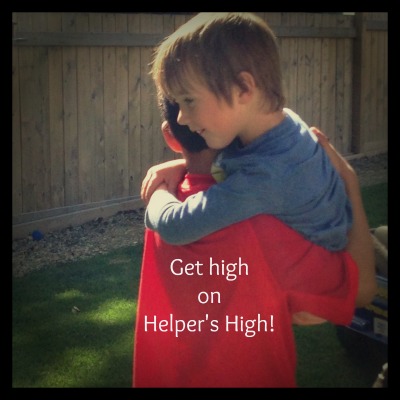 Helper's High
One of the most effective ways of building resilience and bounce back from adversity is to lend a helping hand to others. Many people have experienced the boost helping gives them; hence the term helpers high when we do volunteer work.
My own experience supports this idea. When our daughter, Kelly, was lost in the world of addictions, I worked with young women who wanted to get their life back on track. When I finally got my own anger management issues in order, I began to lead anger management workshops.  When I finally gained a diagnosis for family members who live with disabilities and accessed supports for them, I began to support other caregivers.
Why do we bother to volunteer?  What are our personal and spiritual reasons to volunteer? What's the pay off? We ask lots of what's in it for me questions in other areas of our life.
What's In It For You?
exercise a minimum of 20 minutes a day three times a week?  More energy and stronger heart and lungs.
to work overtime? Keep our job, in some circumstances. Extra pay, if we are lucky.
own a four wheel drive in the prairie? A cool, desirable image.
What's in if for you to volunteer? Maybe, along with thousands of other Canadians, you have already discovered the answer. Did you know that three out of 10 Canadians over the age of 15 officially volunteer? In Alberta the number is higher. Four out of 10 Albertans, over the age of 15, officially lend a helping hand. They have good reasons to volunteer.
Nan Henderson, the founder of Resiliency in Action, tells the story of a foster family who arranged for troubled teen boys to volunteer with disabled veterans.  Those youth used their gifts and became "resources rather than problems".
Who cares?
When I hear the question, Who cares? . . . I think optimistically of volunteers
Who cares about the ill, the elderly and the disabled?
Who cares about disadvantaged women and children?
Who cares about the homeless and poor?
Who cares about human rights violations: sexism, ageism, racism or discrimination?
Who cares about the environment?
Who cares about animals and their right to the planet?
Who cares about global concerns and world peace?
By volunteering your actions clearly state, I care.  But here is a caution. The deceased Canadian, Lois Wilson was a United Church Minister, president of the Canadian Council of Churches and a recipient of the Pearson Peace Prize. I heard her speak on volunteerism at the University of Calgary Person-hood conference.  She encouraged us to choose an area of concern and focus there.  She said,
If you try to be all to all, little can be accomplished"
I add, there is such a thing as volunteer burn out. So, choose wisely your volunteer activities. Yet, there are many benefits you will reap.
7 Reasons to Create a Helper's High through Volunteer Work
Both researcher, Dr. Stephen Post, author of The Hidden Gifts of Helping and Allan Luks, former executive director of Big Brothers/Big Sisters of New York City and author of The Healing Power of Doing Good, have documented the benefits of creating what is called a Helper's High.  Here are some of the findings:
89% of volunteers reported, has improved my sense of well-being.
73% of volunteers reported, lowered my stress levels.
Health problems improved—decreased depression, anger and isolation, and increased social contact.
Feelings of joy, energy and connection can increase.
Physical pain decreases while helping others.
Increased sense of purpose and meaning.
Increased sense of self-worth, greater happiness, and optimism.
More Reasons to Create a Helper's High
Not only does volunteering help your physical and mental health, but you can:
gain work experience
discover and develop your strengths
learn new skills
meet some other dynamic, giving and caring people and
make a positive difference to your community, country and beyond.
Most of us have noted an area of concern where we want to, will, or are have already begun to make a difference. You can use your gifts and give what you can.
Where to Begin Your Volunteer Journey
If you are stumped as to where to begin google "volunteer centre" plus your city. Volunteer centres support organizations that need your time, care and talent. They will gladly give you some guidance and help you find a good match for your interests with community needs.
By the way, you can even google search the term online volunteering.
Emily Dickinson's Poem
Emily Dickinson's thoughts resonate with me and I hope you:
If I can stop one heart from breaking,
I shall not live in vain;
If I can ease one life the aching,
Or cool one pain,
Or help one fainting robin
Unto his nest again,
I shall not live in vain.
If you have found your passion of concern you will easily know your reasons to volunteer. You will be able to answer the question What's in it for me?  
Show me a person who gives of her time, who gives with heart, and lives a full life, and I'll show you a volunteer. Do you volunteer in your part of the world? If not, you're missing out on, guess what? A helper's high!
Are you still wondering where to start? Most communities have a volunteer bureau and jooble lists opportunities in many countries around the globe.
Please check out this related post:
The Exciting Advantages of Volunteering for Teens
Beyond Survival to Fulfilling Your Human Needs
Patricia Morgan MA CCC helps her readers, clients, and audiences lighten their load, brighten their outlook, and strengthen their resilience. To go from woe to WOW call 403.830.6919 or email a request.
---
If you enjoyed or benefited from this blog, please leave a Comment below and subscribe to my eNewsletter, Your Uplift.