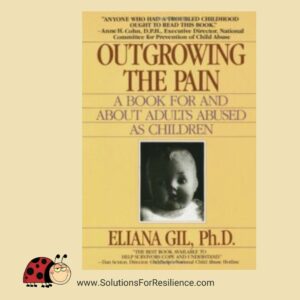 It was in 1984 that I graduated with an MA in Clinical and Humanistic Psychology, which was the forerunner philosophy to Positive Psychology and viewed people from a wholistic perspective.  Soon after becoming a therapist and being assigned clients who were living with all kinds of internal turmoil, I realized I needed to better understand the effects of a painful childhood. Resources and informed information were sparse. But in 1985, a ground-breaking book appeared. Outgrowing the Pain: A Book for and About Adults Abused as Children by child psychologist, Eliana Gil was a godsend.
Regardless of my hours of Transactional Analysis and Gestalt Therapy, my awareness of Childhood or Complex Trauma was nil, and I was not alone. It wasn't until 1992 that psychologist Judith Herman in her book, Trauma and Recovery coined the term Complex Trauma. She described it as "the experience of multiple traumatic events, often of an invasive, interpersonal nature, occurring over a prolonged period of time," which was true for many of my clients going back into their youngest years.
No wonder Gil's work became an invaluable guide and resource for many therapists. It remains on my bookshelf in the classic category. It is an easy-to-read self-help book with nuggets of insight and healing strategies.
Overview of Outgrowing the Pain
In simple terms, Gil describes the long-term effects of childhood abuse and how individuals can move forward and begin to heal. She provides practical advice and resources for survivors to help them gain the courage to confront their past and create a better life for themselves.
Gil also examines the psychological, emotional, and social aspects of abuse, offering step-by-step guidance for overcoming emotional pain.
Basic Concepts of Outgrowing the Pain
It's helpful to understand the cycle of abuse, how it begins and how it repeats itself.
You can recognize that you are not responsible for the abuse and that you have the power to break the cycle.
Allow yourself to acknowledge the pain and hurt of the past to move forward.
Begin to trust yourself and your own instincts and feelings.
Develop strong social support networks and relationships.
Increase self-awareness, self-esteem, and self-confidence.
Start to recognize and set healthy boundaries.
Develop healthy coping strategies and problem-solving skills.
You can recognize and break destructive patterns of behavior.
Emotionally safe people and groups can help you heal.
Top 10 Eliana Gil Quotes
"Remember as you look at your past, you are looking with adult eyes."
"Trust is a major issue for all people, and especially for adults abused as children. They have difficulty trusting their reactions, thoughts, feelings, and perceptions."
"The key to healing is to let go of the past, to accept it for what it was and to own your feelings, allowing yourself to move forward."
"Recovery is a lifelong process. It's a journey that doesn't have a destination or an end. It is about learning to live with and manage your emotions, rather than trying to fix them."
"Healing is not a linear process. It's a series of ups and downs, and sometimes it can feel like two steps forward, one step back. But if you keep moving forward, eventually you'll reach a place of peace and understanding."
"Detecting real danger, rather than having a reflex reaction to potential or assumed danger, is a skill to be learned and developed."
"Violence is learned. It can be controlled. New lessons can be learned about safe and effective ways of relating or resolving conflicts."
"As long as you pine for what never was, and never can be, you are stuck in the past."
"When you give up the wish for the parents you hoped for, you make room for the real people in your life."
"It is important to remember that healing is an individual process. Everyone heals in their own way and in their own time, and that's okay."
Research in the fields of psychology, trauma, and therapy has come a long way. Inner Child Work, Parts Work and somatic therapies are often integrated. We now better understand how our environment helped shape our beliefs, nervous system, and coping strategies. Yet, Outgrowing the Pain can still provide a sound and beginning basis to explore childhood neglect and abuse.