Heal Childhood Wounds
One of the most effective ways to strengthen your personal resilience is to explore your childhood wounds. For some people, life as an adult does not look, sound or feel satisfying. They often wonder why they and their lives are a painful mess. That was once true for me before I engaged in counseling, doing Inner Child work, and discovered that the root of some of my inappropriate adult behaviors stemmed from my upbringing. Our childhood trauma offers many answers to our adult struggles.
Inevitably clients ask, "Why do I have to go back to those crappy, emotional childhood memories? What does my Inner Child have to do with my life now?" Many leave saying, "Counseling did not work for me."
Many also wonder why the therapist did not wave a wand and say magic words to heal their childhood wounds. Fortunately, some stay engaged and decide to look into, clean up, and sort through their old haunted closets.
In over 30  years of counseling, one of the greatest compliments I ever received came from a client who described me as her "safe and steady light guiding the way" into her dark, messy closet of the past.  Out of the darkness, she emerged into the light again with greater awareness and a firm sense of personal choice.
Who and What is in the Closet of Your Past?
Most of our childhood wounds, even the traumatic ones, are not resolved or even acknowledged by our parents or others of significant influence. Dr. Phil McGraw refers to seven pivotal people in your life. Of course, these significant people did the best they could. Yet, typically they believed that it was better to train children than listen to them.
As the author of Wishcraft, Barbara Sher said, "The cost of forgiving the past before you've really confronted it is that you blame yourself for everything that happened to you. You can't move an inch toward what you really want when you're beating on yourself."
It is not useful to blame our parents for what they did not know or neglectfully did not do or abusively did do. But we can hold them responsible for not giving us what we needed to blossom into wholeness and peace. The good news is, we are now adults and in charge of our lives. Awareness helps us execute that power and freedom wisely.
The Blame Game
As children, many of us were spoon-fed messages that were not healthy for us emotionally or mentally. Even as we matured, we were still functioning with old, damaging, and often unconscious beliefs and behavioral patterns — all well grooved into our habitual way of being.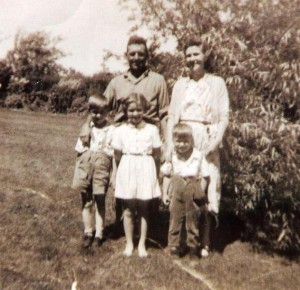 We often decided to blame ourselves and told ourselves, "If only I was smarter, prettier, kinder…they would see me as lovable and capable." It was easier to accept blame for our childhood wounds as it gave us a sense of personal power. A belief explored in Games People Play, Eric Berne's classic book on Transactional Analysis comes to mind: I am not OK. Everyone else is OK.
There are a few people who live with the opposite programming. They blame others for their unease. "If only they were smarter, kinder and agreed with me." In Berne's terms: I am OK. Most everyone else is not OK (i.e. the ones who disagree with me).
Also, when we were toddlers we had our feelings of sadness, fear, anger, and happiness to guide us. Then we were trained to contain them in tight stomach boxes locked with old parental and controlling messages. Without a full emotional repertoire, we told ourselves who we should be rather than truly experience who we are.
Why Explore Your Childhood Wounds?
When you discover what thoughts, beliefs and behaviors you carry from childhood, it helps you:
become aware of childhood trauma effects in adulthood.
get out of automatic reacting and into a mode of conscious choice.
unlock your core feelings.
clarify your values.
better separate the choice you HAD TO MAKE in childhood from your desired adult response.
choose what kind of partner, friend, colleague, parent, and person you want to be.
differentiate yourself from your beginnings to your growing self.
live a life of more authenticity, creativity, and joy
Oprah Winfrey said,
"Healing the wounds of the past is one of the biggest and most worthwhile challenges of life. It is important to know when and how you were programmed. So, you can change the program. Doing so is your responsibility. No one else's.

There is one irrefutable law of the universe. We are each responsible for our own life. If you are holding anyone else accountable for your happiness, you are wasting your time. You must be fearless enough to give yourself the love you did not receive."
In 2021 Oprah Winfrey and child psychiatrist, Dr. Bruce Perry collaborated to write What Happened to You? Conversations on Trauma, Resilience, and Healing.
Ways to Explore Your Childhood Wounds
Know Your ACE Score:  The Adverse Childhood Study is one of the largest studies ever made on the topic of childhood trauma. Therapists of all backgrounds use it to establish the impact of childhood trauma. I have noticed it helps my clients have compassion for themselves. It is a quick and helpful guide. The ten measures do not tell the WHOLE story of your life but they do indicate the depth of your childhood wounds. Please know your score by clicking here on ACE Score.
John Bradshaw, author of Homecoming: Reclaiming and Championing Your Inner Child suggests this exercise:

Close your eyes.
Go back to your childhood house.
Look in the window and find yourself inside.
What do you see? What do you feel?

Arrange for some counseling.  For many people, a therapist is an effective agent of healthy change. Consider reading my blog, Reach Out for Help: How to Find a Therapist. If you cannot afford to pay for counseling, check your workplace. Many companies have Employee Assistance Programs that provide free therapy. Ask for someone who does Inner Child work.
Do the exercises in a self-help book like Phil McGraw's Self Matters or Ronald Richardson's Family Ties that Bind.
If they are willing,  interview your parents or other key players from your past. Ask questions about your childhood that do not make sense to you. What was going on when you were neglected or abused in some way? Find out about your caregivers' childhoods.  Doing this allows us to see our parents' hang-ups as part of their childhood survival patterns and less about us.
Answer the questions below in three ways from your:

Inner child and naive perspective.
Parents' or primary caregivers' perspective and experience.
Adult and mature perspective and experience.
Write Out the Answers to these Questions: 
What was going on at five-years-old (and the years into adulthood) that resulted in…?
How do you describe your childhood — joyful, protected, neglected, restrained, painful, scary?
What were some of your happiest moments?
What were some of the most disturbing moments?
Are there any regrets? If so, what?
Was discipline used or was punishment used? If you do not know the difference, discover it.
What were you taught about:
Love?
Sex?
Money?
Religion?
Having children?
Raising children?
Religion or spirituality?
Values, morals and virtues such as honesty, kindness, compassion, respect, integrity?
Feeling sad, hurt, scared, anxious, disgusted, frustrated, angry, happy, proud, joyful?
Expressing feelings?
Having a strength and gift?
Work and success?
Having fun?
Patterns are Passed on Generation to Generation
As you answer these questions, observe how core beliefs and habits are passed on from generation to generation. Are you speaking and acting like you would be in a play spewing the words of your black sheep, princess or clown family role? Some people believe they are free of the older generation's influence. They swore, "I will never neglect my child like my parents did me." Then they overprotect, smother and try to control their child. They, indeed, are also passing on a generational and dysfunctional pattern. They are reacting; not consciously choosing healthier and reasoned parental behaviors.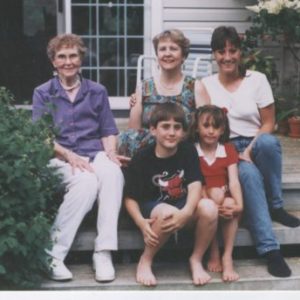 Once you have responded to all of the questions, slowly review your answers.  Discern if you are 'stuck' or 'reacting' in poor generational habits. Those patterns may have helped you move through your emotional childhood wounds, but do they still serve you with your present day situation and relationships?
The Choosing Therapy website post, Healing From Childhood Trauma: The Process & Effective Therapy Options describes stages of healing and therapy modalities that are effective for childhood trauma.
What changes are you ready to make concerning your childhood wounds to become a more resilient adult?
Please check out these related posts:
Patricia Morgan MA CCC helps her readers, clients, and audiences lighten their load, brighten their outlook, and strengthen their resilience. To go from woe to WOW call 403.242.7796 or email a request.
---

If you enjoyed or benefited from this blog, please leave a Comment below and subscribe to my eNewsletter, Your Uplift.