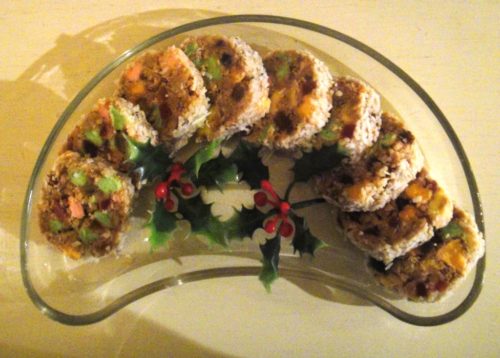 Several years ago I stopped making batches of Christmas cookies. Some were pretty. Some were messy. All were sweet. Then I discovered the simple recipe below (also pictured above). The first year I made these easy fridge cookies they outscored other holiday cookies. Our children begged for their own roll.  Now my grandchildren line up for their fair share.
Holiday Fridge Cookies
Ingredients
One 8-ounce can sweetened condensed milk
15-20 Digestive Biscuits
½-3/4 bag mini marshmallows
15 glaze cherries cut in halves or quarters
Optional: ½ cup chopped pecans or walnuts
Fine coconut
Directions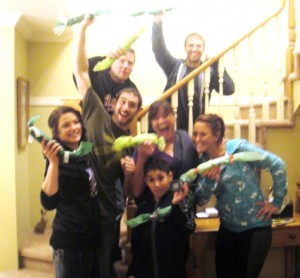 Crush biscuits into crumbs. Add marshmallows and cherries.
Stir enough of the condensed milk to make mixture sticky.
Form into 2 or 3 balls.
Roll out into sausage shapes on a coconut covered surface.
After "sausage" is covered with coconut, wrap with wax paper and place in the refrigerator for an hour or more. You can even put the roll in the freezer.
Take out of the fridge and cut into slices.
Is that stress relieving or what? Just add a bow!
By the way, there is also nothing better than watching Classic Christmas Movies while you're eating your favorite holiday cookies.
Please check out these related posts:
Need More Time? Assess Your Holiday To Do List
It's December! Keep Calm and Merry on
Patricia Morgan MA CCC helps her readers, clients, and audiences lighten their load, brighten their outlook, and strengthen their resilience. To go from woe to WOW call 403.242.7796 or email a request.
---

If you enjoyed or benefited from this blog, please leave a Comment below and subscribe to my eNewsletter, Your Uplift.