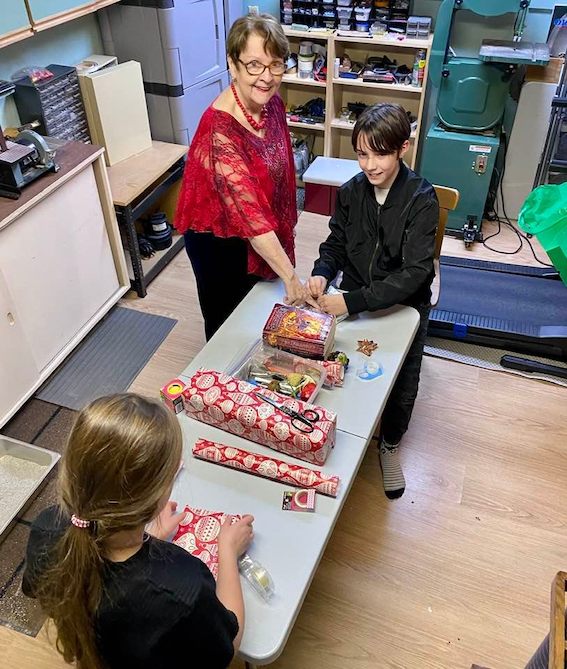 A Tradition to Calm Christmas Hype
Years ago, when Les and I were raising our young children, I noticed they became distressed  in December.  Television commercials made the toys look exciting and larger.  While sitting on Santa's lap they were asked, "What do you want for Christmas?" They wrote letters to the jolly old man and crossed their fingers. Christmas hype created anxiety about Christmas expectations.
They asked, "Is Santa real?  Will he bring that Ice Maker Spin Master? Am I going to get what I really want?"
We made a decision to try an experiment and 'do' Christmas differently to avoid any incidents of children's stress.  It worked! It still works with our grandchildren who are mature three-year-olds or four-years-olds and older. Here is what we did!
The Christmas Gift
We choose a time and day to have a date with a child. Plan for two to three hours.
We clearly state the parameters (boundaries) to the child. "You may choose one Christmas gift that you really want. You are allowed to spend up to $ (you decide what the family budget allows). You may choose whatever you want as long as it is non-violent and age-appropriate."
We show patience and allow potential gifts to go in and out the shopping cart as each item is given thoughtful consideration.
After we bring the gift home, together we wrap it and put it under the tree.
We say, "There you go! You will open this gift knowing it is what you want. How about we keep it a surprise until Christmas day?"
The Benefits
The real gift is spending special time with a child.  Discussions are focused on price and play value.  You become a key and trusted consultant.  But the final decision, within the established boundaries, is up to the child.
I recall my six-year-old daughter Katie putting a doll in the cart to replace it by a play sewing machine. Then it was replaced by molding clay which was replaced by a Barbie car, and on and on. I hoped she would choose sex-neutral Lego! After an hour of Katie deliberating her options she made her decision. She chose a domestic-oriented package that included a play broom, dustpan, mop and duster. I wanted her to use our real household tools!
Fast forward a few years, in a similar process our grandson, Jamie, chose a skateboard helmet. Our granddaughter, Danielle, chose a black light which radiated a fluorescent glow.  It made her room a fun place to retreat. We would never have known to buy these prized items, particularly the black light.
What's the biggest reward? You will be a child's hero for calming Christmas hype. Plus, you just might hear a little voice telling a visitor, "See that gift under the tree?  That's exactly what I want for Christmas!"
Please let me know if you tried this process with a special child. Sharing your experience just might inspire other parents, grandparents and other caregivers to do likewise.
PS – Another fun (and calming) thing to do with your children at Christmas is to watch some classic movies together.  Check out my blog called  14 Wonderful Classic Christmas Movies for some ideas – happy viewing!
Please check out these related posts:
Holiday Stress to a Calm and Merry Christmas!
Yummy and Easy Holiday Cookies: Make, Refrigerate, Eat!
Patricia Morgan MA CCC helps her readers, clients, and audiences lighten their load, brighten their outlook, and strengthen their resilience. To go from woe to WOW call 403.242.7796 or email a request.
---

If you enjoyed or benefited from this blog, please leave a Comment below; subscribe to my eNewsletter; Follow me on Twitter; Like me on Facebook; and Connect with me on LinkedIn.