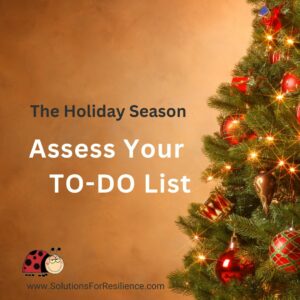 More than any other time of year, at Christmas we add to our holiday To Do list. I have heard, on average, during the holiday season, many women add an extra 60 activities to their regular To Do list. Hard to believe, eh? Many of these items are I should do's — a sure way to add distress to body, mind, and soul.
I have caught myself muttering under my breath, "You should!" as two women, whom I admire, showed off their Christmas cookie baking.  But I realized my Christmas plate was already full. I needed to figure out what to take off of my plate. Plus comparing and trying to keep up is a poor formula for enjoying a joyful time of year.
I do not remember the last year I made a tin or tins of decorative cookies. I do, however, continue to mix and wrap our children's favorite Christmas fridge cookies in waxed paper. For me and my family, this is plenty enough. Consider what is your plenty enough?
To help you explore your enough list, here is a time and energy assessment. Use it to become aware of how much is on your plate. After you tally your results, decide on how much time and energy you expend.
Holiday To Do List Assessment
Time/Energy output from 5 to 25 points
Decorate home—buy or pull out items and display.     10
Buy, put up and decorate the tree. Extra points for chopping it down.      10
Christmas cookies and goodies. Extra points for shortbread.      10
A special day for children to create a customized Gingerbread House.      15
Send out greetings. Extra points for handmade and/or personalized notes.      15
Attend seasonal concerts and services.      5
Attend parties. Extra points for taking a personal gift and wearing a new outfit.      5
Throw a party. Extra points if you clean first.     20
Shop, purchase and wrap gifts for family and friends. Extra points for remembering your hairdresser, postal carrier and garbage collector.      25
Volunteer for a special holiday event for the needy or a good cause.      10
Prepare December 24 or 25 meal. Extra points for cleaning first and keeping an eye on drunken Uncle Harry.      20
Take food and cheer to those isolated in your community.      5
Phone your long distance relatives to wish them well. Extra points if you include relatives you really don't like.      10
Afterwards
Clean the house.      10
Make soup. Extra points if you use the whole turkey carcass.     5
Go bravely into Boxing Day madness. Extra points if you go with children.      25
Arrange New Years Day celebrations.      15
Take down the decorations and tree and clean the house again.      15
Your Total

_________

Now, that you have a sense of how much time and energy you burn, what are your options?

Option One: Have a nervous breakdown at any point. Humor intended!

Please consider how you can move from too much on My To Do list to Enough by considering these ideas.
Option Two: Be resilient! Take items off of your plate by:
not doing them, or
taking shortcuts such as buying the plum pudding, or
delegating tasks, or
paying for them to be done.
All the best in calming your to do list. If you want to dive deeper into this idea consider buying the little book, Calm Christmas and a Happy New Year: A Little Book of Festive Joy by Beth Kempton. 
Consider watching a Classic Christmas Movie with all the free time you have created for yourself. After all, you now have a manageable holiday To Do list. Enjoy!
Please check out these related posts: