How to Stop Your Relationship Drama: Part 1 describes the origins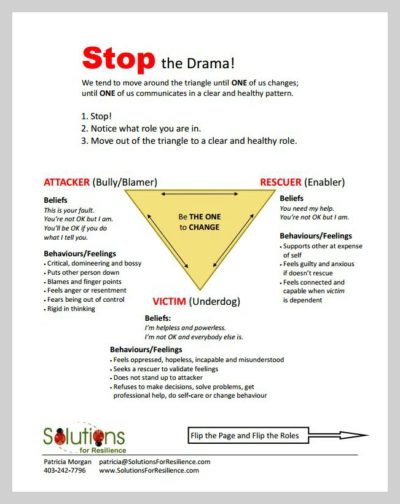 of the Drama Triangle. It also describes the three communication traps of victim, persecutor, and rescuer. Enacting these roles puts us in relationship conflict.  Please read Part 1 first, along with the FREE and downloadable Stop the Drama Poster. 
The Empowerment Triangle
There are three healthy alternatives to enacting the victim, persecutor or rescuer roles. Knowing and putting these alternatives into action will help you better stay out of a dysfunctional relationship pattern. They will help you establish healthier and effective ways to speak, listen and connect.
1. Move from The Victim to The Survivor/Thriver
People who consider themselves survivors, or even better, thrivers focuses on goals and outcomes, and sees problems as challenges. Consequently, they see opportunities for learning and growth.
The survivor accepts personal responsibility and is accountable for herself and her actions.

The survivor believes, I always have choices. I have the power to create a future not bound by my past.
Ask yourself the eight questions below to check how often you use the behaviors of a survivor/thriver:
Do I have a sense of purpose or a passion that gives meaning to my life?

Do I have goals in regards to the person I want to be, have and do?

Am I committed to my goals and work consistently towards them?

Do I thoughtfully evaluate my current situation?

Do I preview and review my choices and actions to make sure they are goal focused?

Do I daily demonstrate that I am responsible for myself and am accountable for my actions?

Do I actively learn from my experiences by gaining insight, knowledge, and skills so I do not repeat mistakes?

Do I face the difficult aspects about myself and my habits?
2. Move from The Attacker/Persecutor to The Challenger
People who challenge are willing to appropriately confront others with the truth. They avoid blaming, criticizing and judging. 
The challenger uses assertive communication: For example she will use I Statements such as "I feel _____(emotion)_______when/because ________(behavior)_______.  I request ________(different behavior)__________."
Challengers believe, I assertively confront behaviors in myself and others that are negatively impacting me.

Challengers can help us correct mistakes. They can also help us avoid disaster or significant problems. 
Ask yourself the four questions below to check how often you use the behaviors of a challenger:
Do I use assertive communication?

Do I confront behaviors but accept the person without judgment?

Do I accept conditions and circumstances that cannot be changed while making the best of the situation?

Do I state my expectations and boundaries clearly?
3. Move from The Rescuer to The Coach
People who coach listen deeply and acknowledge the experiences and feelings of others. 
Coaches ask good questions to help others survive and thrive. 

Coaches believe I can listen with empathy to you, but I can not solve your problems.
Ask yourself the six questions below to check how often you use the behaviors of a coach:
Do I say no to requests for help when I do not willingly and freely want to help? Or perhaps I don't have the skills to effectively help.

Do I listen deeply and with empathy?

Do I acknowledge what others are experiencing and feeling?

Do I ask good questions to help others clarify their goals?  For example, "What do you want to happen? or What is your plan?"

Do I ask good questions to help others assess their current situation?  For example, "What is getting in the way of achieving your goal?"

Do I ask good questions to elicit actions?   For example, "What do you need to do next? What is one step you can take towards your goal?"
Results of The Empowerment Triangle
Here are nine other dynamics related to the empowerment triangle:
Goals and Outcomes are the main focus.
Typical behaviors include self-awareness, accountability, assertiveness with clear communication, empathizing and active (deep) listening.
Feelings include a sense of passion and purpose, hope, and self-empowerment.
Power is primarily personal power and perceiving others as equally powerful.
Responsibility ownership is clear.  Individuals only accept responsibility own actions and the consequential results.
Relationships boundaries are clear, consistent and maintained
Expectations of self and others are known and expressed.
Actions are thoughtfully chosen and focused on goals.
Outcomes effect positive change and often result in movement towards goals, personal growth and learning, resiliency to circumstances beyond one's control and more satisfying relationships.
Remember! You can move out of relationship drama by no longer enacting the roles of victim, attacker or rescuer.
References:
Related Books:
---
If you enjoyed or benefited from this blog, please leave a Comment below and subscribe to my eNewsletter, Your Uplift.