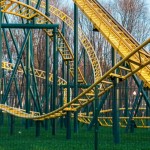 My last month has included a number of significant and insignificant ups and downs. They happen to me, to you and most of us. People say "the ups and downs of life." Right? But let's call them downs and UPs. That feels better to complete the cycle on a resilient uplift! Don't you agree?
There you go—just a little example of reframing, optimism, and gratitude.  All three help with the practice of everyday resilience.
Down: I started to feel rejected, frustrated and disappointed at repeatedly coming up empty for a roommate at the National Speaker's Association Convention in San Diego. I really wanted to minimize the financial side of attending this amazing event.
UP: Finally the perfect and right roommate emerged. Laurie Flasko from Niagara Falls was a delight and I learned about some of her work in customer service training and team building. Check her out HERE.
Down: The Canadian Anti-Span Law came into effect July first. I contacted my e-newsletter, Your Uplift, subscribers. I was warned that many business people were losing between 90 and 95% of their contacts, their followers. People are weary of being bombarded by these newsletters. I felt some worry and wondered how I would handle the probable rejection. So far we have lost just over 80% of Your Uplift readers.
UP: I am ok. Even more, there was a sweet surprise. Email replies came from followers since 2001 to recently, from across the country and a few from outside of Canada. They wrote about how Your Uplift had helped them through some tough times even if in small ways or how it is a treat that appears in their inboxes. Two of them wanted to meet me in person and that was arranged.
Down: Seeking respite for our grandson took up a lot of time. I tried several agencies. I tried the university. I tried Kijiji.
UP: Kijiji was a BINGO! We now have a wonderfully skilled support worker involved with our family. I call her A Blessing.
Down: My hubby, Les came home from a doctor's appointment reporting that his prostate cancer cells are not only back but doubling. He has started hormone therapy.
UP: We went out for a quiet dinner and talked about the important and not so important topics of our situation. He is steady, matter-of-fact, disciplined and well loved.
Down:  I put on four pounds.
UP: This is a good reminder to get moving. Or the other UP is–there is more of me to love.
What are your ups and downs or, even better, downs and UPs in life? Leave your comment below. OK?
Please check out these related posts:
How Your Resilience is Like a Rubber Band
The Keys to Boost Your Attitude of Gratitude
Book Summary: Learned Optimism