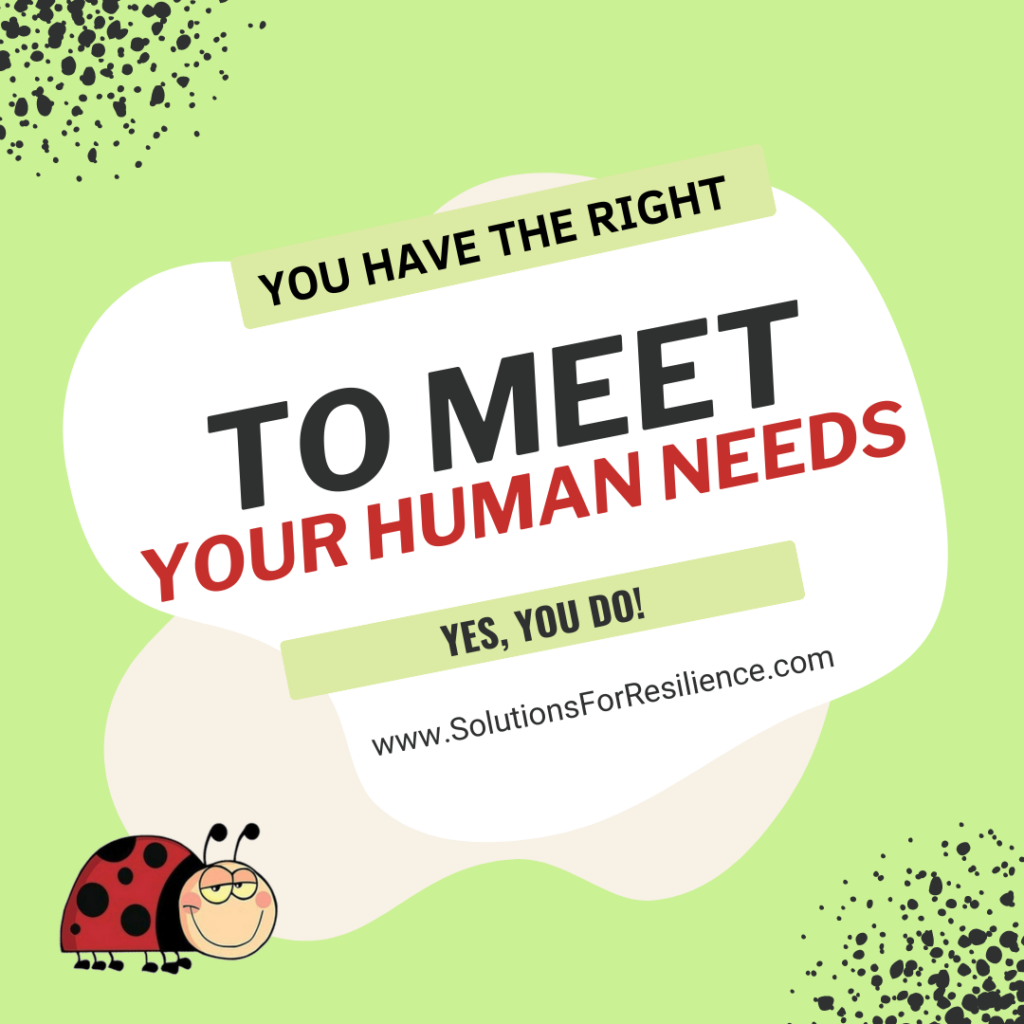 We know we have the basic human needs of water, food, air, and shelter to survive. We could continue to exist while feeling fearful, depressed, angry, and disconnected from one another. But we humans have evolved beyond merely existing. We want more. We want to succeed. We want to flourish. We want joy, love, connection, fun, meaning, and life purpose.
But many of us are not aware of what is missing, nor what is creating our life dissatisfaction. We can get stuck in states of anxiety or depression or living with other mental health issues.
Neglecting our human needs can lead to psychological and stress-related problems, and perhaps illness.  Meeting or not meeting our needs affect the essence of our humanity – our emotional, mental, social, and life-purpose needs. When we can name a problem, we can solve the problem. When we identify our human needs, we can then take steps to improve our well-being.
Maslow's Hierarchy of Needs
It was in 1943 that Abraham Maslow proposed A Theory of Human Motivation. For decades, The Maslow Hierarchy of Needs framework has been in use in personal development, psychology, sociology, social work, health care and education courses. You may recognize the pyramid diagram which categorizes basic needs, psychological needs and then self-fulfilment needs.
Physiological needs provide the ground level of well-being. Indeed, the theory proposes we cannot move up the pyramid until the lower needs are met. It makes sense that if our body is malnourished, we will not focus on feeling safe. We will risk getting a loaf of bread (think Les Miserables) to survive. Likewise, if we do not feel safe in our surroundings, we are more apt to flee than try to connect with others to satisfy a need to belong. Then come esteem needs and then self-actualization as the highest evolved need.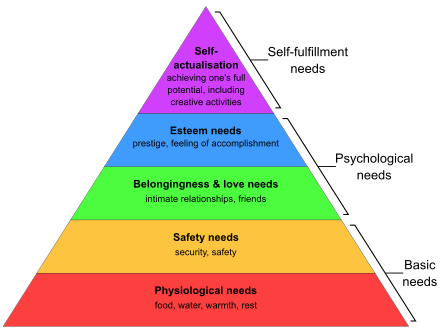 Other theorists, researchers, and even personal development guru, Tony Robbins have developed alternate human needs lists. It was when I began studying the work of UK Uncommon Knowledge hypnosis trainers, Mark Tyrrell and Roger Elliott, that I was introduced to a list called, Primal Human Needs.
7 Basic Human Needs
Here I have modified some of these lists, but the basic philosophy of human needs is intact.
Exercise:
Score each need from 0 (Unfulfilled) to 10 (Totally Satisfied)
For any score under 7, determine what you can do to satisfy that need.
1.   The Need to Attend to the Body
As mentioned, we have a basic and primal need to survive. Take care of your body. It is your life vessel, the container of everything that is you. The fitness industry makes millions of dollars telling us how to:
Get at least 7 hours of sleep daily.
It doesn't matter whether you take a walk or climb a mountain.
Eat sensibly with ample nutritional value.
2. The Need for Safety and Security
Our autonomic nervous system has an alarm signal for danger called the amygdala. Our amygdala can be triggered into the fight, flee or collapse response when we have challenges with finances, health, or relationships. Consider those who live with domestic violence, or are first responders, or go to war. The level of pressure on these people can easily affect their mental health.
Regrettably, our thoughts can trigger cues of danger as easily as a bear chasing us. Many of us live with unresolved distress. We were traumatized. Consequently, most of us need not only physical, but emotional safety in our environment.
We need to live in a stable environment that supports our ability to spend some time, if not most of our time, in a calm, grounded, centered state.
Record the times your amygdala fires and you defend, argue, leave the room, shut down, or give up. What took away your sense of safety? Was it a thought (E.g. "I'm stupid"), something you saw ( a snake) or something someone said ("F*ck you!") or did (Cut you off in traffic).  These are your cues of emotional danger.
If you listed external triggers, think about how you can minimize time in those places with those people or circumstances.
If you listed internal triggers such as negative self-talk, journal those thoughts, share them with your confidante, take a personal development program or arrange several counselling sessions.
Please, if you suspect you live with trauma, see a trauma informed therapist.
Another strategy is to build your sense of security by becoming more physically fit or take a course to enhance your skills and knowledge.
3. The Need to Give and Receive Attention
In 2018 the World Health Organization announced, "Loneliness is the new pandemic!"  Isolation or lack of social contact can affect our emotional, mental, and behavioral patterns. Research indicates that connection to others is the best anti-dote for depression. We need one another, and for more than just our romantic other.
Ensure you connect with other people at least twice a week.
Do not exceed speaking for more than your 50% allotment.
4. The Need for Community and Meaningful Contribution
Our circle of life can become too small and too personal, narrowing our experience of a vast world. We need experiences with a larger reality than our household activities. Volunteering is one way to expand our existence. Research has resulted in the term volunteer high because it was found that people feel better after they do an act of altruism. Tyrrell wrote, "This basic need gives us a reason for being, over and above our own personal needs, that has been shown to benefit the immune system, mental health, and happiness."
Join one or more social, service, study, hobby, or faith groups.
Notice what stirs your heart about a societal problem. If seeing homeless people bothers you, find some way to make a difference. Find your cause!
5. The Need for Challenge and Creativity
You've heard "Use it or lose it." That is true for using all our bodies' muscles including our brains. Lifelong learning can reduce the risk of developing dementia. We are wise to allow our curiosity to move us to explore, experiment, make mistakes, learn, and grow new neurons. Boredom can dim our lights, so challenge yourself, and brighten your outlook.
Recall what you enjoyed when you were a child. What kind of adventures did you take? What was fun when you were learning through play?
Sign up for a class in something, anything. Even better, notice what you admire that someone else can do. You can learn to do that too!
6. The Need for a Confidante or Two
We all need at least one person with whom we can feel emotionally safe to share our thoughts, fears, problems, hopes, and dreams. Tyrrell wrote, "Some people are able to fulfil this need by talking to a loved pet, but most of us need a small circle of loving and supportive friends and/or family."
If you have an intimate partner, have rituals that allow time to cherish one another. Weekly, take Us Time. If that is not possible arrange something significant at least monthly. Build in daily love gestures such as a morning hug and a good-night kiss. Daily, physical embraces are good indicators of a robust love relationship.
However, if you are single, have at least three friends or relatives to whom you can easily pour out your heart. Don't get stuck thinking, "I am human and I need to be loved by a lover." Let your circle love you up!
If supportive family or friends live a distance, away pick up the phone or use Facetime or Zoom to connect.
If you do not have emotionally safe people in your life, hire a therapist. You may need to learn what emotional safety feels like, and how to provide it to others before experiencing it in your own life.
7. The Need to Be Deserving or Important
Tyrell and Elliott refer to this need as The Need for Status, but I prefer describing it as a sense of importance, knowing we matter. We all want to believe we are lovable, capable, and valuable. And we long to have this truth confirmed. I've never met anyone who does not benefit from being seen, heard, acknowledged and appreciated. We need one another to recognize our worthiness. Along the way, it is wise to remember we are all important, not superior, or inferior to anyone else.
If you compare yourself to others, realize doing so is human nature, but it does little good. We can all find someone who is doing worse or better than ourselves. Do your best and know that is enough.
Know your strengths, a combination of skill, knowledge, and talent. If you don't know your strengths, take an inventory.
 Give what you can. Use your strengths at home, work, and community.
Assess the value you give others and the world. Consider all you do at home, work, and community. Consider what it would cost to pay someone to do those tasks. What would it cost to pay someone to prepare and serve all the meals? What about childcare costs, laundry, and cleaning cost?
Do something today to make a difference to someone else. Now, that is making yourself important.
Be Flexible Meeting Your Needs
Consider how you can meet several needs in flexible and efficient ways. For example, inviting people for a meal can accomplish meeting the needs for nourishing food, being creative, and developing community.
Have a variety of ways to meet your needs so that when one source of fulfillment changes or collapses you have a buffer. For example, what happens if you only have one friend, who is your confidante and with whom you only going bowling? You put yourself at risk if that friend cuts off the relationship or life circumstances inhibit the two of you connecting. What if you can no longer physically go bowling. You lose physical activity, your safe bowling alley environment, your social life, and potentially your only friend and confidante.
Remember you not only have the right to meet your human needs, but you will also stay more mentally healthy by doing so.
Please check out these related posts:
Patricia Morgan MA CCC helps her readers, clients, and audiences lighten their load, brighten their outlook, and strengthen their resilience. To go from woe to WOW call 403.830-6919 or email a request.
---
If you enjoyed or benefited from this blog, please leave a Comment below and subscribe to my eNewsletter, Your Uplift.