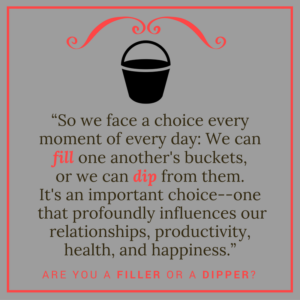 Tom Rath and Donald O. Clifton's book, How Full is Your Bucket?  was first published in 2004. It provides research and a delightful reminder that we all want to be seen, heard and acknowledged.
Overview:
Rath and Clifton argue that providing brief and positive interactions in work and home relationships can result in benefits such as increased productivity and well-being. Some of their research-based conclusions with millions of workers include, the main reason employees leave their job is they do not feel appreciated.
Managers and bosses can actually increase employees' risk of stroke as much as 33%.
Most people (9 out of 10) report they are more productive when they are around positive people.
Five positive interactions are required for each negative interaction to create and maintain a positive working environment. However, once positive interactions are over thirteen for each negative there is a decrease in productivity.
Basic Concepts:
The idea of filling a bucket with a dipper is used as an analogy for offering encouragement, appreciation, and acknowledgment. Rath and Clifton encourage "filling" buckets rather than "dipping" into them—diminishing people.

Study after study supports the idea that employees thrive better when working with or for those who inject the workplace with a positive mood rather than those who are negative and create work issues.

It is not only OK but it's an advantage to one's health and work benefit to have friends at work.

Give attention and acknowledgment unexpectedly.

Find out how people want to receive recognition.

Focus on what is going well.
Tom Rath Quotes:
"So we face a choice every moment of every day: We can fill one another's buckets, or we can dip from them. It's an important choice — one that profoundly influences our relationships, productivity, health, and happiness."

"Tf you want people to understand that you value their contributions and that they are important, the recognition and praise you provide must have meaning that is specific to each individual."

"The magic ratio: 5 positive interactions for every 1 negative interaction"

"Expected gifts do fill our buckets, but for some reason, receiving things unexpectedly fills our buckets just a little more."

"…try to catch yourself in the act of bucket dipping – then stop it."
"Each interaction gives us a chance to shine a light on what's right – and fill a bucket."

"How full is your bucket?"
Conclusion:
A 2011/12 report by Towers/Watson National Business Group on Health called Staying@Work Survey supports Rath and Clifton's research.  Towers/Watson surveyed 335 human resources and/or health benefits managers of organizations with more than 1000 employees in Canada and the United States. Their report indicated that 64% of workers feel they lacked support from management. Thus, the problem with lack of recognition and appreciation still exists and How Full is Your Bucket? may just provide the antidote.
Note: Tom Rath and Mary Rechmeryer have written a book for children called, How Full is Your Bucket? For Kids.  
Please check out this related post:
People Boost with Acknowledgement, Appreciation, and Encouragement
12 Easy Ways to Build Your Resilience at Work
Patricia Morgan MA CCC helps her readers, clients, and audiences lighten their load, brighten their outlook, and strengthen their resilience. To go from woe to WOW call 403.242.7796 or email a request.
---

If you enjoyed or benefited from this blog, please leave a Comment below and subscribe to my eNewsletter, Your Uplift.