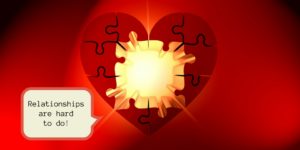 Years ago my father did not speak to me for six months. When our oldest daughter, Kelly was in jail (see the book, Love Her As She Is) she asked for bail money. After we said no, she did not speak to us for many months.  When our youngest daughter told us about her diagnosis of breast cancer, I answered the phone. She felt hurt and then distanced herself from me.  I wrote her a research-based apology that helped fix our relationship. Mending a broken relationship takes effort. Here are some ideas based on emotional coaching to fix your relationship.
Emotion-Focused Family Therapy
Parents, caregivers, and others in an authoritarian role can become emotional coaches. Toronto Psychologists, Dr. Adele Lafrance, and Dr. Joanne Dolhanty developed their idea and presented it in a two-day training. Their model, Emotion-Focused Family Therapy (EFFT), began within their eating disorders clinic. It is now being applied to other relationship challenges.
Many of their concepts can help coaches, counsellors, mentors and even managers. It can help friendships, marriages, families, and workplace teams. Keep reading if you want to help strengthen connection, well-being, and resilience.
An underpinning hypothesis is that emotional difficulty is the basis of many mental health and relationship conflicts.  People will reveal their emotional states when they feel safe. They feel safe when they believe the listener cares enough to want to understand their internal condition.
Consider practicing ways to provide emotional coaching. These ideas may help you improve or even fix your relationship.
10 Ways to Provide Emotional Coaching
Before establishing expectations, check whether the other person is ready, willing, and able to meet those expectations.
Before approaching your special person get clear about the role of emotions:
Emotions are fundamentally adaptive and aid in survival.  They are like an alarm system providing information about ourselves and the world.
When we are able to name and identify an emotion, it calms and we better know what we need.
It is difficult to become emotionally aware when we live in an emotion-avoidant culture. The researcher Brene Brown uses the term shame-prone culture.
The state of anxiety gives the message, Do not feel.  We need to create safe environments for people to be at their emotional and mental best.
The three main painful feelings are fear, anger, and sadness.  The only thing worse than feeling pain is not feeling it.
3. Find the right moment to approach your special person. It may be through a letter. Or it may be when the two of you are alone.
4. Invite your special person to meet with. "I have a problem and would like to have a conversation with you. Will you meet with me?"
5. State the obvious. "I have noticed you have not spoken to me in months. I feel hurt. I want to know what is going."
6. Really listen.
7. Avoid trying to make those hurting to see the bright side of their situation.  You risk having them react with fight, flight or collapse. They will probably defend, argue, push you away, or shrug their shoulders. They may go deeper into their dark place.
8. Avoid any attempt to deny hurt feelings by saying "but. . . "  Instead, say "because. . . "  Replace saying "I imagine you feel this way but . . .  " with "I imagine you feel this way because . . ." Give your best guess at what was the emotional trigger.
9. Own your part in the situation. "Yes, I said that."
10. Where appropriate, apologize.
Five Steps to Validating Emotions
Notice emotional cues.
Empathize best you can. Imagine how they feel and say.  I imagine you feel . . .  because. . .
Give the message I am here for you.  Provide reassurance.  "We can work this out."  Note: have clear boundaries around others' expressions of anger.
Apologize for your part.
Invite problem solving.  Once emotions are calmed, the next steps can be discussed.
Be gentle with yourself as you practice the skill of emotional coaching. It is not easy to mend a broken connection. Be forewarned, it may not work. But you will know you did your best to fix your relationship.
---
If you enjoyed or benefited from this blog, please leave a Comment below and subscribe to my eNewsletter, Your Uplift.