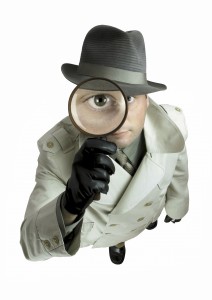 One of my audience members wrote to me asking how to be resilient when she feels insecure around her manager. She feels unappreciated and controlled. She wanted to know the signs of micromanagement. She hangs on until the weekend arrives. She's not alone in longing for Free Friday.
In a Towers Perrin study, Don Lowman reported, "What we're hearing is that people want to contribute. But they say their leaders and supervisors unintentionally put obstacles in their paths." Thomas Ng and other researchers reported that employees' sense of control over their work is crucial for motivation. Regardless of the statistics, being micro-managed is a disempowering experience. As one person said, "It sucks!"
Let's look at this dynamic from both ends–the micro-managed and the micro-manager.
The Micromanagement of Employees
If, after receiving basic training, you do your job adequately and your manager is still acting like big brother, you may conclude "I am micromanaged."  No one likes others peering over their shoulder and snooping into their desk drawers. It becomes problematic when you develop stress symptoms and feel lethargic, fearful, frustrated or depressed. The result is minimized productivity, suppressed or explosive feelings, self-doubt and ultimately sick leave or dismissal.
What to do: Consider the following options:  
Get a confidential second opinion from a peer, company Ombuds, Occupational Health personnel or from the HR department.
Do a reality check with yourself. Are you inviting over-supervision? Do you take initiative or do you look for direction for even small tasks?
Volunteer to do a task that showcases your skills and strengths.
Make an assertive statement such as, "I'm confident that I can do this job independently. I will let you know when it is complete."
Keep a record of when you are interrupted with unnecessary direction. Log the date, time, topic, length of conversation and what was said.
Request a meeting with your manager to express your concerns and why your work satisfaction has suffered. Explain how you feel and state what would be helpful. Keep to the facts. Speak with an attitude of, "I have a problem and I want your help."
Also, in that meeting, avoid beginning your sentences with the word you. Begin your comments with I.  "I feel incompetent when I don't have some freedom doing my job." "I like tackling jobs and running with them."
You could also ask clarifying questions such as, "What do I need to do so you will trust my work?" "Will you clarify my job responsibilities?"
If you don't make progress with your manager, go to the supervisor or senior management to see if anything can be done.
If, after significant effort, change doesn't happen, you still feel disrespected, and your morale is still sinking request a transfer to another department and/or begin a job search. You deserve better.
The Micro-managing Boss
If you are a manager and tend to worry about details, seek perfection, like to have control, feel pressure from senior management, and/or feel insecure in your position, you are probably micro-managing those who report to you.
Hopefully the above facts have convinced you that over-controlling has a negative effect on employee satisfaction, health, attitude, cooperation, mutual respect and productivity.
What to do: Consider the following options:  
Ask yourself if you are acting out some childhood feelings of powerlessness. No need to be embarrassed. It is common for adults to have control issues. If you had a painful time growing up you may unconditionally making an effort to now control your environment at work and home.
If the above resonates with you, consider committing to attend six counselling sessions. Why six? That is the average number of sessions for the average challenge to be resolved.
Try to be honest with yourself. Employees seldom feel safe enough to confront their supervisor or manager with complaints until they are ready to quit.
Discuss your concerns with managers or superiors who have effective working relationships with their staff. Observe and learn. Be willing to change.
Develop this belief, "My job is to inspire, support, lead and sometimes guide."
Ask for assistance from your superior, company Ombuds, Occupational Health personnel or HR department.
Listen more than you talk or direct your employees. Ask for opinions, directions and solutions. Ask, "How can I better support you?" or "What am I doing well to support you?" "What could I start doing or stop doing?"
Read some books on effective management. I particularly like How Full is Your Bucket? Positive Strategies for Work and Life by Tom Rath & D. Clifton and The Leader's Digest: Timeless Principles for Team and Organization Success by Jim Clemmer.
Arrange for a workplace presentation from Jim Clemmer of The Clemmer Group or Merge Gupta-Sunderji, who helps managers become leaders.
Commit to helping your employees feel competent, responsible for their results, heard, seen, and appreciated!
If you discover you are being micromanaged or are micromanaging, please make some changes. The whole issue of micromanagement can be shifted to trust, accountability, and improved workplace conditions.
Please check out these related posts:
People boost with Acknowledgement, Appreciation, and Encouragement
Women Dealing with Conflict in the Workplace
Book Summary: How Full is Your Bucket?
---

If you enjoyed or benefited from this blog, please leave a Comment below and subscribe to my eNewsletter, Your Uplift.