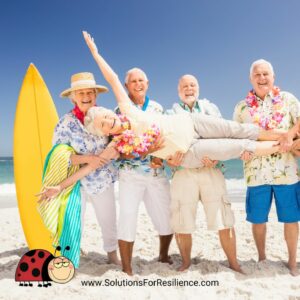 The benefits of writing a list of gratitude ideas for seniors was reinforced when I was a guest contributor on Steve Foran's blog, Gratitude at Work. His invitation provided a wonderful opportunity to practice gratitude. I realized I was sharing gratitude for spunky seniors as I actually call myself a spunky seniorprenior.
This exercise was in alignment with Steve's goal is to shift culture by helping all of us — individuals, teams, leaders, younger and older to bring more gratitude to their work and life. You will see on Steve's website his belief in the power of thankfulness. He wrote:
With programs like counting blessings, asking before assuming, thanking and not expecting, gratitude transforms business cultures into proud, positive, satisfying environments, where people are grateful, productive and ultimately at their best."
I received appreciation, not only for my gratitude list but for adding some of my classic, cornball humor. If you are looking for gratitude list ideas, I hope you are inspired by mine!
Patricia's Gratitude Ideas for Spunky Seniors
I feel grateful for my hearing aids. They help me receive everyday information, current research, inspiring quotations, and valued appreciation. They also help me hear the messages on my favorite iPods, mind-expanding ideas and questions. Then there are sweet notes for humming and dancing, and juicy love whispers. They also help me avoid misunderstandings, disconnection, and repeatedly asking "What? What did you say? Did you say 'You are fun' or 'You are fat'?
I feel grateful for more than 70 years of intact body parts, regardless of them shifting in shape, size, and condition.
I feel grateful for the extrovert's Social Media platform, Facebook. It allows me an arena to share what I love, learn, value, delight in and, in moderation, what I struggle with. I also can experience similar sharing from my family, friends, and acquaintances. "Thank you, Mark Zuckerberg!"
I feel grateful for my Leslie saying, "Yes" when I asked him to marry me. Even better, he stayed around through childbirth, menstrual cramps, menopause, a bladder lift, drooping breasts, and a night in the psych ward.
I feel grateful for being married for over 50 years. We still do 'it' almost every day of the week; almost on Monday, almost on Tuesday, and yes, almost on Wednesday . . .
I feel grateful for three very different children. The first one was planned. The second one was adopted. And the third one happened when I said, "Oh! Oh Dear! Our birth control didn't work!"
I feel grateful for five grandchildren. The youngest is nine-years-old and the oldest is thirty-four-years-old. Some say grand-toys but I tend to be the one who gets wound up. I am also grateful for two fun great grandsons!
I feel grateful for amazing friends. There are the ones who pay more attention to my stories and facial expressions than their cell phones. There are the ones who listen while nodding their heads without judging. There are the ones who easily laugh at my cornball humor. Lastly, there is the special one who, before I notice, has yanked out my chin hair. Thank you, Lorraine!
I feel grateful for the ease of making a quick meal with eggs while not being one. Bless them for their sacrifice. Who wants to be fried, scrambled or, worse, beaten?
I feel grateful for my morning nutritional drink that gets me going and rouses a first-rate flush. What better way to start the day?
I feel grateful for the gift of inspiring and healing mentors. They include Maria Joiner, Gwendolyn Jansma, and Dr. Al Siebert. One said, "You didn't need to earn an MA to prove you are smart." Another said, "You need to rewrite your book with love of yourself." Yet another asked, "When you say your sex life is boring, how are you contributing to that?" Then I ran home to my hubby and stripped!
I feel grateful for being a senior citizen. I am no longer on my doctor's list for a mammogram. I am loved for more than my sexy body, and I now have young hunks give up their bus seat for little, older me!
I feel grateful for my home country of Canada. It is so safe that the scariest sight I have ever seen was my mirror image trying on a bathing suit.
I feel grateful for being alive, regardless my age, a number of illnesses, and a recent nasty bicycle fall. I rebound! Like the Timex watch, I can take a licking and keep on ticking.
I feel grateful for my willingness to show a little silliness about aging. Yet, I continue to learn, to play, and to have a sense of humor about being a happy, resilient, and spunky senior.
If you enjoy journalling please check out the work of Canadian, Lynda Monk at The International Association for Journal Writing.
Be a grateful gal or guy! Please consider making a daily or weekly gratitude list. It could be one to five aspects of your life you feel grateful. My list above was spread over five days. Then, consider sharing any or all of them here and/or on Steve Foran's website. Whether you share ideas for spunky seniors or any reason, I encourage you to do so!
Please check out these related posts:
How to Boost Your Attitude of Gratitude
People Boost with Acknowledgement, Appreciation, and Encouragement
Patricia Morgan MA CCC helps her readers, clients, and audiences lighten their load, brighten their outlook, and strengthen their resilience. To go from woe to WOW call 403.242.7796 or email a request.
---
If you enjoyed or benefited from this blog, please leave a Comment below and subscribe to my eNewsletter, Your Uplift.