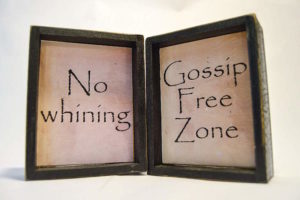 Give up Negative Gossip
For years I have said, "Please spread positive gossip!" I like the idea of people spreading good news about other people. It's a lovely idea to celebrate the role models and the ordinary heroes in our circle. But there is a shadow side to spreading the word about others. It's about nasty rumours spread by the vehicle of gossip.
Actually the word, gossip classically indicates lies about others. The Oxford Dictionary defines gossip as:
Casual or unconstrained conversation or reports about other people, typically involving details which are not confirmed as true."
Yes, regrettably, people negatively gossip for a variety of reasons and rumors spread. It sounds something like this, "I heard from Lois that Mary said that Jane is messing around with the boss." Jane inevitably becomes what is called a victim of gossip.
Why People Negatively Gossip
People do these mean spirited acts to people like Jane for various reasons. Four key motivators include:
Feeling left out. Being excluded is emotionally difficult. Figuring out, and joining in, group norms are natural tendencies. Bending to the majority's pressure is more common than we want to admit. It is not just teens who participate in poor behaviour because of peer pressure. Being 'in on the secret" gives a sense of inclusiveness.
Low self-esteem and confidence. When we put others down, it can temporarily elevate our self-assurance. Comparing ourselves to others is common. Envy can kick in. It takes practice to discipline ourselves to compare our old selves to our matured selves.
Caught in the drama. When we're bored with our daily routine and grind, a little gossip can add some excitement.
Anger, resentment or jealousy. Getting back at people by starting or participating in negative or malicious gossip can feel satisfying. The flip side is it looks, smells, and sounds like offensive judgment or bullying.
You may not be able to stop or avoid negative gossip at work or your community, but you can choose to take the high ride.
How to Avoid Negatively Gossiping
Check your intention for discussing other people's matters or relationships. Adopt an intention to serve the truth and kindness.
Notice when you feel jealous, resentful, superior or excluded. Then notice what you tend to do about your feelings. Calm or heal your painful feelings. Choose wisely your behaviours.
Antidote to Negative Gossip
Pay attention. Clue into those who judge, blame, and delight in other people's errors and problems. Avoid those people.
Avoid telling those same people personal information to avoid becoming a gossip target.
Discover who can keep confidential and private information and who is the organizational blabbermouth
When you hear gossip about others, tell yourself, "I'm hearing one side of a story."
When you hear negative gossip about someone and you know it is untrue, say, "Interesting. That's not my experience."
Decide if you have the confidence to say, "What you're saying sounds negative and gossipy. I feel uncomfortable participating."
When you hear negative gossip, don't pass it on!
Rumors are rumors.  Take them as such.  Remember the telegraph game we played as kids?  A sentence is whispered into one person's ear and is then passed from ear to another ear around a circle.  Something like, "The pussy cat caught a mouse," can end up being, "Her parents cant' afford a house."
If the negative gossip is about you, consider the advantages and disadvantages of confronting the key gossiper.
If you address the person spreading the rumor and he or she retorts, "But I didn't say anything like that," merely, respond with, "Great, I'm glad to hear that."
Announce loud and clear your accomplishments, successes and your commitment to integrity. You want this kind of rumor passed on.
Model practicing the fine art of Positive Gossip.  You will gain a reputation of being an excellent net-worker.
Please check out these related posts:
Patricia Morgan MA CCC helps her readers, clients, and audiences lighten their load, brighten their outlook, and strengthen their resilience. To go from woe to WOW call 403.242.7796 or email a request.
---
If you enjoyed or benefited from this blog, please leave a Comment below and subscribe to my eNewsletter, Your Uplift.