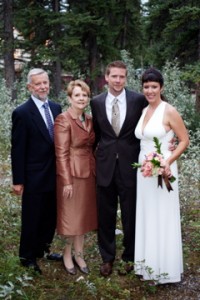 Challenges with in-laws are high on the list of distress for couples.  It's hard to have a resilient and intimate partnership if you have to deal with resentful or interfering in-laws; often the notorious mother-in-law! Regrettably, women seem more frequently to have mother-in-laws who are interfering and inordinately critical.
Ellen describes her mother-in-law; "When she visits she tries to take over the house. She tells us what to do and sorts through stuff that is none of her business. I get the feeling that she is angry at me for stealing her boy. She phones my husband to chat but avoids talking to me. She is pleasant to the children but eager to point out any time she thinks I am being unfair to them or their dad. When I complain to my husband he takes her side. He tells me that she is lonely. But is that any excuse or treating me like dirt?" Ellen's situation sounds like the movie title, Monster-in-law.
I'm a mother-in-law myself and have felt defensive when hearing crass mother-in-law jibes like, "I wonder if she made it home on her broom stick?" I love my horse-whispering daughter-in-law, Chelsea and tender-hearted son-in-law, Mark.
That's not to say that I didn't have my own challenges when my when my own mother-in-law was alive. We had our fair share of tug of wars. I recall one time when she visited she made a grand announcement. "While I am here, none of my grandchildren will be doing what you call 'chores'!" Really!? Fortunately, I figured out her need.
Ideas for Dealing with In-laws (especially a mother-in-law)
Our own mothers  often better fit into our routines and systems than our mothers-in-law because we women learned how to peel potatoes from the former. If we are the queens of our homes, our mothers-in-law may feel like peons in our castle. They may be fighting for their Queen Mother role. Consider giving her a task or a role, or a responsibility. It will lead to expressions of appreciation.

The older generation long to be valued. I learned to invite my mother-in-law to do important tasks. I kept mending or some spring housekeeping tasks just for her, "because you do it so well." Her controlling behaviours diminished.

Tell your in-laws your intentions of inclusion. "When you visit we want you to be part of our family. Instead of doing the kids' chores, will you help us prepare a picnic? We'll go on the picnic once the kids are finished their task."

Hold a family meeting to establish family values, routines and rules. Make sure all family members are on board and willing to maintain them. Your partner then has made a clear commitment to you and the family.

When talking to your spouse about your mother-in-law challenges depersonalize your language. Speak as if you would have a problem with anyone who engaged in behaviours disruptive to your family life. "I have a problem. I notice that the children are harder to manage when we don't follow through on agreed upon consequences. I need your help to maintain our routines. Will you support me?"

 Never, ever call your mother-in-law names or degrade her in any way to her face, in front of the family or in private conversation with your spouse. Her blood and history run through your partner's veins.

Rather than insisting your spouse take your side and not mother's side, aim for family harmony. Support your spouse in being inclusive of both of you while staying firm that partner, children and primary family deserve to come first in loyalty.

Ask your mother-in-law to share stories of her upbringing–the hard times and the good times. Hearing her story may help you feel compassion for her controlling tendencies.

In the middle of in-law challenges, do your best to love yourself.

Make mental notes about how one day you might be a supportive, yet non-intrusive, mother-in-law.
PS: If you are challenged by a father-in-law many of the above points are applicable. Male readers are invited to make use of relevant points to bring family harmony.
---
If you enjoyed or benefited from this blog, please leave a Comment below and subscribe to my eNewsletter, Your Uplift.