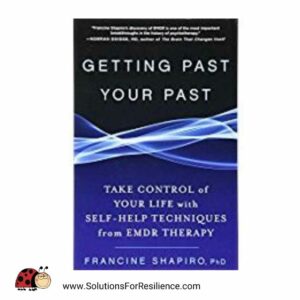 Have you heard of the break-through therapy, Eye Movement Desensitization, and Reprocessing (EMDR)? American psychologist and educator, Francine Shapiro developed it in the early 1990s. In 2012 Shapiro released a self-help book to help the public access her theory and processes. In Getting Past Your Past: Take Control of Your Life with Self-Help Techniques from EMDR, Shapiro simplifies her and her research team's key concepts and processes.
In 2001 I was trained in EMDR basics. In 2015 I took an online program and in 2017, I dived into six days of a refresher program from Canada's EMDR trainer, Sue Genest. By 2020 I became certified in another technique, with some EMDR elements, called Finding Joy–Trauma Treatment Techniques with Dr. Teeya Scholten.
Overview
Shapiro's work has spread across the world helping over two million people. In Canada alone, there are over 625 trained and registered EMDR therapists. EMDR is known to effectively address traumatic and painful experiences such as undue anxiety, anger, sadness, fear, depression, sleep issues and disturbing flashbacks. Typically, it requires fewer sessions than traditional therapies to support a client to reach issue resolution.
EMDR incorporates current brain research, core beliefs, body awareness, and, mindfulness. For sure, you know that when you are triggered into a fight, flight or freeze (collapse) response that your brain functioning is hijacked. You are unable to think clearly or problem solve. You are emotionally pulled back to a painful and past experience. EMDR helps your brain complete and process those past disturbing events. Consequently, you can be more present in the moment.
Basic Concepts in Getting Past Your Past
Living in continual stress is unnecessary and life-threatening.
Our personal struggles, small and significant, are influenced by our stored memories of past events. The younger we experienced painful events, the more they are unconscious.
Many of us are running our lives on automatic pilot. We are stuck or overwhelmed with unprocessed thoughts, beliefs, and emotions from the past.
Our brains, minds, and bodies are connected.
We can strengthen the memory of a Safe or Calm Place including its sounds, image, and feel. Then, in aroused states, we can choose or call upon that comforting memory to calm ourselves.
We can take control of our lives.
We are whole and resourceful humans. We can change our brains' wiring so we experience appropriate emotional states and overall well-being.
Francine Shapiro Quotes
"The book contains techniques to help readers identify the memories that are causing the negative reactions, and other techniques that will allow them to change the negative thoughts, emotions and body reactions."
"The truth is we all suffer at one time or another. Situations arise all the time that affect us negatively. But when we continue to have pain long after the experience has passed, it is because the hardwiring of our brains influences our minds."
"Happily, appropriately stored memories are also the basis of joy and mental health."
"We all have had the experience of feeling anxious, fearful, jump or shut off from others, thoughts we can't get out of our heads, guilt, or disturbing dreams."
"It's useful to remember that whatever the persistent negative emotion, belief or behavior that has been bothering, it's not the cause of suffering—it's the symptom."
"The bottom line is that regardless of how we were brought up, we are not victims and our problems are not a sign of weakness."
"Past memories left unprocessed will hamper your ability to be rational, pragmatic, and open to new ways of thinking."
"We often get caught up in disturbing emotions or thoughts. Knowing where they come from can help us remember to do something so we don't stay stuck."
"Remember that you can be in control of your body and mind. As you explore your own unconscious processes, you'll find that understanding why things are happening can help even more."
"When we recognize that we are being held back in life, the question for each of us is, 'What do I do about it?'"
"If I had to do it over again, I'd simply call it Reprocessing Therapy. But now Eye Movement Desensitization and Reprocessing—more commonly called EMDR—is known worldwide, so it's too late for a name change."
Conclusion
While Getting Past Your Past provides more than significant information on how our brains can help us heal our wounds, it is filled with practical exercises and strategies for us to better manage our relationship conflicts, anger, anxiety, and self-critical thoughts.  Read it to manage your small internal disturbances. For habitual patterns read it to prepare yourself for six or more counseling sessions with a trained EMDR therapist.
NOTE: I am certified in EMDR.  Email me if you want to discuss a complimentary session.
Regrettably, Francine Shapiro died in June, 2019 at 71-years-of-age.
Please check out these related posts: