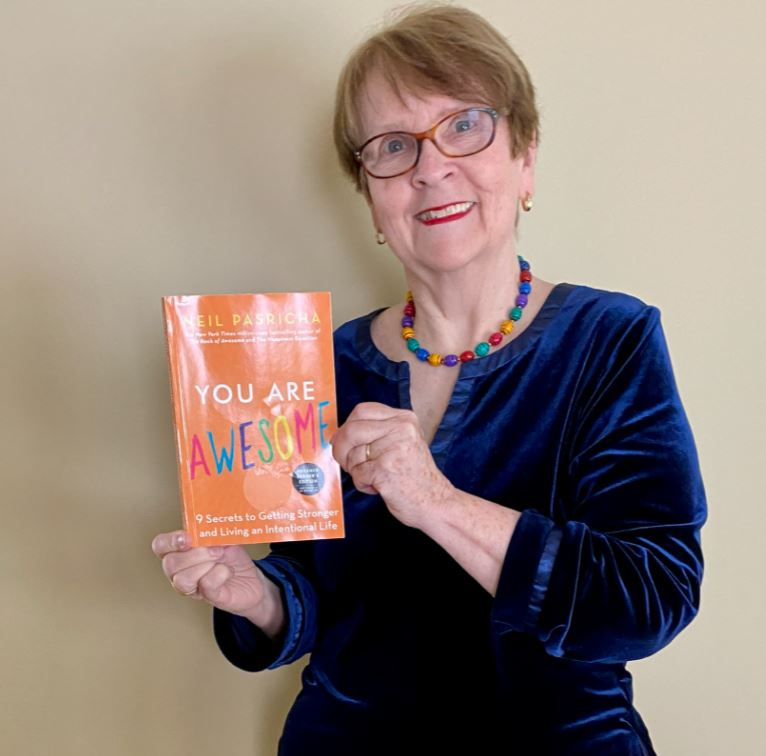 You are Awesome
Neil Pasricha has followed up his best selling books, The Book of Awesome and The Happiness Equation with the resiliency-focused, You Are Awesome: How to Navigate Change, Wrestle with Failure, and Live an Intentional Life. I am not quite sure why his staff contacted me with an offer of a pre-launch copy of You Are Awesome. Perhaps it is because this publication focuses on resilience and, well, you know, my therapy, writing, and speaking are grounded in resiliency research and concepts. Whatever the reason, I gratefully accepted and enjoyed an uplifting and insightful read.
It may interest Canadians to know that Pasricha and his family live in Toronto, Ontario.
Overview
You are Awesome weaves together stories about writing Pasricha's first book, The Book of Awesome, along with his family and work history. I particularly appreciated that he described a number of professional and personal failures—education, employment, marriage, and entrepreneurism. Plus, he does not shy away from sharing his past moments of shame and despair. Most of his stories are filled with self-deprecating and gentle humor. He also supports his concepts and philosophies with research studies.
Basic Concepts include:
Sometimes you just need to keep on.
There is power in using the word yet to keep your goals and dreams alive.
Failure happens and it hurts.
Sharing our failures helps us, and those we tell.
Failures can help strengthen us.
You can become stronger by going through failure, loss and setbacks.
We don't imagine or picture ourselves changing, but we do.
You can choose not to watch the news, especially if you feel vulnerable to the world's negativity.
Catch the stories you tell yourself. Challenge the negative ones and choose differently.
We hide our shame and it is hard on our souls. Yes, Pasricha refers to one of my favorite authors, the researcher, Brene' Brown.
We humans need one another, yet we need to protect our time and space.
Neil Pasricha's Quotes
"Resilience is a skill we now have in very short supply."
"Next time you screw up and feel like hiding it, remember you're doing no one any good that way. So share, fess up, let others in, because then others will empathize with you and keep growing."
"We want to be perfect so badly. Which makes our flops hurt even more."
"(When flailing or failing after making a mistake) It's egotistical, arrogant, conceited to think it's all about you. . . instead, we need to learn to dance with it, to place it beside us, not inside us."
"Inevitably, everything we go through in life really is a step to help us get to a better place."
"Be intentional about your attention."
"You can't picture yourself changing so you assume you won't."
"We can rewrite our shame stories, we can be gentler on ourselves, we can take the kindness we preach . . . and treat ourselves more kindly first."
"You need to learn how to see the stories you're telling yourself from a new perspective. (Ask) Will this matter on my deathbed?"
"The wins pile up when you pile on the number of times you step up to the plate. Lose more to win more."
"When we look at our flops we're really giving ourselves credit for all the learning and stamina and resilience baked into those moments when we made ourselves a little stronger."
"As our world gets busier and our phones get beepier, the scarcest resource of all is quickly becoming attention."
"The Regret Question: What will I regret not doing more when I look at it from the future? The Plan B Question: What will I do if it fails?"
"Sometimes the hardest thing to do is simply making the decision to keep going."
Conclusion:
If you are ready to truly know You Are Awesome and to strengthen your resilience, pick up a copy of Pasricha's latest book.
Please check out these related posts:
Book Summary: Daring Greatly by Brene´Brown
Essentials to Overcome Shame and Deal with Guilt
Patricia Morgan MA CCC helps her readers, clients, and audiences lighten their load, brighten their outlook, and strengthen their resilience. To go from woe to WOW call 403.242.7796 or email a request.
---
If you enjoyed or benefited from this blog, please leave a Comment below and subscribe to my eNewsletter, Your Uplift.