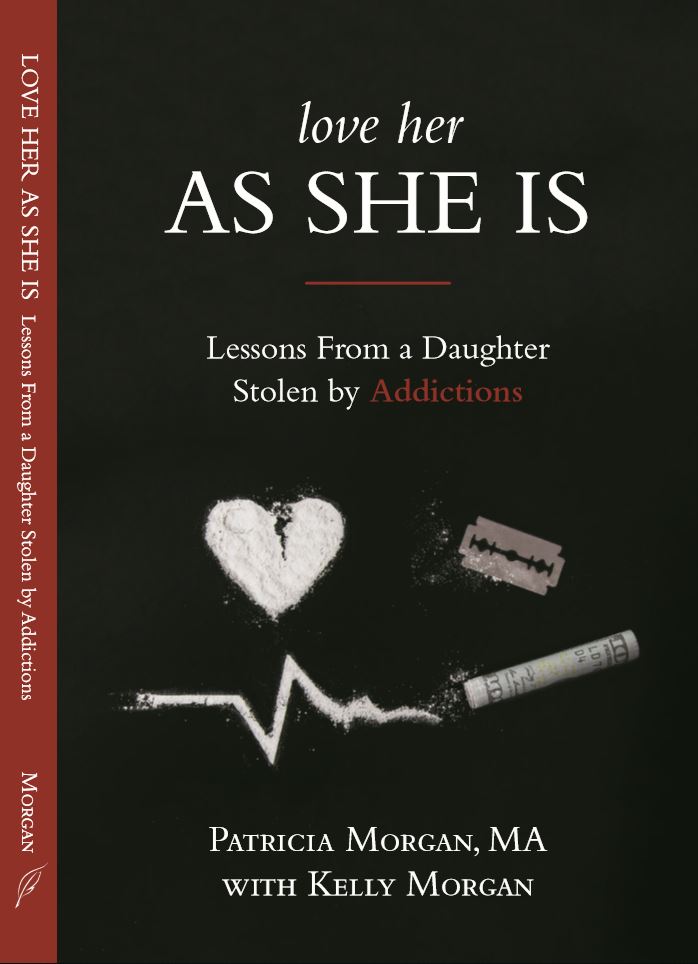 In 2000, along with my daughter Kelly, I self-published the book Love Her As She Is: Lessons from a Daughter Stolen by Addictions.  It was featured in a CBC television documentary and is recommended as a valuable resource for all parents and mental health professionals. Our story, and the 14 ways to love unconditionally with clear boundaries, give  testament to the healing power of unconditional love.
Here are excerpts found in the book,  Against All Odd (now out of print)by Cathleen Fillmore that summarizes our story:
---
Excerpts from Against All Odds
"In 1974, Patricia Morgan and her husband, Les, adopted five-year-old Kelly Ann Evoy.  They were told that she was bright, her mother was part Irish and her father was Black.  They discovered for themselves that they liked Kelly instantly and the pre-adoption process began.
No one knew it at the time, but the entire family had just signed up for a crash course in learning how to love unconditionally under very difficult circumstances.  There were, in the 1970's, no educational programs sponsored by adoption agencies to help them see and adjust to some of the difficulties that lay ahead.
Problems with impulse control emerged in grade one.  Kelly helped herself to things she wanted and was described by teachers as 'disruptive', often getting into fights with other children.
Kelly became increasingly disruptive at school and teachers recommended she spend the school week in a residential treatment centre, coming home only on weekends. Reluctantly, Patricia and her husband agreed to send Kelly away to school for a year, thinking that they were doing the best for their daughter. It ended up being a very painful experience for the whole family. Patricia now regrets abdicating her parental instincts and authority by caving in to those 'who seemed to know best.'
As Kelly grew older, her behavior became less manageable.  When Kelly was fifteen, Patricia began studying for her Master's Degree. The next year was momentous in two ways.  Patricia was awarded her degree and Kelly was once again expelled from school.
By this time, Kelly was deeply involved with drugs. She left home in the middle of the night, leaving a goodbye note on the dining room table. While she'd run away before, somehow this time there was a sense of permanence. The note ended with, "I love you and I'm sorry it's ending like this. Love, Kelly."  A week later, Kelly came to pick up her clothes and her teddy bear.
The next years of Kelly's life became a cycle of drugs, alcohol, fights, robberies, hospitals, and jail in and out, up and down and round and round at a dizzying pace. During this period, Kelly had two children.
Although advised by others to let Kelly go and leave her to her own devices, Patricia flatly refused. "I have been told I have a Pollyanna nature," she says now, "and if that's my weakness, it's also my strength."
Patricia's way of holding her daughter's head out of the water that threatened to drown her was to write encouraging letters of love; hundreds of letters over a period of ten years.  It seemed sometimes as though they were sent into the void since a response from Kelly was the exception rather than the rule.
Still, she wrote letters once or twice each month, sending them to Kelly's former partner's mother.  Here are a few lines from those letters:
My Dear Kelly,

Thanks for calling me Sunday to let me know you are OK. I really appreciated your direct statement about being addicted to cocaine and alcohol.  At least I do not have to put out any energy dealing with denial when you readily tell me your state of being and share some of your story. . . Love Mom

You deserve to treat yourself better; more tenderly, kindly, encouragingly and lovingly. NO! To what is not healthy and YES! To what is wise and healing. Your kids deserve better. For Danielle, you are the number one example of how to live a woman's life . . . Love, Mom

Kelly, live your life.  I am willing and aching to help you . . . Love to you, Mom

Wherever you are, whatever you are doing or not doing, whoever you are with, know that we think of you. Do let me know Kelly if I can support you around taking on your demons; your addictions, fears and haunting pas t. . . Love to you, Mom"
Summary
When asked why she hung in and kept writing letters to an often unresponsive daughter that most parents would have given up on, Patricia says, "I was doing it for me.  I was selfish—I wanted to perceive myself as a loving, caring mother.  After writing a letter of love and care, I would sleep better."
In 1995 Kelly entered a treatment centre in Windsor, Ontario where she stayed for three months. In the fall of 1997, Kelly returned to school to finish her secondary education. Her marks were in the 90's.  Then Kelly enrolled at the University of Windsor where she was on the President's Roll. Kelly became Patricia's main teacher.
"When I think of the pain and tension Kelly and I have moved through, it deepens my appreciation of her, myself and existence itself."
---
Love Her As She Is Thank you Note
I received an email of acknowledgment. It amazes me that the writer took the time to sit down and compose a thoughtful and inspiring message regardless of the time lapse from when she reached out for help. This expression of appreciation helps me realize the results of acting with resilience and resolve. There is a positive ripple effect.
Here are some excerpts from her words of thanks:
"Dear Patricia,

A few days ago I was dusting my bookshelf in the living room and I came across your book Love Her As She Is. I immediately sat down and began to flip through it, stopping to read the yellow highlighted sentences I must have felt were important. It turns out, they are still important today.

I believe it was the summer of 2001 when a dear friend heard your radio interview on CBC. I tracked you down, requesting a copy of your book. You so very kindly sent one immediately, with no concern that you may never see the money and when I received it, I devoured it. It was my story, too.

You told me that my love…would make a difference in times when I would least expect it, and you were correct. Thank you for reaching out to me when I was so desperate. You helped me to realize that I was not alone and there are people willing to help.

…She lives a very full, active, happy, and healthy life. I know for sure that nothing is always forever, but today, all is good and for that, I am very humbly grateful.

Thank you again for reaching out to me. You must have spoken to hundreds of parents just like me and it's fine that you may not remember me, but please know that you made a difference in my life.

Take care, L.T."
---
2019 Update
Kelly and her three children moved to Calgary 13 years ago to be closer to her dad and me.
Through research, advocating and skilled professionals we have a diagnosis of Fetal Alcohol Syndrome Disorder for Kelly and her two boys.  Knowing the source of Kelly's limitations (indeed, her disabilities) has given us understanding, compassion and the ability to provide and arrange for better-fit supports.
Kelly is now appropriately supported, has a part-time position at a children's store, and is a joy to our family and her new friends.
To love them as they are saves and enriches lives. To that end I hope Love Her As She Is: Lessons for a Daughter Stolen by Addictions helps many to know how to love unconditionally with clear boundaries.
Purchase Love Her As She Is: Lessons for a Daughter Stolen by Addictions at:
In NA from me directly from this website at Love Her As She Is

AND as an ebook through: Kindle CA, Kindle, Kobo, or Smashwords
Or through these book distributors; Amazon.ca, Amazon.com, Chapters/Indigo, or Barnes and Noble.
---

If you enjoyed or benefited from this blog, please leave a Comment below and subscribe to my eNewsletter, Your Uplift.