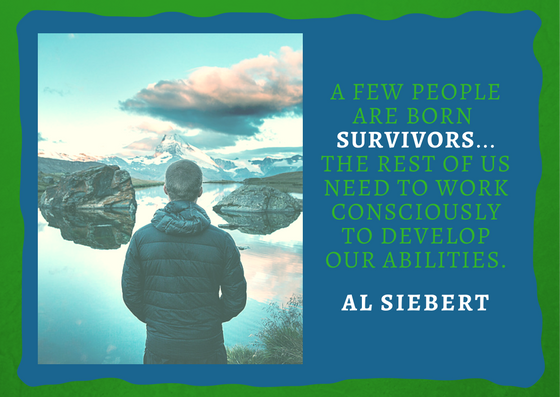 The resiliency researcher and professor, Dr. Al Siebert wrote the ground breaking book, The Survivor Personality: Why Some People are Stronger, Smarter, and More Skillful at Handling Life's Difficulties…and How You Can Be, Too.
It was an honor when Dr. Siebert agreed to help me with my book From Woe to WOW. Indeed, he became a mentor who eventually trained and guided me. He provided three questions for my research on women's resilience: What was your biggest workplace challenge? How did you cope? What did you learn from the challenge? I treasure his endorsement of my book.
Overview: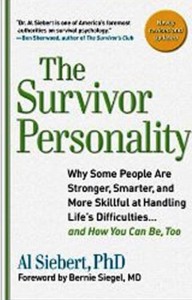 In The Survivor Personality, Dr. Siebert offers his findings from autobiographies and hundreds of interviews. He interviewed survivors of adversity such as war, cancer, abuse, job loss, and addictions. Siebert, himself, was a paratrooper who wondered about those who could give positive meaning to their adverse experiences. He concluded that survivors have faced a major crisis, made efforts to overcome it, emerged with newly recognized strengths and abilities, and eventually found value in the experience.
Basic Concepts:
Dr. Siebert outlined how to strengthen your resilience through:
Playful curiosity.
Developing flexibility.
Learning to empathize.
Accepting and sometimes appreciating that life is not always fair.
Giving up unhelpful beliefs and habits from childhood.
Better managing people who have an angry or negative lens.
Turning misfortune into Good Luck.
Al Siebert Quotes:
"A few people are born survivors…the rest of us need to work consciously to develop our abilities."
"When change is constant, learning is an essential survival skill."
"Whenever someone is subjected to the control of others, it is essential for them to understand the people in power. In most organizations, workers understand the managers much better than the managers understand the workers."
"Whenever a person repeats the same behavior pattern over and over, you can be certain that the person derives many emotional benefits from it."
"Are life's best survivors different from other people? No. They survive, cope, and thrive better because they are better at using the inborn capabilities possessed by all humans."
Summary:
To regain emotional balance from such major, disruptive life change as job loss and divorce, the important first steps are to express feelings and join together with others for mutual support.
An emotionally toxic experience can be made emotionally empowering, and a difficulty that almost breaks your spirit can be turned into one of the best things that ever happened to you. If you gain nothing else from Dr. Siebert's work, know you too are a survivor; just read The Survivor Personality to affirm that . . . or work on it!
Dr. Al Siebert died June 25, 2009. He is dearly missed while his legacy continues at the Al Siebert Resiliency Center.
Please check out these related posts:
Book Summary: Flourish—

Visionary New Understanding of Happiness and Well-being


Book Summary: The Resilient Mind — Achieve Success by Building Mental & Emotional Toughness
Patricia Morgan MA CCC helps her readers, clients, and audiences lighten their load, brighten their outlook, and strengthen their resilience. To go from woe to WOW call 403.242.7796 or email a request.
---

If you enjoyed or benefited from this blog, please leave a Comment below and subscribe to my eNewsletter, Your Uplift.