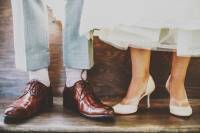 Sex and Gender
"I would have been more successful if I had a wife like me." I said this years ago and in jest. Yet, it holds significant truth. Gender differences exist!
Women are still under-represented in all levels of government and in corporation boardrooms. At the same time, women are over-represented in family shelters and as 'single parents'. Even more, workplaces still make demands of women to develop their masculine energy. They are expected to think logically, set goals, and compete.
These above descriptions fall into the realm of gender differences, and have little to do with sex differences. Let's begin with some definitions.
From the Merriam—Webster Dictionary:
Gender refers to the behavioral, cultural, or psychological traits associated with one sex.
Sex refers to two major categories of beings. One is the species distinction of female and male–especially on the basis of their reproductive organs and structures.
Sex Differences
Here are a few ways females are physically different than males:
Women menstruate.
Women are capable of pregnancy and giving birth.
Women can produce milk from their breasts.
Women have higher estrogen and progesterone levels, while men have higher testosterone levels.
On average, women weigh 15% less than men.
On average, women are less physically strong with a higher body fat percentage than men.
Women have 10% slower reaction time during adrenaline rushes than men
Women produce more of the calming and bonding hormone oxytocin than men.
Gender Differences
Layering these biological or sex differences are gender differences–cultural expectations, traditions, and norms. Canadian statistics back up these patterns:
The World Health Organization's 2019 World Health Statistics indicate that males will live on average 69.8 years while females for 74.2 years. Explanations for this shorter life span include that males more frequently die from heart disease, road injuries, and lung cancers. Males also abuse alcohol twice as much as women, are more likely to be involved in violence, and die from suicide at a rate of 1.75 higher than women. The report goes on to describe traditional male gender roles promote a lack of healthy stress management.  Males typically are not supported in expressing painful emotions nor seeking professional help.
In March 2018 Status of Women Canada reported:
21.6% of women make up 21.6% of Financial Post 500* board members.
In 2016, women accounted for only 21% of all police officers in Canada.
26% of those elected to the 42nd Parliament are women.
In 2015, women made up 28% of municipal councillors and only 18% of mayors.
Women spend more time than men caring for their children. In 2010, women spent an average of 50.1 hours per week on unpaid child care, more than double that spent by men (24.4 hours).
In 2010, women were almost twice as likely as men (49% compared to 25%) to spend more than 10 hours per week caring for a senior.
The average earnings for women in all job tenures (as percentage of men's earnings) were 68.4% in 2014, suggesting a gap of over 30%.
Women represent about two-thirds of part-time workers.
In  April 2021, Dr. Bal Pawa, Integrative Physician, Tedx Speaker, and author of The Mind-Body Cure: Heal Your Pain, Anxiety, and Fatigue by Controlling Chronic Pain described a list of differences. Women:
Take on the brunt of caregiving of children and elders in the home and community.
Who work from home  have also been homeschooling children during the pandemic.
Are generally socioeconomically disadvantaged (paid lower wages), have lower seniority, and were the first to be laid off from service jobs affected by the pandemic.
Make up a large percentage of the service industry.
 Generally take on the majority of the housework with increased cooking, laundry, cleaning during a pandemic.
Are more susceptible to stress hormones due to the fluctuations in hormone levels during reproductive years and also lower circulating levels of hormones after menopause.
Have higher rates of anxiety and depression whenever there is an economic downturn in the economy; that is 43% of women versus 33% of men.
Are much more likely to report distress.
In North America have higher degrees of insomnia.
Have higher rates of domestic abuse, especially during economic downturns.
On a global level, based on United Nations' reports, suffer more adverse health outcomes due to their sex.
In a #MeToo era these trends have been, and continue to be, challenged. To provide a different context about gender differences, let's look at communication tendencies.
Communication Differences of Men and Women
In the 1990s, Deborah Tannen, a linguistics specialist, released the book, You Just Don't Understand. Tannen examined the differing conversational styles of men and women. Here are some of her conclusions:
Men prefer competition and attaining status in hierarchies by winning.
Women prefer co-operation and support. Consider the typical games boys and girls play—jump rope or dolls for girls and bad guys/good guys for the boys. Tannen described males as using put-down or sarcastic humor to maintain their one-up position. Meanwhile she described women giggling and accepting a one-down position. "It was nothing," they would say or use self-deprecation lines such as, "Silly me."
Men prefer independence.
Women prefer relationships. Consider the many marriage-seeking women and the commitment-phobic men.
Men prefer giving and receiving advice for taking action, fixing or solving a problem.
Women prefer giving and receiving emotional support. Consider how men use the phone to arrange an activity while women will talk for hours to indicate friendship and care.
Men prefer facts and information.
Women prefer feelings and intuition. Consider the guys at a party discussing the newest make of a car while the women are commiserating over a bad hair day.
Men prefer orders.
Women prefer suggestions. Consider men's directive of, "We're taking a break now," to women's hint-hint, "Let's take a break," or "Would you like to take a break?" Women tend to want to include everyone, not hurt anyone's feeling, and hope others will agreeable to gentle nudges.
Before you rant that these examples are stereotypical, I agree, they are! Fortunately, these gender-biased tendencies are shifting. Tannen's book is old and we are maturing into appreciating equality and diversity.
However, these tendencies still show up. Recognizing when they do can help us understand and appreciate the other genders' preferences. Rather than blaming the other for our misunderstandings, we can begin to appreciate their differences.
Women and Men at Work
For example, in Coping with the Male Ego at Work, authors Grymes and Stantan way back in 1993 wrote:
Men are just beginning to learn how to compete with women. They have spent their lives competing with each other–learning to be aggressive, to take risks, to think and act logically, and to defend the rules. Men know what to expect from other men. Competition is their relationships.
They explain that men tend to view asking for help as being vulnerable or being a loser. I saw this the day my husband tried to move a high-backed piano out of the house on his own. I sometimes see this in the next generation in our son and son-in-law.
Here is a joke that is still kicking around: "Why did Moses spend 40 years wandering in the desert? He did not want to act like a woman and ask for directions." Asking for directions is a one down position in which women tend to feel more comfortable. Alternatively, males typically respond well when asked for advice or help. He may even think, "Yes! I'm the winner!"
Women are inclined to place emphasis, focus and priority on relationships and the welfare of others. One hypothesis relates this tendency to the higher production of oxytocin. I recall the nights when our children were sick, required comforting, and the bed sheets needed changing. My husband slept through it all.
How long does it take to listen to a crying friend? A man may say, "Five minutes should do it." Most women believe, "As long as she needs me to listen." Consequently, clock time and women time may differ.
The battle over sex differences reaps little comfort for anyone. Both women and men can think mathematically, can nurture, and can get the job done. Differences between men's and women's preferences and status will remain for at least another generation or two.
Yet, it's time to find ways to narrow the gender gap. How? We can all move towards the integration of the masculine and feminine qualities. Consider these tips.
Ten Tips for Women to Narrow the Gender Gap
If you feel offended, check out the other person's intention before responding.
Name and address sexism, gender inequality, discrimination, and negative stereotyping.
Avoid acting too modestly. Show off your strengths, including those considered feminine or soft qualities.
Present your ideas in a confident manner.
Say, "I'm sorry," only when you need to make amends.
Use, but don't over use, self-deprecation. It may be interpreted as incapable.
Ask directly for advice and what you need or want. "Will you . . . ?"
Adopt a good-natured attitude towards friendly competition. Don't tolerate mean-spirited competition.
Protect your emotions. Take them to those who can calmly witness them.
Celebrate your and others' feminine and masculine qualities.
What is your experience of sex and gender differences?
Please check out these related posts:
Patricia Morgan MA CCC helps her readers, clients, and audiences lighten their load, brighten their outlook, and strengthen their resilience. To go from woe to WOW call 403.242.7796 or email a request.
---
If you enjoyed or benefited from this blog, please leave a Comment below and subscribe to my eNewsletter, Your Uplift.