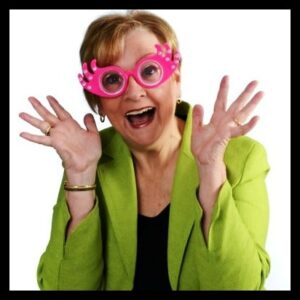 Have you ever wondered about your humor personality or telling a joke or two? WAIT! You might be asking, "Do I need to tell jokes to have a sense of humor?" Absolutely not! Read on!
Most of us, at some time or another, crack a smile — if not a gut wrenching guffaw. Having a sense of humor does not require the ability to throw an audience of one or a thousand into ripples of laughter. It merely requires the ability to look at life from a different and fun perspective. You can be the initiator of humor or the appreciative recipient – the humoree.
My friend, Judy Carter, is a great example of someone who has figured out how to have fun with her personal sense of humor. Positive psychologists describe the myriad health benefits of having a sense of humor, especially when it is shared with others. Judy must be some healthy gal!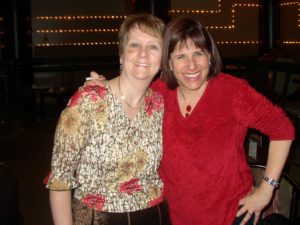 Judy is the author of The Comedy Bible, is a humor craft buddy to Jerry Seinfeld, and has been my humor instructor. What a blast! Together, we slowly developed confidence in crafting and delivering our jokes. Here is one of mine:
The average person has 50,000 to 60,000 thoughts a day. 65%  are negative. 30% are positive. 5% are "Who cares?"
Develop Your Humor Bones
There are many different sense of humor types. Professional humorists range from comic strip and cartoon creators, to stand up comics, to late night show hosts, to writers and philosophers. They use language that includes exaggeration, irony, satire, over literalness, jokes, Top Ten lists, and word plays like riddles, rhymes and puns.
Their presentation style may be eccentric, observational incongruities, self-deprecating, insults, angry, gross, imitative or mimicking, stereotypical or slapstick.  Content is endless, although politics and sex are two favorites. President-elect Donald Trump is fodder for both.
Your favorite smile makers will give you an indication of your humor type/personality. Which comedians/characters from the list below increase your laugh-o-meter?
André-Philippe Gagnon's character and singing impressions?
Ellen Degenere's childlike playfulness and dancing?
Brent Butt's Canadian cornball?
Jerry Seinfeld's  every day and absurd observations?
Rowan Atkinson's

 

(Mr. Bean) mime and exaggerated calamities?
Wanda Sykes' feminist observations?
Bette Midler's unpredictable outrageous acts?
Jim Carrey's eccentric facial and body visuals?
Stephen Colbert's, Jon Stewart's, or Trevor Noah's poking fun at the news?
Woody Allen's exaggerated life pessimism mixed with self-deprecation?
The late George Carlin's mastery of language?
The late Richard Pryor's and Eddie Murphy's angry and shocking attack language?
The late Robin Williams' fast word plays?
The late May West's proactively sexual attitude?
The late Will Rogers' or Mark Twain's philosophic statements?
Our humor choices reflect our personality and sometimes our unresolved issues. When someone makes a wisecrack, he is saying volumes about his beliefs. Because all humor is based on an element of surprise, the sweeter and kinder deliveries do not have the same walloping impact.
However, be aware that gross and attacking humor, as is used in some raunchy comedy clubs, has the potential to deeply hurt others. Just ask a victim of a playground bully about being teased.
You do have a choice of what kind of humor personality you develop and when to use it. Humor can wound, degrade, put-down and exclude us from one another or it can heal, humanize, elevate and connect us. I recommend the last four!
Choose Health Inducing Humor
The primary intention of the above-noted performers is to provide entertainment.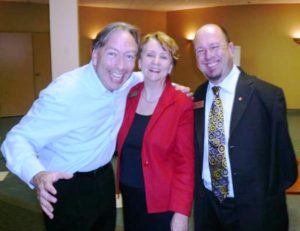 However, there are increasingly humor educators who want us to make a positive impact with healthy humor. Here are five of the most active:
These educators encourage a form of joyful kindness. As a woman speaker, a motivational speaker or keynote speaker, I realized I needed to discover my little corner in the humor room.  The humor descriptors "corny" and "playful" repeatedly came forward from friends or audiences. These words resonate with me.  You see, your humor personality is more like a birthmark than a tattoo.  Look around for yours.
Consider Telling a Favorite Joke
Sometimes being able to tell a joke is a useful skill. Some people decide they just can not pull it off. But maybe they do not know the simple mechanics of what to do after they have memorized the joke lines.
Should you want to experiment with telling a joke, here are some tips to follow:
Ten Tips to Tell a Joke
Collect one to three jokes from the Readers Digest, the internet or the coffee shop. Choose ones you think are funny and reflect your life.
Do NOT start with: "I'm going to tell a joke." A joke is dependent on the element of surprise.
Tell jokes that are relevant to the listeners and the present conversation.
Adapt the joke to familiar places and characters.
Use the five senses in the telling: sight, sound, taste, smell, and feelings.
Tell it with an exaggerated emotional tone.
Make sure you leave the punch, the surprise line, to the very end.
Pause before the punch!
If they don't laugh, continue the conversation. No one will be the wiser.
Have fun!
Joke Example
Here is an example I share with girlfriends and tell in my presentation, Merry Love Making: How to Strengthen a Long Term Love Relationship:

After fifty years of marriage, Les and I do IT  almost every day of the week. Pretty impressive, eh? Well, we do IT, almost on Monday, almost on Tuesday, almost on Wednesday…
This is an adaptation of a very old joke. Now you can decide what you do almost every day of the week to create your own version.
Use a Kind Humor Code of Conduct
Use sarcasm, put-downs and insults sparingly.  Avoid vulgarity and profanity and the temptation to use them for shock value.  Be careful when joking about something that a person CANNOT change. That includes discriminatory remarks about other's culture, race, religion or sex.
People in the public eye, as opposed to the public washroom, are often an exception to this rule as being poked fun at is the price they pay for fame and wealth.
Self-deprecation is the safest form of 'jokey' humor. Make fun of your own folly. Share a joke with us…tastefully, please!
Summary
In the end, having fun and using our personal sense of humor to find some perspective in our lives is something to strive for. It was Mark Twain that observed, "Against the assault of laughter nothing can stand." Don't stand too long without declaring "I have a sense of humor!"