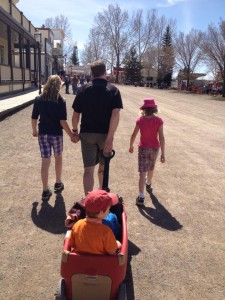 My colleague Bernie Fitterer from Inspiring Developments specializes in helping fathers adapt to the challenges of their role. Recently, Bernie invited me and three other mothers to an event aimed at fathers. During this event, we were presented with questions from attendees seeking insights from a woman's perspective.
It was a tremendous honor for us. The four of us women sat in front of a semi-circle of fathers spanning various ages, eager to share our insights and provide answers to their questions. Here are five of the questions we addressed:
Questions from Caring Fathers
1. What are the essential qualities that women seek in men?
This father understands the significant influence fathers have on their children by observing how they treat the mothers of their kids. In modern, conscious, and mentally healthy relationships, both partners are expected to collaborate as a team in raising their family. Some of the traits women often seek in their partners include values such as respect, honesty, fairness, commitment to marriage, children, and family.
Most women desire their partners to:
Show affection that isn't always linked to physical intimacy.
Display genuine interest in and support for their goals, pleasures, fears, friendships, and activities outside of the home.
Express admiration for their personal strengths and achievements.
Be willing to engage in open discussions about problems, rather than avoiding issues or seeking quick fixes. For difficult conversations, consider using a structured approach to ensure effective communication.
Demonstrate a willingness to consider each other's perspectives and make decisions through mutual compromise.
2. Can you detect when your partner doesn't feel appreciated as a husband or father? If so, how do you address it, if at all?
In my own relationship with my husband, Les, we've established a practice of openly expressing appreciation for each other's contributions, whether it's doing household chores, preparing meals, or even refilling the gas tank. This proactive approach helps ensure that both partners feel acknowledged and valued in their roles as spouses and parents.
But sometimes appreciation comes in different forms.  One partner may express appreciation but the other does not recognize it.  Gary Chapman in The 5 Languages of Love describes these as quality time, words of affirmation, gifts, acts of service, and physical touch.
3. What is the most important masculine trait for the family environment?
Be on the same page as the mother to lead the family in living your mutual values.  Taking a parenting class and holding Family Meetings are helpful.  Because men typically have more physical strength, I add a sense of providing protection in moments of vulnerability of that sometimes women and children feel.
4. Do you think it is appropriate and safe for fathers to ask their children how they would like their fathers to be?
What kind of father do you want to be?  To become that man is an inside job.  Seldom does it work to twist ourselves to accommodate others' wants, particularly children in puberty. I imagine this question is implying a desire for improved parent-child connection   Here is one way to word that request:  "I would like to have a weekly date (even if it is for a half hour) with you.  What would you like to do for our first one?"
Doing is different from being.   Maybe you and your child take turns choosing the date activity. These dates are a good time to take a lighter approach and have some fun to build the relationship.
5. What can a man do to foster and maintain an intimate, physical relationship with his wife?
Wow! Thank you for asking. Often times she is just plain tired. Easing the load of home, family,  and community responsibilities is a big help.  I tell an old joke: A Harris poll found that 89% of women like to have two men at one time—one emptying the dishwasher and the other vacuuming.
Encourage her to pamper herself, so that she feels an appreciated and cherished. Tell her what ways you find her beautiful. In a Dove campaign it was discover that only 4% of women saw themselves as beautiful.
Separate touch from sex.  We all need a good dose of touch for well being. If women feel pooped  they will move away from touch believing it will lead to sex. When your partner is tired, do some extra home tasks to free up her frisky energy.
What are your father related questions?
Please check out these Related Posts: