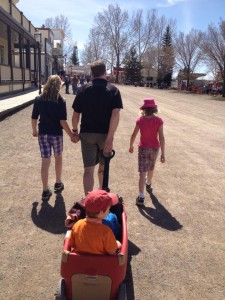 My colleague, Bernie Fitterer, of Inspiring Developments helps fathers become resilient to the demands of their role.  He invited me and three other mothers to an event for fathers.  We were provided questions from the attendees to answer from a woman's perspective.
What an honour.  We four women sat in front of a semi-circle of fathers of all ages. To the best of our abilities we answered their questions.  Here are five of those questions.

Questions from Caring Fathers
ONE: What are the fundamental traits that a woman needs from a man?
This father realizes that how fathers treat the mothers' of their children provides an impactful role model for both daughters and sons.  Most modern, aware and mentally healthy women expect to be in partnership with the father of their children, that they will both be paddling this family boat.  Traits include words that describe mutual values such as respect, honesty, fairness, marriage, children and family.
Most women desire that their partner demonstrate:
affection which does not always lead to sex.
interest and support of her goals, pleasures, fears, friendships, and activities outside of the home.
admiration for her personal strengths and accomplishments.
willingness to discuss problems rather than avoid or find a quick fix. If you need a script here is one for hard conversations.
an intent to seek one another's perspective and make decisions from a give and take intention.
TWO: Can you tell when your man is not feeling appreciated as a husband or father?  If so, how do you deal with that—if at all?
My hubby, Les and I have built into our relationship mutual expressions of appreciation for tasks from doing the laundry to meal preparation to filling the car with gas.
But sometimes appreciation comes in different forms.  One partner may express appreciation but the other does not recognize it.  Gary Chapman in The 5 Languages of Love describes these as quality time, words of affirmation, gifts, acts of service, and physical touch.
THREE: What is the most important masculine trait for the family environment?
Be on the same page as the mother to lead the family in living your mutual values.  Taking a parenting class and holding Family Meetings are helpful.  Because men typically have more physical strength, I add a sense of providing protection in moments of vulnerability of that sometimes women and children feel.
Four: Do you think it is appropriate and safe for fathers to ask their children how they would like their fathers to be?
What kind of father do you want to be?  To become that man is an inside job.  Seldom does it work to twist ourselves to accommodate others' wants, particularly children in puberty. I imagine this question is implying a desire for improved parent-child connection   Here is one way to word that request:  "I would like to have a weekly date (even if it is for a half hour) with you.  What would you like to do for our first one?"
Doing is different from being.   Maybe you and your child take turns choosing the date activity. These dates are a good time to take a lighter approach and have some fun to build the relationship.
FIVE: What can a man do to foster and maintain an intimate, physical relationship with his wife?
Wow! Thank you for asking. Often times she is just plain tired. Easing the load of home, family,  and community responsibilities is a big help.  I tell an old joke: A Harris poll found that 89% of women like to have two men at one time—one emptying the dishwasher and the other vacuuming.
Encourage her to pamper herself, so that she feels an appreciated and cherished. Tell her what ways you find her beautiful. In a Dove campaign it was discover that only 4% of women saw themselves as beautiful.
Separate touch from sex.  We all need a good dose of touch for well being. If women feel pooped  they will move away from touch believing it will lead to sex. When your partner is tired, do some extra home tasks to free up her frisky energy.
What are your father related questions?
Check out Related Articles/Blogs:
12 Tips to Transform Relationship Fighting
Tried and True Relationship Advice That Sticks
Merry Lovemaking: How to Enliven Long Term Intimacy
---
If you enjoyed or benefited from this blog, please leave a Comment below and subscribe to my eNewsletter, Your Uplift.