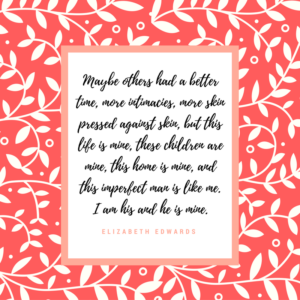 In 2009, Elizabeth Edwards published Resilience: Reflections on the Burdens and Gifts of Facing Life's Adversities. It is a quick 213-page read, written in a frank but intimate style.
Overview:
Edwards attracted a significant and fond following in 2004 when her husband, John Edwards, ran for Vice-President of the United States. Her three main stories of adversity involve her sixteen-year-old son's death, her battle with breast cancer and her husband's infidelity.  She shares these painful life events with clear integrity, gritty rawness, and uncommon graciousness.
Basic Concepts:



Life includes pain and joy, light and dark, tragedy and blessings.
Doing our best is all that is required.
There are circumstances that trigger self-doubt.
We demonstrate resilience when we make changes to help us take the next step through difficult times.
Self-love and self-compassion are part of grieving, recovery from loss and trauma, and coping with significant emotional pain.
Elizabeth Edwards Quotes:
"I thought of the people who had written me in 2001 – and many were writing again — who had said that you are alive today and that is a victory. The only answer was to live, as long and as well as I could."
"There, on Democratic Underground, I read a comment someone had posted under a thread offering me support. The comment included lines from a Leonard Cohen song, Anthem: Ring the bells that still can ring. Forget your perfect offering. There is a crack in everything. That's how the light gets in."
"I was holding on to the life I wanted, even if the life I had was clearly less than what I wanted it to be. I adjusted my sails, but as little as possible."
"There is a dignity that comes with resisting the word victim and all that it means."
"Just as I don't want cancer to take over my life, I don't want this indiscretion (husband's affair), however long in duration, to take over my life either. But I need to deal with both; I need to find peace with both."
"Forgiveness, I have been told, is the gift I give to him; trust he has to earn by himself."
"Maybe others had a better time, more intimacies, more skin pressed against skin, but this life is mine, these children are mine, this home is mine, and this imperfect man is like me. I am his and he is mine."
"Nothing will be quite as I want it, but sometimes we eat the toast that is burned on one side anyway, don't we?"
"I can only be what I am capable of being."
Summary:
Elizabeth Edwards models the depth of soul-searching. Consider discovering your own strength by reading Resilience.
Please check out these related posts:
12 Ways to Create Meaning from Painful Situations
Book Summary: The Survivor Personality
Patricia Morgan MA CCC helps her readers, clients, and audiences lighten their load, brighten their outlook, and strengthen their resilience. To go from woe to WOW call 403.242.7796 or email a request.
---

If you enjoyed or benefited from this blog, please leave a Comment below and subscribe to my eNewsletter, Your Uplift.