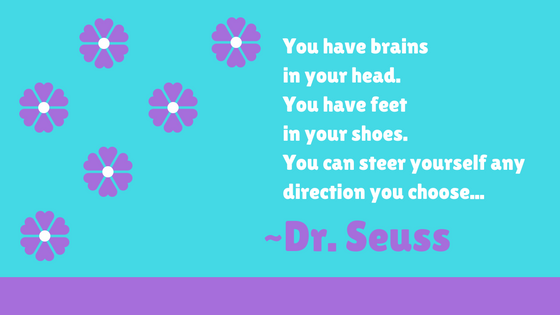 Dr. Seuss was correct, You have a brain in your head. Use it well. Wipe out the cobwebs. Nourish it with wisdom and compassion.  Our present culture tends to fill our children's brains will commercialism, greedy, sugar, violent images, mean-spirited competition, contempt, discontent, and trivia. 
What really matters are the deep virtues that are expressed over and over again, but often in new and fresh ways. Dr. Seuss had that ability; to perceive and express ancient wisdom in fun and inspiring ways.
On March 2. 1904, Theodor Seuss Geisel (Dr. Seuss) was born.  Because of him, I read The Cat in the Hat to more children, more times than my farm-wife, mother peeled potatoes for the thrashers. This poet, writer, and cartoonist published 46 children's books including many with resilience building messages.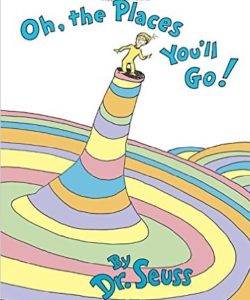 Here are some of my favorite lines from Oh, the Places You'll Go!:

"You have brains in your head.
You have feet in your shoes
You can steer yourself any direction you choose.
You're on your own. And you know what you know.
And YOU are the guy who'll decide where to go.
I'm sorry to say so but, sadly, it's true
And hang-ups can happen to you…
And when you're in a Slump, you're not in for much fun.
Un-slumping yourself is not easily done…
But on you will go though the weather be foul
On you will go though your enemies prowl…
On and on you will hike and I know you'll hike far
And face up to your problems whatever they are…"
When Seuss refers to un-slumping he is referring to picking yourself up, wiping yourself off, and demonstrating resilience. And, in the end, don't we want that ability for our children when they face problems whatever they are?
Other Dr. Seuss quotes that inspire demonstrations of resilience include:
"Why fit in when you were born to stand out?"
"Always remember you are braver than you believe, stronger than you seem, smarter than you think and twice as beautiful as you've ever imagined."
"Be who you are and say what you feel because those who mind don't matter and those who matter don't mind."
"When you think things are bad, when you feel sour and blue, when you start to get mad…you should do what I do! Just tell yourself, Duckie, you're really quite lucky! Some people are much more…oh, ever so much more…oh, muchly much-much more unlucky than you!"
"I have heard there are troubles of more than one kind. Some come from ahead and some come from behind. But I've bought a big bat. I'm all ready you see. Now my troubles are going to have troubles with me!"
What are you reading to your children or grand-children? To yourself, for that matter?  What books inspire your sense of resilience?
---

If you enjoyed or benefited from this blog, please leave a Comment below and subscribe to my eNewsletter, Your Uplift.