Overview: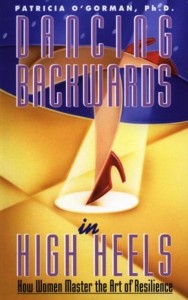 It was a thrill when Patricia O'Gorman read and endorsed my book From Woe to WOW: How Resilient Women Succeed at Work.  O'Gorman was one of the first experts to write specifically about women's resilience.  She saw women as vulnerable to losing touch with their personal power because of their strong focus on relationships and connections. She also addressed issues of women's survival and the ways we choose to survive and thrive. In 1995, published her classic book, Dancing Backwards in High Heels: How Women Master the Art of Resilience.
Reading Dancing Backwards in High Heels affirms women are capable of amazing acts and we have the power to be strong, resilient beings.
Basic Concepts:
 You can develop a resilient voice.
 You can increase your self-awareness.
 We have strengths and weaknesses.
Through exercises of self-analysis, we can strengthen our resilience. Lists of questions help you, the reader, explore your life—your childhood, pain, tragedy, fear, dependence on others, independence, strengths, resourcefulness, goal-setting, personal power, taking credit, and commitment.
Ideally we were raised as girls with protective factors such as personal aspects (good health, flexibility, empathy, sense of humor, communication skills), family aspects (positive closeness to parents, extended family, clear boundaries, structure and consistency), and community aspects (positive school experiences, close relationships, supportive role models).
Patricia O'Gorman Quotes:
"We are most successful in life when we can achieve a balance between self and other."
"All children need protection. Learning safe behavior is a life-long process."
"A good balance between decreasing protection and increasing independence is very important to a girl's healthy development."
"Our family's tales about our women relatives hold a special importance for us as women. They reveal the strategies, successful and otherwise, employed by the women in our family as they struggled with many of the same issues we face today. We depend on these to tell us about being a woman: our role in society, our relationship, our sexuality."
"Stories are as much a reflection of the teller as they are about the subject. What story we choose to tell and what aspects of it we choose to emphasize have a great deal to do with the issues we are currently struggling with, as well as our beliefs."
Summary:
In her book's title, O'Gorman played off the famous quotation from Texas Governor, Ann Richards, "Ginger Rogers did everything that Fred Astaire did.  She just did it backwards in high heels." Yes, women are capable of amazing things and we have the power to be strong, resilient beings.
Here is an invitation.  Answer these three O'Gorman questions:
Does your life represent your values, your goals?
Why or why not?
What changes need to occur to bring your life into line with your values?
Feel free to email me your answers. I will be sure to respond.
Please check out these related posts:
Have I Told You I Remain a Feminist?
Why and How Distressed Women Tend and Befriend
Patricia Morgan MA CCC helps her readers, clients, and audiences lighten their load, brighten their outlook, and strengthen their resilience. To go from woe to WOW call 403.242.7796 or email a request.
---

If you enjoyed or benefited from this blog, please leave a Comment below and subscribe to my eNewsletter, Your Uplift.