Reading the morning paper's comic strips can be a stress relieving.  My interest in women's comic strips resurfaced as I sorted through some magazines ready for recycling. In an issue of MS I re-discovered an article called 'Paper Movies: Feminist cartoonists create characters that are real, raunchy—and they'll knock your socks off'.
Now, I'm not a big fan of raunchy but much of the rest of the article interested me. The article described ladies in the comic industry in the 1930s and 1940s creating drawings for women's magazines. Apparently, they drew a lot of plump and adorable toddlers. There were cartoon characters like Brenda Starr and Tessie the Typist that were created to appeal to women.
Then the talents of women begin to bubble up.
1. Wonder Woman
The one old comic book I have held onto is Wonder Woman.  She was created by a male psychologist in the early 1040s. I have a small figurine of her primarily because I appreciate her real thighs. As a Super Hero she exemplifies feminine strength. She has been featured in comics, books, super hero movies and movies that tell her story from being Princess Diana of Themyscira, Daughter of Hippolyta to a recognizable heroine.
When I was researching resilience I was delighted to discover the little, fun, and helpful book by Jennifer Traig and Suzan Colon, What Would Wonder Woman Do?: An Amazon's Guide to the Working World. It sits on my resilient women's bookshelf.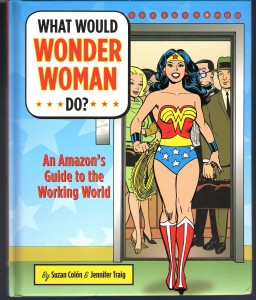 2. Betty Boop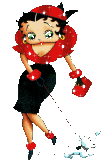 It's interesting that Betty Boop has renewed interest. Maybe it's, again, her real thighs aspect. She is one perky, loving, shapely, assertive, yet loving young woman. She first appeared in the 1930s in cartoons; later in comic strips. Here's a little favorite piece from Betty Boop:
This little cartoon will lift you up if you are feeling down. Just click on Every Little Nobody is a Somebody:
Every little nobody is somebody to someone.
You're not just a nobody – you're somebody to me.
You just never had a chance to show what you can do.
Don't you mind if now and then some people laugh at you.
Some day you'll be somebody and nobody will tease you.
You'll have lots of blue ribbons now you just wait and see.
Every little nobody is somebody to someone and you'll always be somebody to me.
 Boop–boop, a-doop to you!

3. For Better or Worse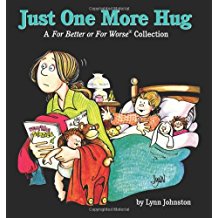 In the 1970s when we lived in Ontario the local rag, the Sarnia Observer, discontinued the only comic strip to which I related–For Better or Worse by Canadian, Lynn Johnson. In my frustration I actually amassed over 100 signatures on a petition to try to change the editors' decision. Originally, when I called the paper to protest, the gentleman who answered told me, "We guys at the Observer don't think it's funny." Of course they didn't! Lynn Johnson's topics included bathing suit shopping after giving birth, wiping toddlers' noses, girlfriend chats and miscommunication with husbands.
In later years, Johnson explored tough social issues such as teen sex, homosexuality and caring for the older generation. I snicker to think of all the awards Johnson has won. Now I have many of her comic strips in book collections (there are over 30 book compilations) such as I've got the One-More-Washload Blues, Our Sunday Best and Do They Ever Grow Up? Did you know that Johnson is the world's most widely syndicated female cartoonist and was mentored by Charles M. Schulz of Peanuts fame?  to look at  Johnson's work Click Here.
4. Sylvia
Now and then I come across Nicole Hollander's Sylvia, a smoking, cat loving woman of radical opinions. Some of her publication titles give you a feel for her humor: Female Problems: An Unhelpful Guide, My Cat's Not Fat, He's Just Big-Boned, 101Reasons Why a Cat Is Better Than a Man, Women Who Love Their Cats Too Much and Everything I Know About the Rat Race I Learned From My Cat. Visit Hollander's fun website where you can order a T-shirt with a choice of comic images. Look at Hollander's fun messages Click Here. 
5. Cathy 
The over 20 titles of Cathy Guiswite's comic collections about her character Cathy  reflect the single woman blues: Men Should Come with Instruction Booklets, A Mouthful of Breath Mints and No One to Kiss, Wake Me Up When I'm a Size 5, Revelations From a 45-Pound Purse and I Am Woman, Hear Me Snore.
6. Between Friends
Between Friends surfaced in the 1990s. It is created by another Canadian, Sandra Bell-Lundy, and features four contemporary women friends. The women are mid-aged business women.
7. Sally Forth
In 1982 Greg Howard created Sally Forth that features a working mother's story along with the challenges of parenting and relating to her husband. Periodically I nod and gain some marital insights from this strip.
8. Maxine
Although, not a comic strip, worth mentioning is the comic character, Maxine of Hallmark cards created by J. Wagner. Hilarious images accompany cantankerous lines like, Don't Worry. Be Crabby. Or Tried on a thong yesterday. I'm still trying to dig it out. Or I've still got "it", but NOBODY wants to see it! Or Ever get the feeling your stuff strutted off without you? Or With each passing week, the days are getting a little bit shorter. Kind of like me. Maxine is one spunky, resilient senior!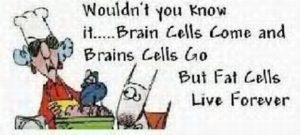 Kind of like me, I hope you have some comic strips that provide some smiles along with a fresh perspective of women's lives.
Please check out this related post:
The Why, What and How of Women's Humor
Patricia Morgan MA CCC helps her readers, clients, and audiences lighten their load, brighten their outlook, and strengthen their resilience. To go from woe to WOW call 403.242.7796 or email a request.
---
If you enjoyed or benefited from this blog, please leave a Comment below and subscribe to my eNewsletter, Your Uplift.