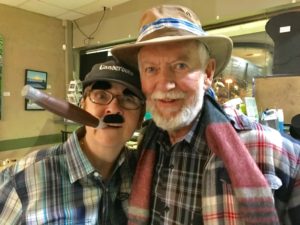 Yes, that is me in the photo, with my hubby. If you are a senior citizen, I hope you, too, take time to yuck it up! Fun and play help us keep healthy; help us with resilient ageing. Yet growing older has another side.
In the last couple of years, I was introduced to eyesight challenges, hearing issues, arthritis, and high blood pressure. My ageing process included getting an eye lift so I can do a proper shoulder check while driving. My hearing aids have allowed the television volume to go from 59 to 19.  Physiotherapy has helped the ache in my arthritic knee. These merely describe efforts to deal with the wear and tear on my body.
Here are some more indicators of the aging process. The newspaper's obituaries note dates closer to my birth year. Attending funerals have increased. My hubby's prostate cancer is back. Humor masks my feeling of frustration at how often I deal with forgetfulness. It is bittersweet to hear our granddaughter giggle, "Look boys! There's Great-Grandma Pat. Isn't she cute?"
Regardless of the cliches such as Age is just a number, some days I find myself muttering
Getting older is not much fun! Ageing is not for sissies, and I am ready for a nap!
Certainly! The aging process refers to the gradual changes that occur in an organism's body over time, leading to a decline in various physiological functions and an increased susceptibility to diseases. Aging is a complex and multifaceted.
Here are some more key points about the aging process that focus on physical aspects of wear and tear:
Cellular Changes: As we age, our cells undergo various changes, including a decrease in their ability to divide and repair themselves. This can result in a decline in tissue and organ function.
Genetic Factors: Genetic predisposition plays a significant role in determining how an individual will age. Some people may have genetic variations that make them more resilient to certain age-related conditions.
Hormonal Changes: Hormone production often changes with age, leading to shifts in various bodily functions. For example, the decrease in certain hormones like estrogen and testosterone can contribute to changes in bone density and muscle mass.
Oxidative Stress: This occurs when there's an imbalance between the production of free radicals (reactive molecules) and the body's ability to neutralize them with antioxidants. Oxidative stress is thought to contribute to cellular damage and aging.
Telomere Shortening: Telomeres are protective caps on the ends of chromosomes that shorten with each cell division. Eventually, when telomeres become too short, cells can no longer divide properly, contributing to aging.
Mitochondrial Function: Mitochondria are the energy-producing structures within cells. Over time, mitochondrial function can decline, leading to decreased energy production and cellular efficiency.
Inflammation: Chronic inflammation is associated with various age-related diseases. As we age, our immune system can become less effective at controlling inflammation, leading to tissue damage.
Environmental Factors: Exposure to environmental factors such as pollution, UV radiation, and toxins can accelerate the aging process by causing cellular damage.
Lifestyle Factors: Diet, exercise, sleep, and stress management play a significant role in how we age. A healthy lifestyle can slow down the aging process and promote overall well-being.
Age-Related Diseases: Conditions such as heart disease, diabetes, Alzheimer's disease, and certain types of cancer become more prevalent with age.
Researchers continue to study the aging process in hopes of understanding its mechanisms and developing interventions to promote healthier aging. While aging is a natural part of life, adopting a healthy lifestyle and staying proactive about health care can contribute to a higher quality of life as we grow older.
I wonder about slowing down. Then, comes a half day of mentoring an emerging speaker. I come alive. I feel energized. I forget about my discomfort, my poor me song, and my age. No matter what our age, we are at a choice point. We can embrace resilient aging!
Ageing Process Choices
Continue to do what you think you SHOULD do or begin doing activities that energize, excite you and are high priority values?
Fuss about your neck, or stick out your neck to take a risk?
Lament your wrinkles, or realize that wrinkle cream is modeled by 18-year-olds?
Stay with the same old clothes, beliefs, and activities, or buy a thong, read a stimulating book and join a new group?
Wear the same old clothes or buy a thong? Oh! Forget that one. I tried the thong. Awful! It felt like a large dental floss you know where!
 Watch the aging clock tick, or make good use of your day?
Focus on what you have not done,  0r check off your bucket list desires?
Beat yourself up for not knowing it all or celebrate your wisdom, experience, and resilience?
Quicken your life's end with nicotine, alcohol, or fatty and sugary foods or ingest sensibly?
Disappear into other addictions, such as gambling, TV watching or internet, or engage in an active social life that includes volunteering?
Tell people you are 29 years old when you are 35, 45 or 55 plus, or say I am 95 years old and don't I look great? 
Yes, have some fun with your age. At a minimum, be the best you at whatever age, whatever condition–moving fast or slow.  Some younger people are slowed down because of health conditions.  In my late seventies, I have lasted well.  You have lasted, to this point.  Celebrate it.  Of course, there are ways to make the lasting longer through a healthy lifestyle.
It is a matter of choice–a matter of choosing resilient aging by boosting your thoughts and minding your behaviors.  May your ageing process reflect your thoughtful choices.
Please check out these related posts: