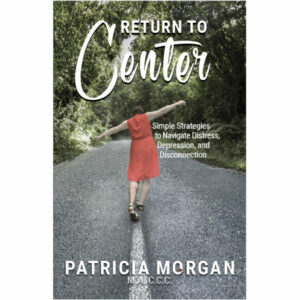 Fascinated by Dr. Stephen Porges' Polyvagal Theory (See The Polyvagal Institute), I embarked on a journey of sharing valuable tips and implementing new strategies with my counseling clients. Alongside this, I crafted a range of resources, encompassing exercises and comprehensive lists of strategies designed to aid individuals in managing their anger, anxiety, fear, hopelessness, and depression. Gradually, this endeavor evolved into the creation of a self-help book. Voilà! With the invaluable assistance of my detail-oriented editor, Elissa Oman, we proudly published, Return to Center: Simple Strategies to Navigate Distress, Depression, and Disconnection.
Overview of Return to Center
Let's start with a fundamental inquiry: What is the essence of Return to Center? In essence, it signifies those moments when we lose touch with ourselves, giving into either a fight, defend, or flee response, or slipping into a state of surrender, depression, or utter collapse. Alternatively, we might find ourselves resorting to fawning, whereby we excessively please others in a bid for attention and emotional safety. However, the ultimate goal is to recover and return to a serene and calm state that facilitates our ability to connect with both ourselves and others.
The positive response from my clients, as they explored their triggers and familiarized themselves with various coping strategies, filled me with optimism. I was heartened by their accounts of improved emotional regulation and enhanced interactions in their relationships. Once aspect of this process involved providing clients with a comprehensive list of strategies, enabling them to either decelerate or accelerate their responses when triggered, in addition to reinforcing their well-being practices. Return to Center has already proven to provide hope to countless individuals, guiding them from a state of struggle towards the path of well-being.
Here is what Vincent T. Covello, PhD Founder and Director of the Center for Risk Communication in New York, New York had to say:
"From cultivating healthy relationships and fostering self-compassion to connecting with nature, nurturing physical well-being, and exploring creative outlets, the book encourages a comprehensive approach to stress management that extends beyond the confines of a single strategy. It aims to empower readers to take charge of their mental health and make informed decisions regarding their well-being."
Basic Concepts of Return to Center
Discovering the supportive role of The Polyvagal Theory in our mental well-being.
Recognizing the significance of the vagus nerve and the autonomic nervous system.
Identifying emotional fear or danger signals, as well as sensations of comfort and emotional security.
Creating a personal trigger response map for emotional danger.
Understanding the characteristics and sensations of three key nervous system states: Charged, Give Up, and Centered States.
Employing strategies and techniques to slow the Charged State and revitalize the Give Up State.
Strengthening the ability to observe ourselves effectively.
Nurturing a healthy lifestyle with practical tips.
Challenging unhelpful thought patterns with effective approaches.
Exploring the fundamentals of Inner Child work.
Developing self-compassion.
10 Patricia Morgan Quotes
"Inevitably life has challenges—some easy to solve and some so deeply distressful that our painful feelings overwhelm our ability to think clearly! We don't realize it, but being triggered into overwhelm—distress, depression, anxiety, anger—robs of our best selves."
"Like a car, your physical and psychological health also needs to be kept in good working order. Self-care and regular maintenance are necessary, as is learning how to notice and adjust your responses to life's challenges."
"Where did my brain go? It went into emotional dysregulation, survival mode, and overwhelm."
"As an adult you can learn to be your own best caregiver and bring calm to your nervous and emotional system which is a key factor in communicating effectively with others."
"The key question is, Can I easily and effectively Return to Center?"
"Like the driver who drives erratically, your mind may jump from one thought to another, being reactive. But you can learn to have more control over your mind and avoid unnecessarily activating the brain's alarm bell, the amygdala."
"The goal of Inner Child Work is to develop a caring relationship with ourselves from the awareness of our Wise Adult Self. It is as if we allow our compassionate heart to caringly take charge. . . (It) is not about blaming our parents, but more about changing family patterns."
"Protect yourself from others who are not kind, supportive, or compassionate. If you have repeated conflict with a loved one, set boundaries, and seek therapy for yourself and/or go together."
"The simple act of calming the mind calms the whole nervous system returning you to the Centered State."
"May you Return to Center."
Summary:
Return to Center includes not only the core principles of the Polyvagal Theory but also perspectives and practical tips that I have shared with clients throughout my more than thirty years of clinical practice. I take satisfaction in the positive outcomes it has yielded.
Should you be interested in learning about my other publications or purchasing Return to Center, click HERE.
Please check out these related posts: