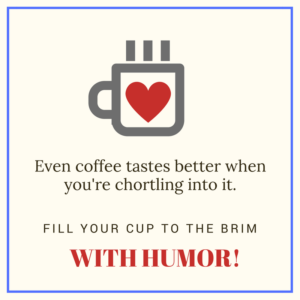 Seriously, You Can't Be Serious
Not only is humor a key resiliency strengthening tool, it has become a hot topic in the world of employment. I have had the good fortune of enjoying good laughs with international speaker, humorist, and author, Michael Kerr. As his book cover attests,Michael does not take himself too seriously, but he is serious about putting humor to work in the office. If you are ready to discover the power of humor get a hold of  You Can't Be Serious: Putting Humor to Work.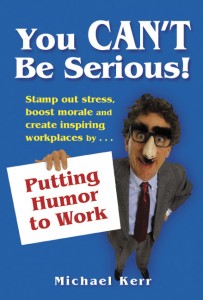 Overview:
For many years, Michael was a Parks Canada manager. There, he learned powerful lessons about the importance of silliness, fun and humor. . . or sometimes, the lack of. In 2001, he poured his knowledge of management and over 15 years of humor research into his value-packed book. Although the research is plentiful, Kerr writes in a playful and conversational style. He models how easily humor can put into action without resorting to joke telling.
Basic Concepts:
Michael enlightens the reader to laughter's benefits. Those benefits include increased:
stress management

individual and team creativity
employee morale
employees' sense of

being appreciated

office team spirit
effective communication
savoring of coffee.
Yes, even coffee tastes better when you are chortling into it.
From leaving home for the daily commute to perking up meetings, to improving customer service, Michael shares ways to use laughter
. He even warns about
emotionally
unsafe humor.
He generously shares over 200 ways to actively put humor to work. Just look at the chapter titles!
Putting Humor in its Place
Why Humor is Such a Powerful Stress Buster
Putting Humor to Work Against Stress
The Office Commute – May the Farce Be With You!
Laughing in the Face of Change
Humor as a Catalyst for Creativity
Motivating The Troops Through Laughter
Laughing Your Way to Better Customer Service
We've Got to Stop Meeting Like This!
Speaking of Humor (Adding Humor to Presentations)
Humor Blocks – What Stops Our Sense of Humor?
Practicing Safe Humor (Having Fun Without Getting Fired!)
Guiding Lights for Adding Humor to the Workplace
201 Ways to Put Humor to Work
Michael Kerr Quotes: 
"Having a sense of humor is about having a sense of balance, perspective and proportion. A sense of humor is the ability to recognize the incongruities and absurdities that confront us on a daily basis."
"Humor reminds us that although we can't control many of the events that happen to us, we can always control over emotions and how we react to those events."
"Humor not only helps people to take risks, it also encourages them to offer more creative ideas and to be accepting of creative ideas."
"To create an atmosphere of fun and enthusiasm in the workplace, start with the basics, like what we call ourselves. How would you like to your business card and stationary to announce your job title as "Chief Imagination Officer"?
"Service with some laughter is service that won't be easily forgotten."
"Meetings needn't be onerous, stressful, and wasteful. By taking a little time to plan an injection of humor and establishing a relaxed tone throughout meetings really can be productive, efficient, and fun."
"In a world of bottom lines, profits and technology, touching each other through laughter is about valuing human connections and relationship."
Summary:
Be like Michael and get serious about humor. You can make a significant and positive difference by doing so!  Michael Kerr has also authored:
Please let us know how you used ideas from this blog/article.
Please check these related posts:
How to Have Fun with Your Personal Sense of Humor
The Why, Why and How of Women's Humor