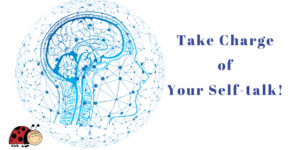 Much has been written about the power of positive thinking.  I have worked hard to become aware of my negative thoughts and self-talk. I have also worked hard to replace them with resilient and uplifting thoughts and self-talk.  My strongest, negative self-talk was "You are stupid".  But it was and continues (in rare moments) to be only a thought. It was passed onto me by my father.  A gift, that keeps giving, if I do not catch it! I still can hear him yelling at Mom and me, "You stupid females!"
It has been estimated that up to 90% of some people's self-talk is negative. WOW! That is heavy but we have a choice. We can hang on, strengthen, minimize or let go of thoughts. And yes, reprogramming negative self-talk takes awareness, emotional intelligence, and committed effort. Are you ready to take on your negative self-talk beast?
The Self-Talk Loop
Most of our self-talk is like a looping and internal audio tape. It was often embedded into our unconscious during childhood. Caregivers pass on their automated messages to their charges. Some of the common negative messages include:
Don't do that!
Stop crying or I'll give you something to cry about.
You can't do that!
Don't be so stupid.
 You're so selfish.
Behave yourself!
Do as you are told.
These demeaning and confidence squashing messages can have a significant impact on young children's brains. They can become unconsciously embedded from our caregivers to ourselves. Then we continue the dirty self-talk work; often passing on to the next generation!
Re-program Your Self-Talk
However
, the wonderful feature of being an adult is that now we are responsible for our own decisions including our internal chatter
. If you decide to embark on re-programming your negative rants, take it easy. Notice how many years those put down lines have been carving their groove.
Give yourself time and patience to do the repair work. Identify which messages would be helpful for you to:
write on cue cards,
record and play back to yourself,
write in your journal,
have a support person

repeatedly

say to you,

breathe in!
25 Affirmations to Increase your Positive Self-Talk 
These sentences will get your self-talk primed with some positive thinking. Note which ones are missing from your brain's tapes:                                           
I can keep myself safe. 
I deserve love.
I am a good and loving person.
I can do it.
I can trust myself.
I am in control of my life.
I now have choices.
I have intelligence.
I am okay

just

the way I am.
I can get what I want.
I can succeed.
I can make mistakes and learn.
I can choose who to trust.
I belong here.
I can feel

all of

my feelings.
I can think and feel at the same time.
I can know what I know.
I can

initiate

, grow and learn.
I can be active and quiet.
I can think and speak for myself.
My needs and wants are important.
I can be independent and interdependent.
I can be powerful and ask for help at the same time.
I can be creative, competent, productive, and joyful.
I can trust my inner wisdom.
I am lovable at every age.
Give yourself these affirming messages ten times more than you imagine you need to hear them. Practice, practice and practice and you will get to the hall of self. Renovate your interior, replace your negative self-talk, and enjoy the sweetness of positive self-talk.
Related Books:

Here are two books that can help you transform your negative self-talk:
Please check out these related posts:
Essentials to Overcome Shame and Deal with Guilt
How to Improve Your Self-talk to Instil Positive Beliefs
Thirteen Ways to Quickly Boost Your Emotional Intelligence
Patricia Morgan MA CCC helps her readers, clients, and audiences lighten their load, brighten their outlook, and strengthen their resilience. To go from woe to WOW call 403.242.7796 or email a request.
---
If you enjoyed or benefited from this blog, please leave a Comment below and subscribe to my eNewsletter, Your Uplift.