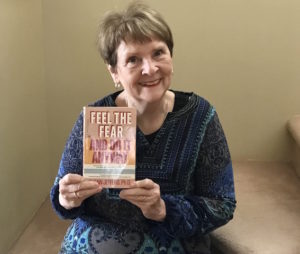 From the early 1990s, I have had Susan Jeffers' classic publication,
Feel the Fear and Do It Anyway
prominent on my bookcase
. I recommend it to my clients, as it is one of the most practical, clear, and common sense self-help books ever written.
My clients experience positive change even when they
merely
accept the title's powerful message
.
Jeffers explores what we fear, why
we feel
it, and what to do
differently
.
We can fear losing our health, relationships or job, making key decisions, or
being rejected
, laughed at or betrayed
. Jeffers provides a road map to help us feel our fears while taking steps to move forward.
She proposes that we can better manage our fears so that they no longer debilitate us. We can develop a resiliency muscle to face our fears. How? Jeffers suggests developing a stronger mindset and several strategies.
1. There are different types of fear
· Fearing what will
happen to us
such as inevitable change, aging (you are a day older every morning), and illness,
· Fearing the
action
we need to take to move forward with our goals.
We might
fear going back to school, making new friends, or speaking up.
· Fearing an ego attack such as rejection, failure or feeling helpless.
· And the big fear of them all
is based
on a belief of "I can't handle it!" which includes all the fears listed above.
2. We all feel certain degrees of fear when we try something new.
3. If we let fear debilitate us, we end up feeling helpless.
4. When we
repeatedly
play the role of victim, we reinforce distrust in ourselves. We also create chronic fear.
5. We can
minimize
our experience of feeling fear by monitoring our self-talk. We can increase our empowering thoughts and talk.
6. The way to manage our fear is to take steps forward and take action.
7. Taking risks can help us build our resiliency muscle to needless fear. We can begin to trust and love ourselves enough to say,
yes
to opportunities.
8. We can learn how to make informed decisions, which will lessen our fear.
9. We are responsible for our thoughts, feelings, and the choices we make, and can make.
10. We will create a fulfilling life when we accept that loss, change, mistakes and challenges are a part of life. We can decide, "I can handle it!"
"If everyone feels fear when approaching something

totally

new in life, yet so many are out there

doing it

despite the fear, then we must conclude that fear is not the problem

."

"You are

innately

designed to use your personal power. When you don't, you experience helplessness, paralysis and depression."

"Taking responsibility means being aware of where and when you are not taking

responsibility

so that you can

eventually

change

."

"See if you can go one week without criticizing anyone or complaining about anything."
"No one is immune to pain, and it shouldn't

be denied

when it exists.

The key is to know that you can lead a productive and meaningful life no matter what the external circumstance are

. What positive thinking does is offer a power boost to help you handle whatever life gives."

"Most of us are not aware that we belong to the moan-and-groan crowd until we stop moaning and groaning . . . Among the new friends you make, include those who are farther along the journey than you are."

"We have

been taught

to believe that negative equals realistic, and positive equals unrealistic

."

"If all your giving is about getting, think how fearful you will become."
"Not only is saying yes our antidote to dealing with day-to-day disappointments, rejections, and missed opportunities (the flu, a leaking roof, a traffic jam, a flat tire, a lousy date, and so on), it is the miracle tool for dealing with our deepest fear

."

"Whatever it takes, feel the fear and do it anyway!"
If any of the topics in this book summary resonate with you or have ignited your curiosity, please get a copy of
Feel the Fear and Do It Anyway
.
Patricia Morgan MA CCC helps her readers, clients, and audiences lighten their load, brighten their outlook, and strengthen their resilience. To go from woe to WOW call 403.242.7796 or email a request.
---

If you enjoyed or benefited from this blog, please leave a Comment below and subscribe to my eNewsletter, Your Uplift.