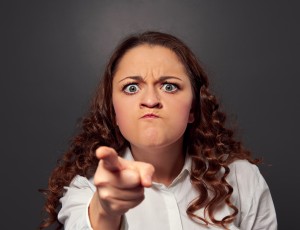 Anger is called the misunderstood emotion because many people do not know how to use it constructively.  If unmanaged it can do harm to your relationships and trigger the release of numerous stress hormones in your brain and body. If you struggle to manage this highly charged emotion please consider using the classic anger management tool, the Anger Log. Why?
Well! As Steven Levine wrote:
Rather than pushing (such feelings) down or spitting them out, we can let them come gently into awareness. We can start to give them space, to get a sense of their texture, of their voice, of their inclination. We begin to investigate the nature of the anger instead of getting lost in my anger."
What is an Anger Log?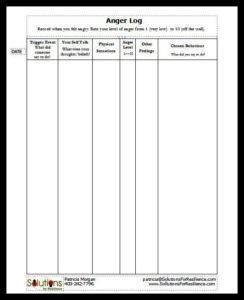 An Anger Log is a chart that assists you in recording and assessing your angry feelings.  It helps you discover the source of your angry reactions. It gives you hope as you record, not only your struggle but your progress.
You will monitor your triggers, frequency of feeling angry, and underlying feeling states.
You will discover that anger is a secondary emotion; that underneath or before feeling mad you have other feelings such as fear, hurt or frustration.
You will gain awareness and be better able to develop ways to best channel your angry energy. Plus you will experience more resilience. Download your copy of the Anger Log. Then follow the below instructions.
How to Fill in the Anger Log
Date: simply record it.
Trigger Event: What happened?
Did you someone say no to you?
Did someone not keep an agreement?
Did someone run into your car?
Your Self-Talk: What did you think?
"She has to or I will go crazy?"
"That is not fair?"
"It is all their fault!"
Physical Sensations: What did you notice in your body?
Clenched teeth and hands?
Heart racing and stomach in a knot?
Like an explosion in your head
Anger Level: 
Gage the number 1 (very low) to 10 (off the wall) based on how your body feels. Increasingly become aware of your body signals so you catch feeling anger sooner and sooner.
Other Feelings: What else did you feel?
Since anger is a secondary emotion, what feeling do you think you had first.  Often feeling angry becomes so habitual and we miss the original feeling. Guess at what you probably were feeling first.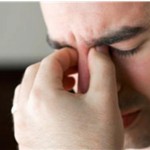 sad?
scared?
hurt?
frustrated
Note: these are some of the other core feelings we want you to express more often.
Chosen Behaviour: What did you say or do?
"If you do not do what I tell you I will go crazy!"  and point an aggressive finger at the other person?
"That is not fair! I hate you!"   and cry.
"This is your fault! You $#%@$#!"
Keep your anger log for at least a month. To support the use of the anger log gain additional understanding by reading the blogs/articles listed below:
Check out these related posts:
7 Concepts to Get a Grip on Your Anger
From Blowing a Fuse to Emotional Regulation
How to Be Aware of Emotions and Use Feeling Words
Five Steps to an Authentic and Research-Based Apology
Fed Up with The Kids: How to Manage Parental Anger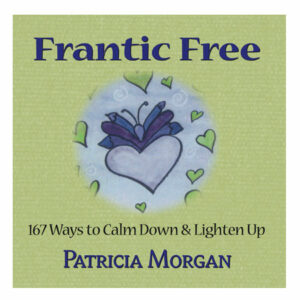 Also, consider purchasing my little stress management program, the Canadian Best Seller, Frantic Free,  167 Ways to Calm Down and Lighten Up. Only $2.95 in e-book format.
---
If you enjoyed or benefited from this blog, please leave a Comment below and subscribe to my eNewsletter, Your Uplift.