up looking for work-life balance. Ride life's teeter totter of ups and downs as gracefully as possible.
 Here are some results from my research for From Woe to WOW: How Resilient Women Succeed at Work. While 28 survey respondents identified their biggest challenge as caregiving demands, another 13 specifically described their major woe or challenge with the term balance.  One worker wrote, "Keeping balance between w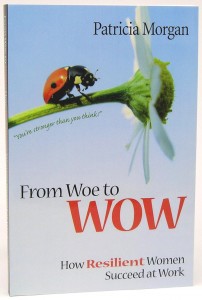 ork and play," while a single parent reported, "Balancing working and raising my six kids alone."  Some call it work-life balance, others work-family balance or work home balance. 
First, let's eliminate the phrase work-life because surely work is part of life and a significant part of it, for that matter. 
Secondly, balance may not be possible.  The demands of work and family are more like a teeter-totter or a roller coaster where balance comes in some moments.  Perhaps the best we can do is aim to maintain some kind of internal stability in the middle of the storm.
Beverley Smith, the Canadian caregiver advocate, believes the problem lies partly in the question.  She views both employment and family responsibilities as work.  It is genuine work to listen to a troubled teen, to make a family meal, to care for your senior parents or to get up several times at night with a newborn.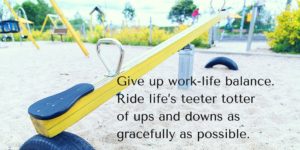 Often caregiving jobs are those for which we did not apply.  Beverley notes, "We are all one phone call in the night from being caregivers."  Since for some people care of the family is their career, perhaps women need to discuss the demands of paid work and unpaid work in the home and community.
Look at all your decisions holistically, including activities that nourish you physically, mentally, emotionally, socially, creatively and spiritually.  How about experimenting with backing off on a task or two to make time and space for some self-rejuvenation?  If you can financially afford to do so, pay for tasks that are a drag on you.  If you can't afford that option, consider delegating tasks.  "Delegate!?" you may ask.
Bear with me.  I detect a groan and hear, "He (she, they) won't do it like I want.  I have standards, you know."  This is a very effective strategy for scaring away willing supporters.  When moms are over-responsible, they rob other family members of demonstrating their capabilities.  Parents do their children no favor by doing for them what children can do for themselves.  Sometimes, as women, our need to be needed overshadows our bodies' and minds' needs to have rest, relaxation, recreation and down time.  Fortunately, you can change your belief to a sane position of, "I appreciate your cooperation and it doesn't have to be done perfectly."
Families in which support, cooperation and fairness are exercised have less conflict and illness.  They put into action valuing their family relationships and teamwork.  Please don't risk your health and your main support relationships over clean dirt, otherwise known as dust.
Another block to gaining family cooperation is using nagging and whining instead of invitation and negotiation.  Nagging can be replaced by WOW strategies of creating clear boundaries, assertiveness and easing conflict.
In addition, you could hold a Family Meeting.  Not only do family meetings provide an opportunity to share the household load, they create a cooperative framework for sharing feelings and ideas, for supporting wishes and goals, for problem-solving, for making future family plans and for increasing the pleasure, harmony and fun in the family home.
For those involved in the care of aging parents, family meetings involving adult siblings can be an effective means to share the care.
Do your best, learn, and aim to steady with self-care in the middle of the family, work and community demands. You decide if the concept id the concept of work-life balance supports you or adds to your stress bucket. I like to aim to breathe in the middle of the up and down rhythms of life!
Patricia Morgan MA CCC helps her readers, clients, and audiences lighten their load, brighten their outlook, and strengthen their resilience. To go from woe to WOW call 403.830.6919 or email a request.
---
If you enjoyed or benefited from this blog/article, please leave a Comment below and subscribe to my monthly eNewsletter, Your Uplift.