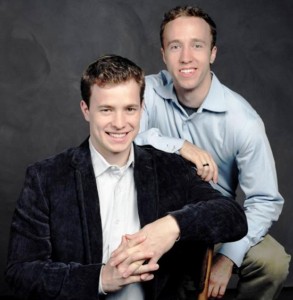 Three pages, with big headlines in The Calgary Herald, described WE Days. Two of the headlines read, "WE Day Rallies Youth" and "WE Day Sows Seeds of Social Awareness, and Celebrities say Kids are True Stars." This Calgary event attracted over 18,000 enthused, excited, committed youth.  Hallelujah! Some good news made it in the media. Part of that good news is that there are significant benefits to volunteering for teens.
Craig and Marc Kielburger represent many of those advantages. I first saw Craig, years ago, on Oprah's talk show. She pledged to provide books to every school the Kielburgers' WE Charity built. Then I met the brothers at Calgary, and again at Ottawa conferences.
I bought a dozen copies of their book, From Me To We: Turning Self Help on Its Head for our grandchildren and other teens. In it they describe example after example of how making a positive difference for others, for your community, and for the world creates a fulfilling life.  Previously, I wrote about the benefits of volunteering and the Craig's awareness of the struggles of many children. It was 1995 and he was 12 years old when he felt on fire to make a difference!
Toronto born and raised, Craig and Marc Kielburger have become resilient and relentless in their mission to make education available to all children. Through their passion and humanitarianism, they have expanded their view to include world issues. They have incredible communication skills, social and leadership skills, and live with a high moral grounding of inclusiveness, kindness, and fairness.
WE Charity grew to provide youth volunteerism programs to 18,000 schools in Canada, the United States and the United Kingdom, empowering young people to help more than 5,000 causes.
Can you imagine if these brothers ever decided to look for employment?  I don't think so!  They probably won't ever need to seek a job as they are now world renown for their philanthropy (even nominated for a Peace Prize). They obviously, at a young age, have much to offer.  How can we help develop similar qualities in our own youth?
Note: I KNOW. I KNOW. The WE Charity and the Kielburger brothers received a whack of poor press. They became entangled in a Canadian political scandal. Then in September 2020, announced it was shutting down operations in Canada due the controversy and the effects of COVID-19. Yet, what they accomplished as youth is exemplary.
Your teen might not reach mountains through volunteering. Yet, volunteering for teens provide these benefits.
Twelve Benefits of Volunteering for Teens
Generates realization of a personal strength
Instills effective communication and teamwork skills
Develops a sense of gratitude for the extras, beyond necessities
Gives a perspective outside of their home and school life
Provides an opportunity to build confidence
Encourages new skills to be learned
Provides 'work experience'
Requires commitment and discipline
Offers access to a mentor or mentors
 Builds a sense of community or an expanded world view
Empowers them to know they can make a positive difference
Turns ME into WE!
If you are in a position of influence with a youth here are some ways to inspire the idea of volunteering.
Seven Ways to
Develop a Spirit of Volunteerism 
Help your teens identify their strengths and gifts which can be magnified when used to make a difference. Journalist, Eva Ferguson, in the Calgary Herald article described a youth by the name of Meigliarese who plays with children at the Calgary Children's Cottage.

Make space in your children's and teens'

schedule for donating their time. Maybe replace one weekly lesson or sports chauffeuring trip to go somewhere to help.

Become more aware of the situation of children and adults struggling locally and far away. Point out how fortunate we are to live in Canada and that we have the means and ways to help.

Consider doing something as a family at least once a year that benefits the community. Joan arranged for her family to spend Christmas Eve serving meals at the Mustard Seed shelter for the homeless. When Les and I volunteered with Inn from the Cold a number of teens came with their parents, aunts or grandmas to help. The community has many walks and runs for causes. Choose one or two and involve the whole family.

Look around your neighborhood. For years the Strathern family shovelled our dear neighbour, Izora Frazer's sidewalk.  Although they moved away and their children launched, I still see them turn up with shovels in hand.

Designate a percentage of your teen's allowance for donating. Involve them in the choice.

As a family adopt a child from an organization such as Plan Children Canada or World Vision. Have your teens write letters and develop a relationship. They will learn that some children long to attend school in addition to hours of carrying water from a river to their family hut. Our grown children remember our financial support of three different children from the African country, Burkina Faso. They recall these children's circumstances, the letters we wrote, and the thank you notes we received in return. 
Do you wonder where you can find options of volunteering for teens? Most towns and cities have a volunteer centre.  Contact your local  centre to inquire about  opportunities for youth, families and maybe, even yourself. Plus, the jooble website lists opportunities in many countries around the globe.
Please check out this related post:
Volunteer Work Creates Helper's High
Patricia Morgan MA CCC helps her readers, clients, and audiences lighten their load, brighten their outlook, and strengthen their resilience. To go from woe to WOW call 403.242.7796 or email a request.
---
If you enjoyed or benefited from this blog, please leave a Comment below and subscribe to my eNewsletter, Your Uplift.