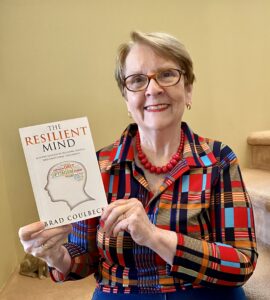 The Resilient Mind
It was at a Canadian Association of Professional Speakers (CAPS) convention that I met Brad Coulbeck. Brad is the author of The Resilient Mind: Achieve Success by Building Mental and Emotional Toughness. He is a calm, solid kind of a guy, who is a Certified Trauma Service Specialist, a hypnotherapist, and a police officer. Plus he has experience as a leader of an Emergency Response Team and commander of a Public Order Unit. Also of interest is his deployment to the Middle East as a police advisor in the West Bank.
After buying his book and getting him to sign it, I devoured his expertise, stories, philosophies and tips on strengthening a resilient mind.
Overview:
Brad has worked in the thick of one of the most stressful career paths imaginable: policing. He has developed a deep understanding of the effects of stress and the conditions of Post-Traumatic Stress Disorder (PTSD). He shares basic resiliency concepts, stress research, ways to build resilience, and examples from Israeli resiliency programs.
Surprisingly, from this tough-bodied, tough-minded guy, comes encouragement for all of us to nourish ourselves, to increase our positive thoughts, and to embrace our feelings.
Basic Concepts:
There is a difference between resilience and stress resistance. Resilience Brad states is "the ability to adapt to significant adversity and trauma, to recover quickly, to bounce back." Stress resistant is to experience significant challenge as "Just a small blip on the screen" of life and then go on as normal.
However by using resiliency-building factors we can strengthen both our stress resistance and resilience. Plus, resilience is required to successfully manage stress and to move forward with personal awareness and growth.
Brad Coulbeck's list of Resilience Building Factors:
I have added a brief description to each of these woe to WOW strategies:
Support System: Relationships are crucial for our well-being. Humans are social beings.
Health and Fitness: Yes, you need to move and get adequate rest.
Body Quieting: Personal power comes from knowing how to calm your stress-reactions.
Stress-Reduction Diet: Brad suggests some stress taming foods such as green tea, avocados and almonds.
Sense of Humor: There's a reason for the development of Laughter Yoga. Laughter can enhance our health.
An Active Coping Style: Better managing our emotions and problems reduces stress.
Optimism: Martin Seligman's book, Learned Optimism, emphasizes the importance of this mind set.
Find Meaning in Suffering: Viktor Frankl's book, Man's Search for Meaning tells how crucial to our survival is finding meaning.
Spirituality: When we have a sense of our oneness with something bigger than ourselves, our life if given deeper meaning.
Self-Confidence, Esteem and Self-Efficacy: These three states are like soldiers to combat our stress-response.
Feel in Control: Avoid seeing yourself as a victim.
Stress Inoculation: We need to be exposed to a certain amount of stress to build our resiliency muscle.
Accept Reality: Just like the Serenity Prayer reads "accept the things I cannot change."
Flexibility: We need to weigh in with what the moment requires—more persistence or more letting go.
Self-Discipline: There are times we need to access our logic and reason to make the best decision.
Creativity: Curious creativity can help us solve problem, reduce our stress, and go on our merry way.
Live in the Now: That's the only time you really have.
Forgiveness: If we hang onto resentment or hurt we are the ones who suffer.
Love, Compassion, and Gratitude: These three states can elevate our resilience a sense of flourishing! Many of my blogs are about the power of love, self-compassion, and gratitude.
Perception of Problems: When we reframe our problems as challenges or learning lessons they become less stressful.
Twelve Brad Coulbeck Quotes:
"The love and care exhibited by trusted family and friends provides a foundation for resiliency."
"Start wherever you can, but get active, watch your need for rest, and reap the rewards."
"There is a need to quiet the body and the mind. Many studies on meditation show that people who meditate react better in stressful circumstances."
"People often go on diets as a tactic to lose weight, but eating healthier meals and snacks can also help build your resiliency."
"Laughing feels good, and it's good for you. What has you stressed, frustrated, angry, or overwhelmed? What can you find right now that is funny about it?"
"You must face your problems and deal with them as opposed to dodging, denying, or totally disengaging from your reality."
"The next time you are facing a difficult situation, reframe it in a more positive light, know that it won't last forever, and have faith that you will prevail."
"Whatever meaning we choose to attach to our adversity will determine our level of suffering or peace."
"The first step to regaining control is to accept your situation, whatever it is. Then you must act on even the smallest aspect you can."
"Lean into pain: Do the thing that you are putting off. Push yourself to start the task."
"I can't change the past, but I can decide how the past will influence the person I am now."
"You get whatever you focus on in life and focusing on gratefulness increases your capacity for dealing with stress."
Following up on the last quotation, if you read Brad's book you will be encouraged to focus on building both your stress resistance and resilience. You will find it a handy guide for what to do when you feel overwhelmed, discouraged, fearful, isolated, betrayed or depressed.
If you do decide to read A Resilient Mind, please consider sharing your insights here. Ok?
Please check out these related posts:
Patricia Morgan MA CCC helps her readers, clients, and audiences lighten their load, brighten their outlook, and strengthen their resilience. To go from woe to WOW call 403.242.7796 or email a request.
---
If you enjoyed or benefited from this blog, please leave a Comment below and subscribe to my eNewsletter, Your Uplift.