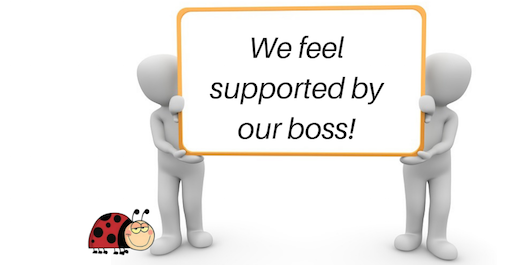 Those called the boss or who have leadership roles have an awesome responsibility. Their influence can contribute to distress, frustration and poor health. Their influence can also contribute to positive employee engagement, increased productivity and workplace thriving. If you are the manager or boss of others aim to be one who has the tools to build employee resilience.
There are many factors that contribute to effective management and much research to support success.  For example, a 2002 research study at Utrecht University concluded that unfairness at work is a predictor of absenteeism.
Why might managers want to increase their effectiveness in strengthening employee, team and workplace resilience? Because a stronger employee and team will better stay steady in the face of typical and unusual challenges.Workplace satisfaction and productivity will increase. Sick days will lesson and you will leave a positive influence. Here are some guidelines:
Avoid demanding respect. Intentionally express mutual respect.
Avoid dictating performance. Intentionally guide and coach.
Avoid inducing fear with threats. Intentionally inspire creativity, problem solving, and productivity
Avoid overusing the word "I". Intentionally use "we" and "us."
Avoid blaming employees. Intentionally facilitate problem identification and generating solutions.
Avoid on insisting jobs be done your way. Intentionally focus on end results.
Avoid taking advantage of employees. Intentionally empower them.
Avoid taking all the credit. Intentionally share the glory.
Avoid telling and directing. Intentionally listen and influence.
Avoid pointing out weaknesses. Intentionally point out strengths.
Avoid supporting conformity. Intentionally celebrate differences.
Avoid straining and stressing. Intentionally be a leader who demonstrates resilience.
This list could benefit anyone in a leadership role whether a boss, manager, volunteer coordinator, president of a board or parent. What would you add to this list?
Please check out this related post:
People Boost with Acknowledgment, Appreciation and Encouragement
---

If you enjoyed or benefited from this blog, please leave a Comment below; subscribe to my eNewsletter; Follow me on Twitter; Like me on Facebook; and Connect with me on LinkedIn.