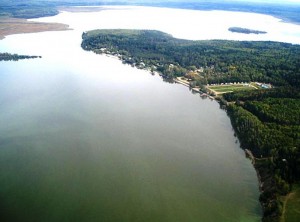 T-shirt slogan: I LOVE Slave Lake, One Year Stronger
May 14 2012 was the anniversary of the Slave Lake, Alberta fire which destroyed approximately one-third of the buildings and left 732 people homeless.
On May 11, I was honoured to participate in a community resiliency project with other presenters such as Dr. Wayne Hammond of Resiliency Initiatives and Spencer Beach, author of In Case of Fire. I learned much and was affirmed in my message of "You're stronger than you think."
Slave Lake's Building a Resilient Community committee bought 1010 copies of my micro-book, Frantic Free: 167 Ways to Calm Down and Lighten Up.  In the customized printing we included the following message from the committee:
Following life-changing events, it is important to take care of yourself.  This mini-book is designed to provide you with useful tools for managing distress.  We hope that you enjoy this resource and are able to share it with your family and friends.

Wishing you and your family resiliency, friendship and joy!"
At the event I led participants to explore who were their resilient role models throughout the year and how they were personally strengthened by their experience.  There were moments I felt touched by these citizens who had survived and appeared to be thriving.
Much ado has been made by the media about the anniversary, while residents themselves reflect on the situation with mixed reactions and perspectives. Some were still grieving their losses, some were feeling more connected and vibrant. Many were ready to scream at the invasive media, "Enough already! We're weary of being peered at."  Actually, while I was presenting, a camera crew came into the room and was quickly asked to leave.
That year Slave Lake was  a relatively prosperous community with teen-agers making up to $15 an hour.  Those with good house insurance were building lovely new homes.  Some people even enjoyed the purchase of new clothes and home furnishings.  Some Slave Lake residents were dismayed that, following the fire, truck loads of unneeded goods were sent to them.  I was reminded that it is a very good idea to first ask those who face adversity, "What would be helpful to you?"  Of course those who lost their homes needed temporary housing and empathic support to heal the trauma of such a loss.
But despite, the varied opinions and perspectives on how the fire had changed Slave Lake and its residents, I left agreeing that Slave Lake is a resilient community.  At that time they were already back on track with a popular mayor, Karina Pillay-Kinnee. It was her third term. The community had engaged in extensive home building and bustling stores.  On May 13, 2012, the Calgary Herald featured an article about "the aftermath of last year's massive Slave Lake fire."  Many of the quotations from residents supported my experience:
"I think it (the fire) has made me and my family stronger, just trying to keep united and positive with what went on." Gail Hughes, teacher assistant who lives in a temporary, mobile home
"You think about all the things you had, and you think, 'Is that all necessary?'  We had so much stuff, how much of it did we actually need, and how much of it was just there for no reason?  I don't want too much anymore.  Just a roof over my head, food in the fridge and the TV." Neil Dickson, oilfield worker
"I think we make the most out of every day.  We enjoy every sunny day, we enjoy even the rain." Susan Al-Mais, business owner
"I've probably gained a far better appreciation of the people who work in emergency services, town employees and our elected officials. . .  This community is so much closer together now.  The thing that really strikes me in an event like this is that it makes acquaintances become friends, and friends become family." Doug Babiy, Owner of Slave Lake Ford Sales Ltd.
"It's made me stronger as a person to get up and experience new things and not to rely on the past, but to rely on the future ahead of me." Ivy Gaskell, Slave Lake Regional Library employee
Let these Slave Lake Lessons Inspire:
Appreciate what you have.
Avoid getting hung up on what you don't have and want to have.
Love and appreciate those around you who help keep your family and community strong.
Live in the moment, the hour, and the day.
Be open to letting go the past and embrace your future.
Consider the gifts that have come your way through challenge and adversity.
Realize, you're stronger than you think. 

Related Articles/Blogs
Calgary, Alberta: A Resilient Community
What Resilient People Know and Do to Develop Their Grit
---

If 
you enjoyed or benefited from this blog, please leave a 
Comment
 below and subscribe
 to my 
eNewsletter, Your Uplift.