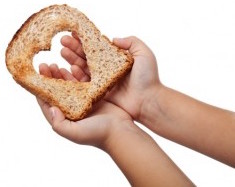 Is this Love or Lost in Euphoria? 
Sarah (pseudonym) asked me, "What do you do if your heart is in love with someone who is not available?  Should I keep hoping Joe (pseudonym) will choose me or move on?" Sarah was at risk of allowing a state of romanticism or euphoria (intense excitement) rob her of valuable time and energy, and dead end her from truly living her life. Euphoria, an intense feeling of happiness, can be induced by addictive drugs such as opioids, by extreme exercise, and yes, by romantic love. It hijacks or at least fogs our rational thinking!
The short answer to Sarah and those who have fallen into the fog of romantic euphoria is move on.  She is especially at risk for heartbreak. She loves a man who has made it clear he is married and has no intention of committing to her. But will she turn her head?
What's Childhood Got to Do with It?
It is interesting that experimental rats will quit going to empty food trays and will begin to search for nourishment in new territory. We humans would be wise to identify when we are caught in fantasy with unrealistic, overly optimistic, and wishful thinking.
Sarah knows Joe is not available. This is not a clue. It is a fact. The other fact is she deserves to have her heart held by someone who will give his or her all.
Our relationships give us opportunities to discover our patterns, most often rooted in childhood.  Sarah's story is about seeking or attracting a mate to unconsciously fill her emotional wounds or childhood longings. So is my love story.
When Sarah met, Joe, a distant and married man, she fell in love! She felt whole! She felt complete! She told me, "I am drawn to him. We have chemistry. I feel loved when I'm with him." Sarah's emotional and empty well of longing and belonging felt filled.
Growing up, Sarah's father was emotionally unavailable and then he left the family to marry his secretary. In counseling, Sarah discovered that as a child she could not make sense of the situation. Then she had unconsciously developed the core belief, "I am unlovable and there is something wrong with me." As a grown woman, her longing to feel loved and accepted translated into "If I can get this married man to choose me, that means I am loved and there's nothing wrong with me." The problem is that even if Joe leaves his wife and goes into the sunset with Sarah, one day he will express disappointment, criticism or withdraw to attend to his own emotional needs. She will then see him as a traitor.
Sidebar: Why isn't Joe getting his house in order with his wife with whom he has made a vow of commitment? I expect Joe has not looked at his own unfulfilled childhood longings.
I first kissed my husband, Les when we were both 17 years old. I was flunking out of high school. He was doing well in second year university. I was smitten! I was in euphoria. I was drawn to him. I felt loved when I was with him.
Growing up, my Dad used to call me and my mom the stupid females. I failed grade 7 and soon after that 17-year-old kiss, dropped out of high school. My core belief was, "I am stupid."  I eventually became resentful of  Les' high intelligence and felt betrayed if he didn't compliment me on my accomplishments. Conflict began. In my healing process I discovered that I used Les to fill my longing to be smart and intelligent. Therapy helped me rise above my childhood story to realize that I am the one who needs to see myself as a mature and intelligent woman.
Begin with Self-Knowing and Self-Love
Explore your childhood with compassionate curiosity. Your parents did the best they could raising you. We are all imperfect. As an adult you are responsible to fill the missing gaps–the longings, your parents could not or did not fill. Many people had good enough parents, that is, they provided love, basic needs, structure, guidance and a safety net. It doesn't mean they were perfect.  If you did not have good enough parents; that is if you experienced physical, emotional, verbal or sexual abuse or severe neglect, please seek out professional help. If the first helper you reach out to is not a good fit, don't stop. Find that person who gets you—sees and hears you and can help you fill your deep emotional well.
Accept self-responsibility. Attending to your well-being begins with self-knowing, awareness and responsible choosing. Tell yourself, "I deserve to fill my emotional well." If you tend to feel unlovable, find ways to demonstrate that you are lovable to yourself. Give yourself a treat. Consciously choose the fluffy dress or whatever a treat is for you. If you tend to feel stupid, show yourself your intelligence. I acquired a degree and wrote books. If you tend to feel loneliness, fold your arms to hug yourself or write yourself a letter. You might want to develop a sense of spiritual essence or connection.
Practice belonging to yourself. In the romance period of relationships, we disclose our best selves to be accepted and loved. But eventually we feel dismissed. Plus, even comfortably connected couples sometimes feel lonely and divided. It is a major task to have a sense of belonging first to ourselves. As the shame and vulnerability researcher, Brene Brown wrote, "True belonging doesn't require you to change who you are; it requires you to be who you are." Sometimes being who we are separates us from others—family, friends and yes, lovers. We then need to tolerate the division by belonging to ourselves. Reconnecting will require the two of you to negotiate a meeting place of hearts.
First become your own lover. Then you will be free to choose who gets to have the privilege of that role. Choosing is very different than emotionally needing. Successful entrepreneurs know they cannot train an employee to make sales unless they first can sell themselves and their products or services. The title of the book about masturbation says it all, Sex for One!
Then Seek a Good Fit Partner
Get exposure and show you are available. Appropriate flirting is encouraged. Engage in sports clubs, serve on organizations' boards, walk or run for a good cause and volunteer for your favorite charity. If you spend most of your spare time in a bar, that is probably where you will pair up. If you spend most of your spare time with an amateur orchestra, that is probably where you will pair up!
Discipline yourself to see people with both strengths and weaknesses. As the author of  The Five Love Languages, Gary Chapman wrote, "The person who is in love has the illusion that his beloved is perfect. His mother can see the flaws, but he can't." Unavailability is a big weakness if you want commitment.
Keep your eyes open for someone who initially you could call a friend. An online dating site might be a smart place to start.
Notice his or her family relationship dynamics. If a man calls his mother disrespectful names, that is a red flag. Likewise, for name calling or expressions of disgust by women.
Do not tolerate any abusive, addictive or controlling behaviours. Consider these deal breakers and end the relationship. You deserve better.
Notice if commitment is an issue. As my mother used to say, "You can make seven out of ten relationships work. It mainly requires the parties to commit." Most successful relationships focus on cherishing, communicating, and of course, commitment. Also check for commitment  to grow and change.  Most healthy relationship are the result of a willingness to improve personal weaknesses while being there for each other during the good, the bad, and the ugly times.
Before you commit, ask a hundred questions or more about childhood, values, goals, dreams, friends, interests and feelings!
Acts of Commitment
Unlike Sarah, I found someone who was available. I wouldn't say we were totally a good fit but we had similar values and we've worked on our relationship. Commitment won over our differences. I now strive each day to see myself as imperfect, capable and lovable. I work hard to see Les in the same light; to not expect him to be my source of fix-my-emotions. That is not his job. It is my job.
We do not hold each other responsible to fill our emotional, intellectual and social needs. We are each responsible for our needs. Plus, we are responsible to ask for what we want from one another. We fill our longings in a variety of ways. When the other is not able or available we have a pool of resources in our circle of family, friends and community. Bottom line; no one person can be our everyone and everything!
Les and I have been married for over 50 years! Believe me, there are tough days regardless of our sacred vows and all we have invested into our relationship. Be cautious about giving yourself away to the non-committed!
These books have ideas that may help you better let go of a clearly poor bet and get on with the life you deserve.
Are You the One for Me? by Barbara De Angelo
He's Just Not That Into You by Greg Behrendt
Love Yourself First and Be a Magnet for Love by Michele Gilbert
Please be in love with yourself and your life. Then find that person who will commit to be your lifetime friend, partner, and lover. Save yourself years of angst, confusion, disappointment or waiting. Decide if you are experiencing grounded love or problematic euphoria!
Please check out these related posts:
Patricia Morgan MA CCC helps her readers, clients, and audiences lighten their load, brighten their outlook, and strengthen their resilience. To go from woe to WOW call 403.242.7796 or email a request.
---
If you enjoyed or benefited from this blog, please leave a Comment below and subscribe to my eNewsletter, Your Uplift.