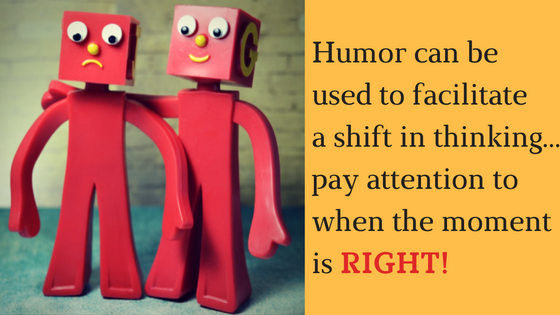 Humor Can Help Heal 
If a key factor to increasing mental health is a sense of humor, perhaps we could all use a booster shot of smiling and laughter. A growing number of therapists in the United States have joined the American Association for Applied and Therapeutic Humor acknowledging the power of humor to heal. As the cliche goes, laughter is the best medicine.
And, you do not need to be a Patch Adams, wear a red nose, dress up like a clown, or be a therapist to use humor as a means to make a friend feel better. You do, however, need to know when the moment is right before trying to lighten and brighten a friend's mood.
First Comes Pain; Then Comes Joy
We are emotional human beings who experience both pain and joy. The state of our wellness includes the ability to create more moments of joy, mirth, and bliss. Patch Adams said, "When the woes of existence beset us we urgently seek comic relief. The more emotion we invest in a subject, the greater its potential for guffaws."
The lows and highs are valued when we add a little dose of lightness, even when our friend is pouring her heart out. When a friend is feeling depressed, ruckus humor is not a good idea. However, when she shows signs of opening up to a more playful state of mind, humor can be used to facilitate a significant shift in thinking and emotional state.
The Right Moment to Use Humor
First, we need to be present, quiet and witness our friend's pain. Then comes the shift. "Share with me my sadness…and I will share with you my joy."
Soon after the tears dry and the body calms, you will notice your friend relaxing and perhaps see more light in her eyes or a gentle curve of smiling lips. That's when to say something silly or light!
"Did the angels get drunk sipping on your tears?"
"Those tissues earned their worth, eh?"
"Thank you, for sharing your hard journey with me. I'm not the least bit bruised. How are you?"
"Wow! You sure gave that guy a lot of power. I'm glad to see you back driving your own bus."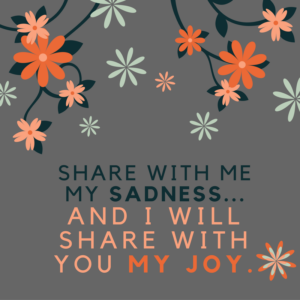 Benefits of Humor
Humor increases creativity, a necessary component to problem solving. It allows us to see our problems in a new light.
When we experience the absurdity of life, we tend not to take the upsets of our life so personally.
The truth will set you free and it is often very funny. My mentor, Gwendolyn Jansma, of Heartseek Gatherings used to say, "Life is wondrous and messy."
"A sense of humor develops as we mature and learn to laugh not only with others but also at ourselves. Laughter boosts the immune system and helps the body fight off disease, cancer cells as well as viral, bacterial and other infections. Being happy is the best cure of all diseases!"
Three Cautions About Humor
Humor is only appropriate when it is used in your friend's best interest, and not to show off your quick wit.
Safe humor excludes racist, sexist or sarcastic comments. Beware of sarcasm as an expression of your own anger and aggression.
A friend will give you clues. She should never feel slighted or be the brunt of a tactless comment for the sake of humor.
Five Ways to Comfort with Humor
Increase your light-heartedness. We could all benefit from many of the aforementioned outcomes in sharing our own lived experience and silliness. Silliness in this context means "to be blessed." Spending time with children and animals can brighten anyone's world. Playing every day is important for us all.
Gently smile as the tears come.  Often a friend will cry until she laughs or laugh until she cries. Be supportive, but realize that joining in with the tears is not necessarily helpful. When the smiling and laughter comes, be sure to join in for a wonderful moment of connection.
Disclose your own faux pas and moments of despair. They can be humorous and normalizing for a troubled heart.
Commiserate with your friend. You can tell your own funny story that connects to your friend's problem or others that you have heard.  Here is a silly story to invoke laughter at a mother's classic and overprotective angst: "A mother was pushing her grown son in a wheelchair when she saw a friend in a shopping mall. The friend said, "Hello, Mary. I didn't know your son couldn't walk." Mary answered, 'He can walk, but isn't it wonderful that he doesn't have to?'"
Be supportive, empathetic and loving to a troubled friend, while at the same time encouraging her own good mental health and independence.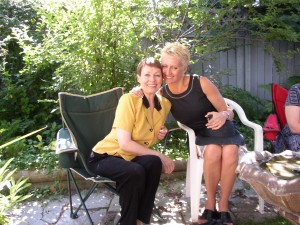 Comedy, humor and friendship have to do with the tragedies, absurdities, sufferings, truths, contradictions, and conflicts in life. Feelings are acknowledged and then calmed. A shift in perspective can happen in those effectively timed moments of listening, smiling, and joining in to laugh together at life's absurdities.  Yes, laughter is the best medicine! It can be a powerful healer if it is in the service of a friend.
As the cliche goes, humor is the best medicine! How have you successfully used humor to help a loved one or friend feel better?