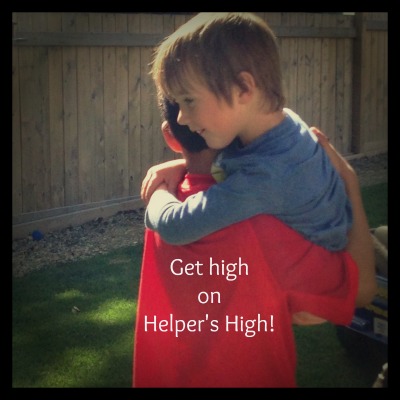 One of the most effective ways of building resilience and bounce back from adversity is to lend a helping hand to others. Many people have experienced the boost helping gives them; hence the term helpers high.
My own experience supports this idea. When our daughter, Kelly, was lost in the world of addictions, I worked with young women who wanted to get their life back on track. When I finally got my own anger management issues in order, I began to lead anger management workshops.  When I finally gained a diagnosis for family members who live with disabilities and accessed supports for them, I began to support other caregivers.
Nan Henderson, the founder of Resiliency in Action, tells the story of a foster family who arranged for troubled teen boys to volunteer with disabled veterans.  Those youth used their gifts and became "resources rather than problems".
7 Reasons to Create a Helper's High
Both researcher, Dr. Stephen Post, author of The Hidden Gifts of Helping and Allan Luks, former executive director of Big Brothers/Big Sisters of New York City and author of The Healing Power of Doing Good, have documented the benefits of creating what is called a Helper's High.  Here are some of the findings:
89% of volunteers reported, has improved my sense of well-being.
73% of volunteers reported, lowered my stress levels.
Health problems improved—decreased depression, anger and isolation, and increased social contact.
Feelings of joy, energy and connection can increase.
Physical pain decreases while helping others.
Increased sense of purpose and meaning.
Increased sense of self-worth, greater happiness, and optimism.
More Reasons to Create a Helper's High
Not only does volunteering help your physical and mental health, but you can:
gain work experience
discover and develop your strengths
learn new skills
meet some other dynamic, giving and caring people and
make a positive difference to your community, country and beyond.
Show me a person who gives of her time, who gives more and more, and lives a full life, and I'll show you a volunteer. How do you volunteer in your part of the world? If not, you're missing out on, guess what? A helper high!
Check out these related posts:
The Exciting Advantages of Volunteering for Teens
Do You the Reasons to Volunteer?
---
If you enjoyed or benefited from this blog, please leave a Comment below and subscribe to my eNewsletter, Your Uplift.