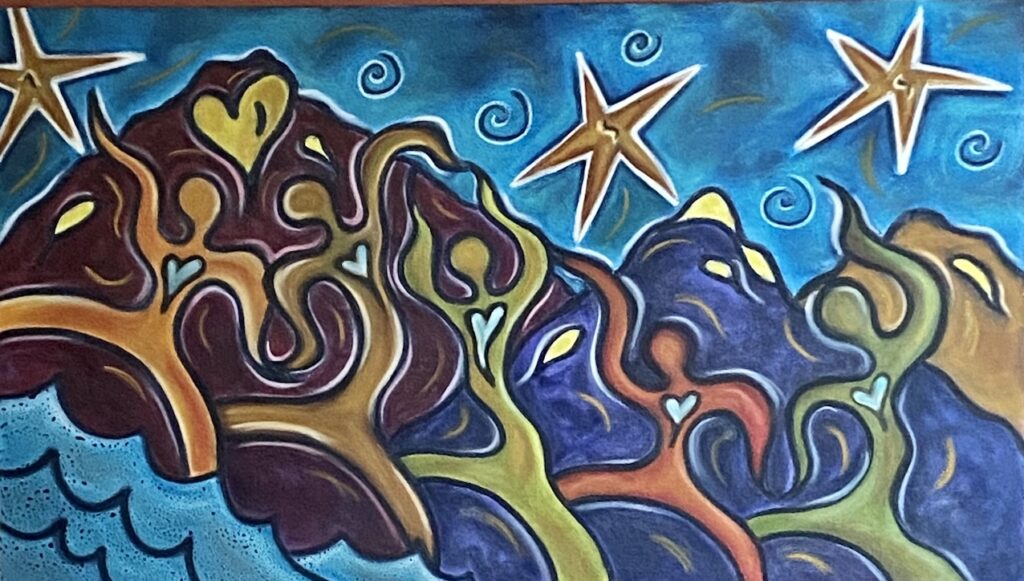 Grief Counselling 
Years ago, a concerned woman called me and shared, "Ten years ago my dad died. My mom doesn't sleep well, has not let go of his clothes, and keeps his pipe on the living room coffee table." Although I wondered if this potential client would engage in grief counselling, she did . . . and she finally moved on.
Grief and loss are a part of life whether we deal with the loss of a job, a precious item, our home from a fire or flood, a pet, a relationship through divorce or conflict, or a loved one due to death.  My personal losses include the death of my parents, other relatives, friends, and a darling daughter-in-law, as well as several jobs, pets, cars, identity, dignity, goals, and a dream home.
By the way, the above image was created by our daughter-in-law, Chandra. When she had breaks from dealing with cancer, she splashed canvases with images that came to her during painful periods. She called these particular figures, Dancing Spirits.
During COVID, most of us lost a sense of personal freedom, connection with friends and groups, and a sense of overall safety. Many people lost their jobs, or at least job security, and their sound mental health. Anxiety, depression, loneliness, anger, and trauma responses increased.
All of this raised our need to address our complex feelings around grief and loss. Not only are many of us dealing with complex feelings but dealing with different types of grief.
Types of Grief
Depending on the grief book you read, there are several different types of grief. Here are merely three.
Anticipatory Grief
We can feel grief before a loss happens. For example, for 10 years, my hubby, Les has lived with prostate cancer. We both have periodic conversations about the feelings of guilt, stress, and apprehension of death. We also talk about preparing for the loss.
Common Grief
Les has dealt with the many losses of cancer, itself. Over the 10 years, we have gone through common grief of feelings of shock, frustration, sadness, and acceptance. He has lost energy, muscular strength, sound sleep, and more. Most people would not be aware of his grieving process as he continues with many of his routines. He has developed a new normal.
Delayed Grief
In my work as a therapist, I often see grief rise in people who were not given opportunities to grieve, especially in childhood. Losses have included the death of a parent, sibling, friend, or a pet. No adult clued into the little tot's emotional need to feel, share, and be comforted. Consequently, years later, those feelings linger in the unconscious and surface in surprising and confusing ways.
The Foundations of Grief Counselling or Coaching
In the 1960s, the psychiatrist, Elizabeth Kübler-Ross worked with people facing terminal illness and death. She felt frustrated by the lack of information to help her patients, so began to document her observations. Kübler-Ross' book, On Death and Dying described five stages of grief–denial, anger, bargaining, depression, and acceptance. While her work was revolutionary in the therapeutic arena, too many practitioners took the stages too literally. Years later she clarified that people do not tend to grieve step by step.
The current and renowned grief and loss expert is David Kessler. He not only experienced multiple, impactful deaths but studied with Kübler-Ross. In his bestselling book,  Finding Meaning: The Sixth Stage of Grief, he encourages grievers to find meaning in their experience.
Basic Perspectives from Grief Counselling or Coaching
Here are some premises to consider when grief shows itself.
There is no timetable for grieving and there is no time that heals. Some people have done their grieving in months and some in years. Seldom is years necessary.
We will grieve our own way. No one can tell us how to grieve.
No one can tell you what your grieving feels like. Grief activates feelings from deep sadness, numbness, guilt, regret, anxiety, uncertain, fearful, helpless, hopeless, anger, depressed to distressed.
The fastest and healthiest way to embrace, move through, and complete our grief is to mourn.
Grief refers to the experience of loss. Mourning refers to the expression of grief such as expressing feelings, sharing stories, arranging celebrations of life, or organizing a divorce party. We need to mourn our way to complete the grieving process.
Loss involves change. Adjustments need to be made to the familiarity of patterns, routines, people, times, and places.
Each loss adds to your stress bin, whether it is the death of a pet, to not being acknowledged, to a romantic break-up, to a disconnected friendship, to misplacing your bank card. They all count.
Here a young woman shares her struggle to grieve the loss of her beloved father.
12 Grief Counselling Tips 
Avoid shortcuts to relieving uncomfortable or painful feelings. Drowning feelings in distractions such as eating, alcohol or other potentially addictive behaviors will not only delay your grieving process but may create long lasting and additional challenges.
Acknowledge and say it, "I am grieving." Give yourself time. Maybe you need to come to grips with the reality before you can share it. Notice you are saying words that indicate denial or numbness such as, "No problem. I'm fine."
Increase your self-care. When we face unusually challenging situations, we need to up our self-compassion and self-care. As consciously as you can, nourish yourself with healthy food and gentle rest.
Ask for and accept help. This is no time to try and be a rock as the Simon & Garfunkel song goes:

"I am a rock I am an island. I've built walls, A fortress deep and mighty, That none may penetrate." Be gracious. Say what you need with thanks.

Notice your feelings. They may feel big. It is healthy to lighten the load by expressing them. Follow your impulse to cry, draw, run, dance, sing, bang or scream. Even better is to tell someone.
Use Alberta grief coach, Melody Chardon's Triple A formula:
Acknowledge the loss. Name what you lost and wish you had.
Articulate the feelings your loss prompted.
Allow those feelings to flow through you.
Find a caring and emotionally safe listener. This is someone whom you trust and knows when to listen and when to give encouragement and guidance.
Take time and space to compassionately let go. Look at old photos, or gently sort through those items filled with memory imprints. Have a quiet and peaceful place just for you. Consider archiving your memories in a memory box or journal.
Ponder and mark the meaning of your loss. If appropriate, celebrate the person, pet, or treasured car you lost. Share lessons learned. Facebook is filled with posts of both what this taught me and tributes.
Find sayings that bring comfort, resolution, and acceptance such as, this too shall pass. One of my favorite wisdom reminders is the Serenity Prayer: "Grant me the serenity to accept what I can not change. The courage to change what I can. And the wisdom to know the difference." Reinhold Niebuhr
Move on. When the time is right, remind yourself that you are resilient, and know how to pick yourself up to take next steps. Challenge yourself to find thoughts, people, and new behaviors to fill the gaps of loss. For example, my hubby no longer has the stamina to go wilderness canoeing so he now takes his canoe to gentler waters to fish.
Demonstrate patience. Even with little changes we need time to adjust. With a major loss, you will probably feel impatient to either go back to what was or move on. You might imagine you've done the emotional work to move forward when WHAM!, some smell, sound, or event will pull you back. Slow down, breathe, and remember you are capable, lovable, and resilient.
Remind yourself, "Yes, grieving is hard, and I've done hard things before." If this hard experience is overwhelmingly or deeply painful, consider finding a professional who offers grief counselling. We all deserve support and help walking through the mourning process is no exception.
Conclusion
Most people who walk through the valley of the pain of loss find a landing place. They more fully embrace their lives. I often leave a well-orchestrated celebration of life inspired to embrace each moment as a gift.
As Elisabeth Kubler-Ross said,
"Learn to get in touch with the silence within yourself and know that everything in this life has a purpose."
Please check out these related blog posts:
What You Can Do to Cope with Grief and Loss
Celebration of Life – More Than a Happy Funeral
Patricia Morgan MA CCC helps her readers, clients, and audiences lighten their load, brighten their outlook, and strengthen their resilience. To go from woe to WOW call 403.242.7796 or email a request.
---

If you enjoyed or benefited from this blog, please leave a Comment below and subscribe to my eNewsletter, Your Uplift.