In early May 2016, the Fort McMurray (Fort Mac) fire put Albertans in the midst of a major crisis. Over 80,000 evacuees needed to leave their homes.
I have some sense of it all since I was a keynote speaker at the first anniversary of the 2013 Slave Lake fire. These significant events leave us feeling profound grief and loss and experiencing tremendous stress. At the same time, they evoke care, heroics, and resilience.
Albertans, and all Canadians, opened their hearts, wallets, and homes.  Premier Rachel Notley stated to evacuees, "Trust us that we have your back, that we will be there for you. And that we will support you along the way." That statement is an effective one to begin the creation of a resilient community. Especially if her governing party delivers on the promise.
Evacuees needed to shift from emergency mode to self-care, and then rebuilding. They needed help for a long time.
You may be reading this because your house burned down, you lost your life savings, your loved one or family pet died, or you are in the midst of some other crisis. Or perhaps you are in a support role.
The most important aspect for those in crisis is to be mindful of increased self-care. The most important aspects for those in supporting roles are to listen and respond to specific requests.  Responding to requests may be to simply acknowledge a need or longing. In other instances, it may involve taking action and/or being an advocate to make something happen.
I hope the list below will help you whether you are personally experiencing grief and loss or whether you are there to help support someone through the process.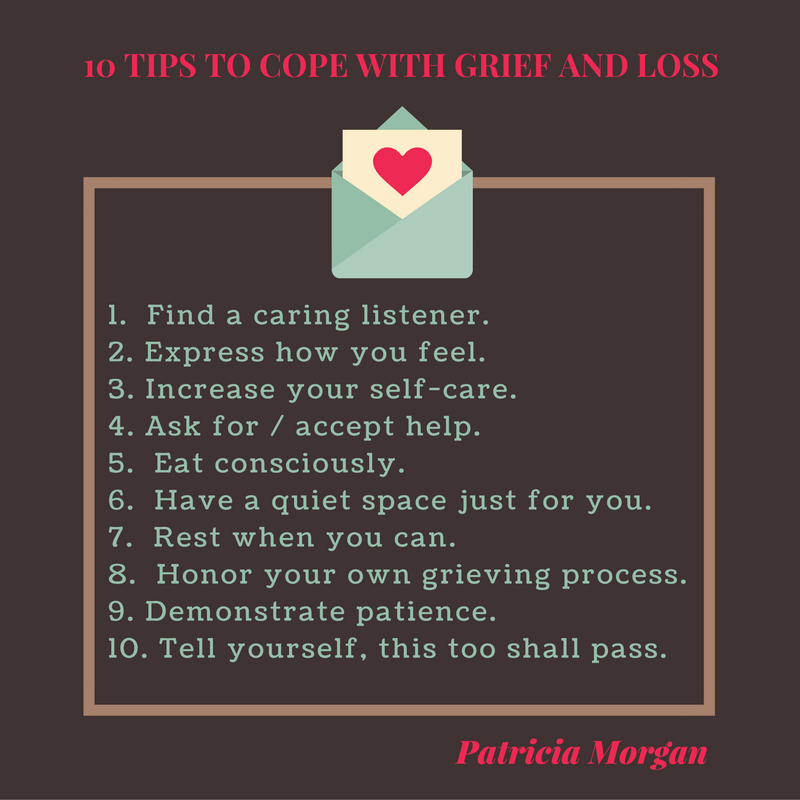 Ten Tips to Cope with Grief and Loss
Find a caring listener. This is someone you trust and knows when to listen and when to give encouragement and guidance.
Express how you feel. Your emotions may feel big. It is healthy to lighten the load by expressing them.
Increase your self-care. When we face unusually challenging situations, we need to up our self-compassion and self-care.
Ask for and accept help. This is no time to try and be a rock/island, as the Simon & Garfunkel song goes. People want to help. Be gracious. Say what you need with thanks.
Eat consciously. Do not forget that your body needs nourishment.
Have a quiet space just for you. A place of peace will help you thoughtfully consider your next steps.
Rest when you can. Without adequate sleep, we can quickly become ill.
Honor your grieving process. Everyone is different in the way they grieve their losses. You may feel surprised at a little something that you had no idea meant something important to you.
Demonstrate patience. Even with little changes we need time to adjust. With a major crisis, you will probably feel impatient to either go back to what was or move on. Slow down and breathe.
Tell yourself, this too shall pass. Change is inevitable. Life has ups and downs. Plus, you are resilient and will bounce back.
Please check out these related posts:
Strengthen Your Internal Locus of Control
Slave Lake, Alberta: A Resilient Community
The Best Grief Counselling Tips for Mourning
Patricia Morgan MA CCC helps her readers, clients, and audiences lighten their load, brighten their outlook, and strengthen their resilience. To go from woe to WOW call 403.242.7796 or email a request.
---

If you enjoyed or benefited from this blog, please leave a Comment below and subscribe to my eNewsletter, Your Uplift.