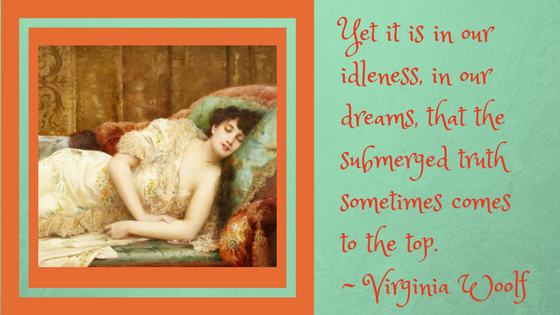 The meaning of dreams has been pondered since the dawn of civilization. Whether you recall vivid details or only remember bits and pieces, knowing how to understand your dreams may help you build personal resilience.
A Brief History of Dreams
One of the oldest recorded dreams dates back to 13th Century BC with the epic of Gilgamesh. It is recorded that King Gilgamesh saw a meteorite fall and his people ran to kiss it and treasure it like a baby. (Maybe this was the origin of singing Twinkle, Twinkle Little Star!) Anyway, Gilgamesh took his dream to his mother and she told him that his dream was favorable and precious. (Maybe she was the original intuitive—an ancient times Laura Day.)
In the Old Testament, Joseph remembered lots of dreams–maybe because of his psychedelic coat of many colors. Once the Pharaoh realized that he was having icky dreams about seven years of fat cows and seven years of famine, he asked Joseph to help him understand what they meant.  Later on in the New Testament, there's the incredible dream to do with the miracle birth.  Mary was showing a pregnant belly when she married Joseph. You know what the folks thought about that back then! But Joseph was convinced in a dream that she had an immaculate conception so it was OK for him to say "I do."
Saint Jerome was called to be a Christian in the 4th Century AD. He translated the word "anon" to mean "witchcraft." Before his conversion, it meant "looking at dreams." Dreaming was thus frowned upon and people began to try real hard not to remember their dreams. Wouldn't you?
A long time passed until Sigmund Freud published 350 copies of Interpretation of Dreams in 1900. Freud proposed that dreams provide a re-discovery for the unconscious motivation behind behavior–why some of us lick and some of us bite our ice cream.
What is a Dream?
The psychologist Carl Jung said, "The dream is a spontaneous self-representation of the actual situation of the unconscious in symbolic terms." A dream is like an image from the unconscious…and it might be scary dark.
Many of us avoid saying, "Hi there, how are you doing Ms. Unconscious?" even when she is begging to be let in the door. The function of dreaming is to give the unconscious part of yourself some acknowledgment. With an open attitude, dreaming lets our conscious self meet our unconscious self.
Jungian psychoanalyst, Judith Slimmon says,
All dreams arise in the service of health and wholeness."
Perhaps dreams are trying to bring us psychic balance—light where we have too much dark and dark where we aren't acknowledging it.
Dreams can also balance out our life teeter-totter. Cure too much heaviness or not enough challenge by remembering a dream. Get this. The more your teeter-totter is out of balance, the more dramatic your dreams will be—like smashing down the door. Slimmon also says, "Dreams seek to make the unknown known." Who hasn't got some inner dark caves?
Add to Your Dream Dictionary
Our conscious life includes our sense of what Slimmon calls the "I." She says we only get glimpses now and then of what we don't know. I thought to myself, "She doesn't live with teenagers!" She did say that others might tell us, but who's ready to listen?  The real "I" can be revealed in dreams. The Real "I" she called "Not I." The ego attends to our sense of memory and we have a lot of that "unknown self" in there. "Hello." When under tremendous stress another part of ourselves pops out. For me, sometimes it's Aunt Leona or Martyr Maid that takes the stage.
Slimmon explains, "Our consciousness rests on the unconscious of which we know very little, though it is significant." The first layer of the unconscious is our personal unconscious or our shadow. It is the unpleasant part, the part that doesn't really fit or wasn't supported as we were growing up. It involves our present life and dreams try to bring balance to it. Did I mention my Aunt Leona?
A deeper layer is the collective unconscious. It includes all of those aspects of our human experience that are unique to our species, women included. Do dogs and monkeys try to live by virtues and values?  Dreams at this level tend to be impressive—like a big bang. Many of the tribal cultures that we see on National Geographic have rituals that focus on helping the dancers and drummers unlock this deep unconscious layer. When we have dreams from the collective unconscious, we can't shake them because they have a sense of being of bigger importance than our personal life. Maybe Bill Gates had a cyberspace dream of an abstract mouse, machines with viruses and operating system upgrades galore.
Slimmon tells a story of a man who thought he had an honorable business deal only to dream that his hands were covered with dirt. Another man who was married had a dream that stopped him from messing around with other women.
Dream Interpretation and Dream Control
Equally of interest is a young man asking about his troubling dreams. To view this 2.17 minute video Click Here.
Do you want to know how to interpret dreams? Be cautious. It's like going back to a pre-verbal stage where words and language don't slice it. Image is the big medium here. It's more like creating a poem. I'm thinking it's like an abstract canvas that I don't immediately realize its hidden and deep message. Sometimes someone can help you grasp the meaning but you have to "get it" yourself.
Be gentle and careful about interpreting your dreams.  Look at the possibilities. Ask "What would it be like to encounter such a situation?" I asked myself "What would it be like, Patricia, to find yourself in your worst nightmare? What would you feel?" I answered myself. "I'd feel scared and then I would accept that weak and disowned part of myself." That's my story and I'm sticking to it.
George William "Bill" Domhoff, a Distinguished Professor Emeritus and research professor of psychology and sociology at the University of California wrote this about nightmares:
There is new evidence since the 1990s that nightmares can be reduced by writing down a new ending to the nightmare of one's own choosing, and then imagining that new ending several times each day ("imagery rehearsal," a technique of cognitive-behavioral therapy) . . . The successful approach to nightmare reduction — which can be thought of as a form of dream control."
Pay special attention to recurring themes as the unconscious is really trying to knock down the closed door on some aspects of your life. If you have repeatedly disturbing nightmares, consider seeking assistance from a licensed helping professional—a certified counsellor, social worker or psychologist.
Conclusion
Share your dreams with your special somebody and especially yourself. Allow your unconscious self to tell its story and have a voice. Dreams provide a glimpse into our lost aspects. Did I mention my Aunt Leona?
Sleep tight, dear readers, I wish you sweet dreams ahead!
Please check out this related post:
No More Sleepless Nights: 12 Tips to Sleep Better
Patricia Morgan MA CCC helps her readers, clients, and audiences lighten their load, brighten their outlook, and strengthen their resilience. To go from woe to WOW call 403.242.7796 or email a request.
---

If you enjoyed or benefited from this blog, please leave a Comment below and subscribe to my eNewsletter, Your Uplift.