My hubby, Les and I have lived in Calgary, Alberta for over 25 years and this is the first time we have seen this kind of flooding or crisis in our city.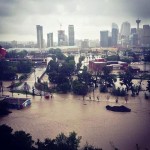 Over 75,000 of our 1.3 million residents have been evacuated from their homes.
I feel moved to share with you and any of those who are struggling these words from the Reverend Pat Campbell:
There is only one Life. That Life is God's Life. That Life is my life now. Even in the midst of what appears to be fear, chaos, and worry, I claim and know that all is well.
Whatever needs to be known, is known. Whatever needs to be done, is done.
I know for all people being affected by this abundance of water, that they are safe, their loved ones are safe, and their animals are safe. Their communities open their arms to embrace those who are being displaced, or are in danger of being displaced.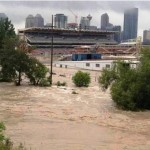 Everyone has a roof over their head and a warm, dry place to sleep. I also know that we all come through this situation stronger, wiser, and more compassionate. In gratitude, I release this treatment to the Law. And so it is.
We are required to demonstrate resilience . . . and we will.
Patricia Morgan
Resilience Speaker
Solutions for Resilience
Follow me on Twitter and Like me on Facebook