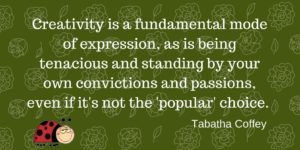 Some people believe you need to be born with some kind of gene to be creative. From appearances, it would seem so.  Artist, Lynn Hunter-Johnson of Creative Threads is creative with her intriguing tapestries and textile creations. Friend, Louise Gallagher of Inspiring Grace In Everyday Living splashes her canvases with lavishly colored images of feminism, love, and light.
My cousins, The Salvage Sistars, make house decor from items found in their neighbor's roadside garbage or at the local dump.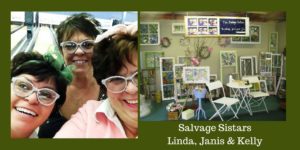 While I sometimes envy Lynne's, Louise's and my cousin's abilities to create beauty, I remind myself that their artistic outlets are not necessarily my way of being creative. I have my own expressions of creativity; writing, being silly, brainstorming to support others, and crafting stories and presentations. As a therapist, I use creative and innovative ideas to support clients.
I also remind myself that we are all able to develop our creativity. It is a virtue to do so. Linda Popov, creator, and author of The Family Virtues Guide defines creativity as
The power of imagination. Being open to inspiration, which ignites our originality."
Those who solve problems, invent something, change a recipe, try making up a joke, or build a sand castle are demonstrating their creativity.
If your creative juices are bunged up, you may find yourself feeling undue distress. Creativity and flexibility go hand in hand. The more creative we allow ourselves to be, the more at ease we will become. When you let ideas flow rather than stress and strain, you perform at your best.
Eight Tips to Get Creative or Be More Creative
If you doubt your creativity and think, I am not creative, recall your childhood.  You were probably imaginative and creative in your own way. Perhaps you played with construction toys such as Lego. Perhaps you made up silly word riddles or turned a cardboard box into an airplane, house or castle. You were and are a creative being. If you have lost the feeling of creative juice, decide to rekindle an attitude of curiosity and exploration.
Notice how others enjoy the creative process. Let yourself be inspired. There are people who create prose, blogs/articles, Facebook pages full of amazing images, sculptured cakes, songs,  stunning wardrobes, cartoons,  quilts, blossom-filled gardens . . .  and the list goes. Notice how your friends and family create.
Allow yourself to dream, to fantasize, to imagine and ask "What if? What if I took an oil painting, singing or a stand up comedy class? What if I visited my friend in the hospital wearing Groucho Marx glasses? What if I rearranged the living room furniture?"
Decide that creative clutter is just fine. I call the many items in our home organized clutter; after all, the items are at least grouped! Real dangerous dirt seldom resides in our modern homes. Creative projects often require messiness—a glorious muddle. When I create personalized cards I have paper shreds, markers, glue, magazines, glitter, and all sorts of matter on the dining table and often spilling onto the floor
You might fear judgment; fear what the neighbors or your mother-in-law will think. Find a copy of Susan Jeffer's book, Feel the Fear and Do It Anyway. In some of my presentations, I encourage people to act weird and silly. The word weird is from the derivative way, or as I say, To have found my own way. Silly means to be blessed. Anyway, what your neighbors think of you probably isn't any of your business.
Allow yourself to repeatedly be a beginner. Lifelong learners are valued employees by employers and live longer. It is better to begin and explore than make a stifling decision that you can not be creative. In fact, I believe you are already often creative, that is using your imagination to solve problems or creating a positive difference. You merely need to catch those moments of creativity.
Go explore. Creative expression is about engaging in the world with a playful, light and imaginative spirit. It becomes a spiritual activity when you lose track of time, when energy flows and when you feel light and lively.
Give yourself time to create. It will fuel your energy for life. My mother used to fret and feel guilty that she spent hours gardening. She told herself, "I should be helping more at the church." Yet her garden brought her enormous joy and everyone who visited it. Even more incredulous was the fact that for years and years, every Sunday and on special occasions, she beautified her church with her blooms and greenery. I found the perfect T-shirt for her. It had flowers on it with the saying: I Garden.Therefore, I Am. Find your own I (creative activity). Therefore I Am.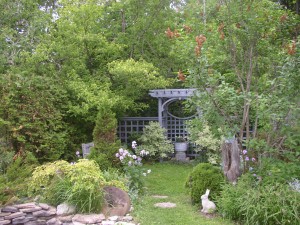 Summary
We daily create, even if it is merely our thoughts, Discovering how to be more creative is right under your nose. Notice when you are acting with playfulness and curiosity. That is BEing CREATIVE!
Please check out this related post:
---
If you enjoyed or benefited from this blog, please leave a Comment below and subscribe to my eNewsletter, Your Uplift.